NHL Awards: Leaders at Quarter Mark for Each Major Trophy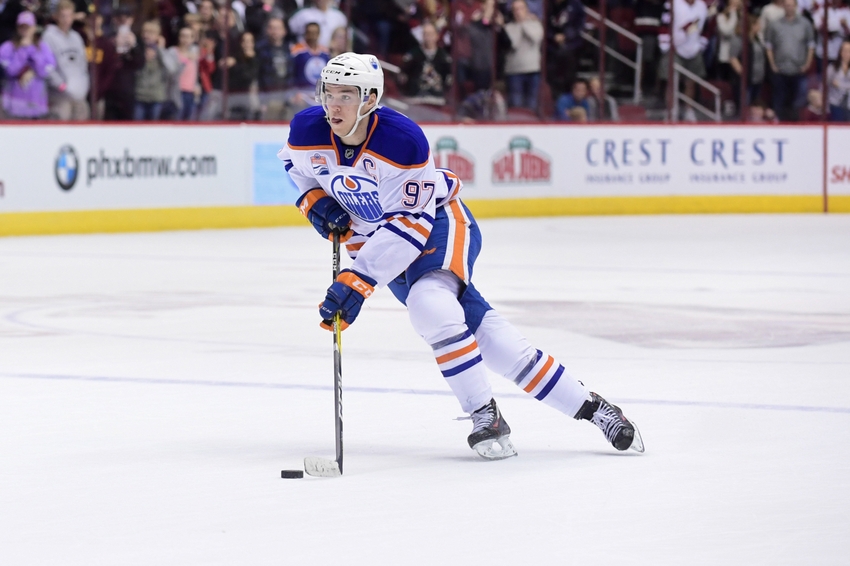 NHL Awards: If the Hardware Were Handed Out Today at the Quarter Mark of 2016-17, Several Surprising Individuals Could Challenge for Each Major Trophy
If the NHL Awards were handed out today (at the quarter mark of the 2016-17 season), a handful of surprise candidates would be vying for top honors.
Now, we try not to put too much weight into a 20-21 game sample size. After all, just look at what happened to the Montreal Canadiens in 2015-16. It's one thing to be on top of the standings this early, but it's another thing to maintain that play over the course of a long 82-game grind.
The same goes for players; it's not unusual to see so many guys scoring at a near point-per-game pace at this time of the year. Even the best of players can hit a wall, much like Jamie Benn and Tyler Seguin did down in Dallas back in January 2016. It wasn't long after that, the NHL's hottest line in 2015-16 (Artemi Panarin, Patrick Kane, Artem Anisimov) went for a bit of a slump as well.
If NHL Awards were handed out today…
Art Ross Trophy (Most Points)
Winner: Connor McDavid, Edmonton Oilers
The young phenom continues to rack up points at an impressive pace. With 10 goals, 18 assists (28 points) in 22 games, Connor McDavid has a two-point lead in the NHL scoring race. Behind him is TB's Nikita Kucherov (26pts), WPG's Mark Scheifele (23 points), and a three-way tie between STL's Vladimir Tarasenko, DAL's Tyler Seguin, and CHI's Patrick Kane (22 points).
Considering this was one of our "5 Bold Predictions" at the start of the year, things are looking pretty good.
Projected Winner at End of 2016-17: Connor McDavid, Edmonton Oilers
Hart Memorial Trophy (League MVP)
Winner: Carey Price, Montreal Canadiens
Without Carey Price, the Montreal Canadiens would struggle to keep their heads above water. Sure, they rode a hot hand in Al Montoya early on, but they also did the same thing a year ago until Mike Condon hit a wall.
Simply put, this team doesn't generate enough goals to be considered a legitimate Cup threat – not yet at least. If they can get a few prospects going (i.e. Charles Hudon, Michael McCarron, Nikita Scherbak, etc.), it could be a different team once April rolls around.
Honorable Mentions: Sidney Crosby (PIT), Connor McDavid (EDM), Brent Burns (SJ), Devan Dubnyk (MIN)
Projected Winner at End of 2016-17: Connor McDavid, Edmonton Oilers
Vezina Trophy (Top Goaltender)
Winner: Devan Dubnyk, Minnesota Wild
So, this would be a little unusual to have Price taking MVP honors, but not top goaltender. Well, such would be the case if things ended today. The Minnesota Wild aren't without their own internal struggles, but this isn't a team that depends on the best goaltender in the world.
Dubnyk is the hottest netminder in the league right now. He has nine wins, a 1.58GAA and .948 save percentage. This compared to Price, who has 12 wins, a 1.71GAA, and .945 save percentage.
Back in October, Devan recorded three straight shutouts, allowing just 10 goals over seven starts. So far in November, he's allowed just 15 goals over nine starts. Those are mind-boggling statistics.
Honorable Mentions: Carey Price (MTL), Tuukka Rask (BOS), Pekka Rinne (NSH)
Projected Winner at End of 2016-17: Carey Price, Montreal Canadiens
Norris Trophy (Top Defenseman)
Winner: Brent Burns, San Jose Sharks
He might not log the big minutes like Erik Karlsson or Ryan Suter, but that shouldn't take anything away from Brent Burns.
He's coming off a massive 75-point campaign in 2015-16 and might have what it takes to challenge Karlsson's point-per-game pace from a year ago.
Burns is a big punishing defender that is a rare breed in the NHL. That's why the Sharks had no choice but to lock him down with an eight-year extension – these types of players don't come around too often.
Honorable Mentions: Erik Karlsson (OTT), Ryan Suter (MIN), Shea Weber (MTL)
Projected Winner at End of 2016-17: Erik Karlsson, Ottawa Senators
Calder Trophy (Top Rookie)
Winner: Zach Werenski (D), Columbus Blue Jackets
It's no offense to any of the five honorable mentions, all of which are off to outstanding starts. There's something to be said though for a rookie defenseman scoring at a near point-per-game pace, with half of those coming on the man advantage while logging north of 20 minutes/night.
This will certainly be one of the more interesting NHL awards races to watch. We've named five honorable mentions, but that list could be much larger. It's still too early to count out guys like Jimmy Vesey, Travis Konecny, Ivan Provorov, Sebastian Aho, and Brayden Point (among others).
Honorable Mentions: Patrik Laine (WPG), Auston Matthews (TOR), Mitch Marner (TOR), William Nylander (TOR), Matt Murray (PIT)
Projected Winner at End of 2016-17: Auston Matthews, Toronto Maple Leafs
Bonus NHL Awards Predictions
Presidents' Trophy: New York Rangers
Eastern Conference Champion: Tampa Bay Lightning
Western Conference Champion: Chicago Blackhawks
Stanley Cup Winner: Chicago Blackhawks
This article originally appeared on