NHL Awards: Bill Masterton Memorial Trophy Winner Roundtable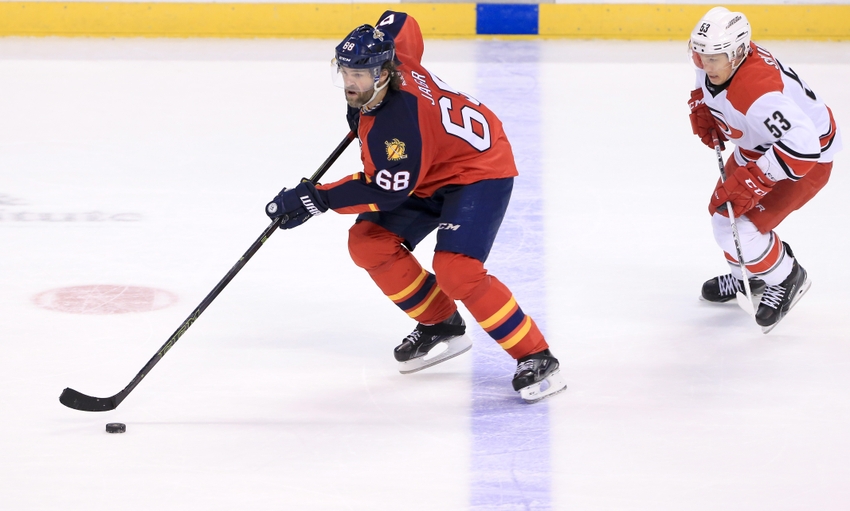 NHL Awards: Bill Masterton Memorial Trophy Winner Prediction Group Roundtable
Among numerous NHL Awards handed out in June, the Bill Masterton Memorial Trophy is awarded annually to the National Hockey League player who best shows the qualities of perseverance, sportsmanship, and dedication to our sport. The winner is selected by a poll of professional writers after each team nominates one player for candidacy. It is often awarded to a player who has come back from career– or even life-threatening illness or injury.
The trophy is named in honor of the late Bill Masterton, a Minnesota North Stars player who died on January 15, 1968, after sustaining an injury during a hockey game. During his playing career, Masterton exhibited "to a high degree the qualities of perseverance, sportsmanship, and dedication to hockey". It was first awarded after the 1967–68 regular season.
For reference here are the last three winners of the award:
2013-2014: Dominic Moore– New York Rangers
Moore returned to the NHL in the 2013–14 season after taking an 18-month leave of absence from the league in the spring of 2012 to care for his wife, Katie, following her diagnosis with a rare form of liver cancer. She died in January 2013.
2014-2015: Devan Dubnyk– Minnesota Wild
Dubnyk led the last-place Wild to the playoffs following a mid-season trade, going 27-9-2 with a 1.78 goals-against average, .936 save percentage and five shutouts. The Wild were Dubnyk's fifth team over the previous two seasons.
2015-2016 J

aromir Jagr- Florida Panthers
At the age of 44, Jagr lead the Panthers in points (66) and was second in goals (27), as the team earned its first Atlantic Division title and returned to the playoffs after 3 absences. Jagr became the oldest player to surpass 60 points and was lauded for his work ethic and off-ice mentorship.
This Years Winner Will Exemplify The Quality Of The Award
So who will win the Bill Masterton Memorial Trophy this year? Is it a player on your favorite team? For the answers, we turn to our resident experts who are the writers here at Puck Prose to get their opinion in our Masterton Trophy Winner Roundtable.
 

Suraj Sukumar, Contributor
After incredibly strong seasons, and a couple Stanley Cups, Jonathan Toews had one of his worst regular season performances last year. He scored 58 points, his lowest full-season total since 2011-12, and suffered a first-round playoff exit at the hands of the St. Louis Blues. Toews failed to record a goal in the seven-game series and simply did not look like himself.
Many would blame his lack of consistent linemates throughout the season, or Hossa missing much of the year due to injury. But Toews does not see it that way. Instead, he blames the amount of hockey his body has endured over the past few years. Can you blame him? Toews has represented Canada twice at the Olympics and led the Chicago Blackhawks to eight straight playoff berths. The only time Toews and the Blackhawks missed the playoffs since he joined was 2008-09 when Toews was still a rookie and played just 64 games.
Want your voice heard? Join the Puck Prose team!
Toews spent his summer relaxing and letting his body heal. He is set to represent Canada once again at the World Cup of Hockey and is primed to have a strong bounce-back season after taking some time off. With Patrick Kane locking down his new role with youthful linemates, it is now Toews' turn to reap the same benefits.
As it stands, the Blackhawks have very little to offer, though. After Hossa, Toews' had good chemistry with Teuvo Teravainen, but the Blackhawks traded him and Bryan Bickell to the Carolina Hurricanes for draft picks. If Hossa can stay healthy, the Blackhawks would need to find a suitable candidate to man the left side. Another carousel of players would only hinder their captain's production, and finding him a capable linemate should be the Blackhawks' first priority.
Jonathan
Toews
Center,
Chicago Blackhawks
Toews spent his summer relaxing and letting his body heal. He is set to represent Canada once again at the World Cup of Hockey, and is primed to have a strong bounce back season after taking some time off. With
Patrick Kane
locking down his new role with youthful linemates, it is now Toews' turn to reap the same benefits.
If Toews can find some consistent chemistry with his linemates, and get back to his scoring ways, there is no doubt he would be one of the top candidates to take home the Bill Masterson Memorial Trophy. He is an elite level center and has captained his team for much of his adult life.
His leadership is possibly his best asset on and off the ice, but his two-way style has made him one of the most impressive players of his generation. With that said, if Toews can return to past glory, there is no doubt he should be considered a finalist for the Bill Masterson Memorial Trophy in 2016-17.
Doug Praskach, Contributor 
When you think about the Bill Masterton Trophy for the 2016-17 season you really need go no further than Carey Price.  The award is annually given "to the player who best exemplifies the qualities of perseverance, sportsmanship, and dedication to hockey."  Look up Carey Price and his picture should be next to the award for this coming season.
After his season in 2014-15 when he led the league in Goals Against (1.96), Save Pct. (933) and Wins (44), he finished up by not only leading the Montreal Canadiens to the Atlantic Division Trophy but he also won four individual year-end awards including the Hart Memorial Trophy for League MVP, the Vezina Trophy for the league's best goaltender, the Ted Lindsay Award as MVP voted by the players and also the William M. Jennings Trophy for fewest goals allowed. It was a banner year to say the least and by far the best of his career.
More was expected last season and Montreal started out hot, winning their first nine games and there was talk of the Stanley Cup in Montreal.  In their 11th game, Price went down against Edmonton with a lower body injury.  He came back on November 20th then re-aggravated the injury which turned out to be a torn MCL ligament two games later and was lost for the season.  In what started as a promising season, the Habs went 38-38-6 and missed the playoffs.
In the 12 games that Price played, the Canadiens were 10-2. He had a .934 Save Pct. Which was even better than his Vezina season and had two shutouts.  Any doubts about his health and well-being have been erased in this year's World Cup of Hockey where he has given up two goals in two tournament games and has a Save Pct. Of .968. He shut out the Czechs.
Carey
Price
Goaltender,
Montreal Canadiens
With a healthy Cary Price in net and a more defensive-minded system fronted by the newly acquired
Shea Weber
it is hard to imagine Price not putting up another award winning season. With Price in net, the Canadiens should find their way back to the playoffs and with a hot goaltender, anything can happen.
The fact that Price tried to come back last season just proves he has the "qualities of perseverance, sportsmanship, and dedication to hockey."  He just turned 29-years old and should be primed for a great season leading to the Masterton Trophy being added to his Trophy Case.
Tim Redinger, NHL Director
I am going to go with the homer card here and select one from my hometown team, the Buffalo Sabres.  My candidate for the Masterton in 2016-2017 is Tyler Ennis.
Ennis was the biggest name on the Buffalo Sabres roster through what could be categorized as the toughest years in team history, otherwise known as the "tank".  With last year the prime year for the Buffalo Sabres to prove to the NHL that they were no longer gong to be the laughing stock of the league, it was Tyler Ennis' year to break out and prove that he was a true impact player, and not just standing out on a team of throwaway players.
Ennis only appeared in 23 games last year and mustered just three goals and 11 points.  Whether the Buffalo Sabres have long-term plans for Tyler Ennis or not – neither side could pull the trigger on anything given his injured status.  The team couldn't try to sell him, and he couldn't put the exclamation on what was two of the best years of his career.
Tyler
Ennis
Center,
Buffalo Sabres
Tyler Ennis will get another chance at reclaiming a little bit of ice time in the coming season, and he will either fade to the back like other players of his stature, or he will have an impact year for the Buffalo Sabres. He won't be the flashiest name on the ballot for the Masterton Trophy – but I think the way he carried the torch for the Buffalo Sabres through the dark years without complaint coupled with the way his season ended last year; he will get his chance.
He won't be the flashiest name on the ballot for the Masterton Trophy – but I think the way he carried the torch for the Buffalo Sabres through the dark years without complaint coupled with the way his season ended last year; he will get his chance.  If he has a breakout year, he could definitely be considered for the Masterton.
Ryan Ritchie, Site Expert

Each year, the Bill Masterton Memorial Trophy is awarded to the player who stands out by exhibiting sportsmanship, dedication, or perseverance during a given season.
Ottawa Senators Have Not Benefited From League Parity
Recent winners include Jaromir Jagr in 2015-16 for proving age is merely a number after leading the Panthers in scoring.  In 2014-15, Devan Dubnyk captured the award after finally settling into his fifth team in two seasons and putting up a Vezina-worthy performance.  A year before that in 2013-14, Dominic Moore took home the hardware after taking an 18-month leave of absence to take care of his late wife, who unfortunately passed away in January 2013.
As you can probably tell, the stories that make a Bill Masterton Trophy winner (and even finalists) are feel-good stories about defying the odds.  It's not necessarily an award that is easy to predict, though.  After all, the last two winners would have been virtually impossible to project this early in the year.
What if I were to tell you that the script for the 2016-17 winner had already been written? At this point, it's a matter of execution, staying healthy, and simply having a bounce back year.
Yes, I'm talking about Ottawa Senators forward Clarke MacArthur.  He suffered a concussion back on October 14th, 2015 against the Columbus Blue Jackets and has not played since after dealing with on-going symptoms of post-concussion syndrome.  By the time MacArthur steps into the lineup on opening night (if he's even there), it will be 363 days since his last official NHL game.
MacArthur has been a breath of fresh air for the Senators since signing as a free agent back in 2013.  He immediately stepped into a top-six role in 2013-14 and racked up 24 goals (55 points) in 79 games.  Clarke missed a bit of time in 2014-15 but still managed to tally 16 goals (36 points) in 62 games.
Clarke
MacArthur
Forward,
Ottawa Senators
Heading into 2016-17, it sounds as though MacArthur will stay in the top-six (at least start the season). He'll also have a new linemate in Derrick Brassard, who comes over from Broadway with high expectations.
We don't know exactly what to expect from the Sens winger in his return. If he can at least stay healthy at the bare minimum (production aside), it's a storyline that'll be tough to beat.
Update: Most of these write-ups were done over the course of this past week.  Who could have predicted the situation that unfolded at Senators training camp on Sunday?  22-year-old defenseman Patrick Sieloff, acquired in the offseason from Calgary for Alex Chiasson, caught Clarke MacArthur with a cheap shot in the corner.  He was helped off the ice, and Ottawa later confirmed he suffered yet another concussion.  Bobby Ryan immediately came to his aid dropping the gloves with Sieloff.  Even Chris Neil attempted to mix it up with the Sens new defender.
At this point, it wouldn't be surprising to see Patrick Sieloff's contract moved.  After a stunt like that, it'll be nearly impossible for him to gel in that dressing room.
As for Clarke MacArthur.  It's likely too early to put on a return timetable on yet another concussion.  This is the type of scenario that can be career-threatening.  If anything, this only helps fuel the fire for a potential Masterton award winner.  It's just a matter of finding his way back into the lineup, hoping that Sunday's incident looked worse than it was.
Megan Cox, Contributor
The Bill Masterton Memorial Trophy has found itself awarded to the comeback kids of hockey in any given year. Recent winners such as Jaromir Jagr, Devan Dubnyk, and Dominic Moore have more than exemplified the perseverance and dedication that comes with the territory of being the recipient.
Before any puck even drops in the NHL regular season, I can currently think of no one better deserving of the 2016-17 honor than Montréal's Carey Price.
After missing the majority of the 2015-16 season with a medial collateral ligament injury, Carey Price is expected to return to the Montréal Canadiens lineup when their 2016-17 season begins on October 13 in a game against the Buffalo Sabres. And given his performance thus far as Team Canada's primary netminder in the World Cup of Hockey, I think that it is safe to say that he is back in top form, and will be bringing his calm demeanor and butterfly style back to a Canadiens roster that has been lacking optimism in recent months.
With the recent trade of fan favorite P.K. Subban to the Nashville Predators, the fans could certainly use a boost!
While Canadiens fans were breathing a sigh of relief, Price was as well, saying that he felt like now that he was over the mental barrier and was ready to go.
"It's just a joy to be out there," Price said after a 75-minute skate on September 17, in preparation for the World Cup of Hockey. "I had a smile on my face all day just being out there." It's great to hear that he's beginning to feel like his old self again!
Before getting hurt on November 25, Price was the top goalie in the NHL. He posted two shutouts in winning nine of his first eleven starts for the Canadiens last fall. He was 10-2-0 with a 2.06 goals-against average and a 0.934 save percentage. Though he was initially predicted to be out for only six weeks, his absence stretched into six months.
In his absence, the club seemed to fall apart. They finished 13th in the Eastern Conference with only 82 points, a far cry from their 110-point season the year previous when Price was healthy. The Habs had one of their best starts in franchise history, only to finish with some of the worst play in recent Canadiens memory. With Price back between the pipes, Montreal is poised to have a great season if they want it bad enough and work hard for it.
Carey
Price
Goaltender,
Montreal Canadiens
This isn't the first time he has rebounded from injuries either. In both 2013 and 2014, his playoff runs were cut short due to groin ailments. And while Price bounced back from those injuries, this one has clearly taken a bit more work to come back from. Price has worked himself back into shape over the summer and has become a dominant force to be contended with during the WCH.
At 29-years-old, Price is in his prime hockey playing years. With his perseverance and dedication to recovering from his injury and coming back to the Canadiens with a full health meter, I can see no reason Price wouldn't be the ideal candidate for the 2016-17 season's Bill Masterton Memorial Trophy.
This article originally appeared on