NHL All-Star Game 2017: 5 players to vote for other than John Scott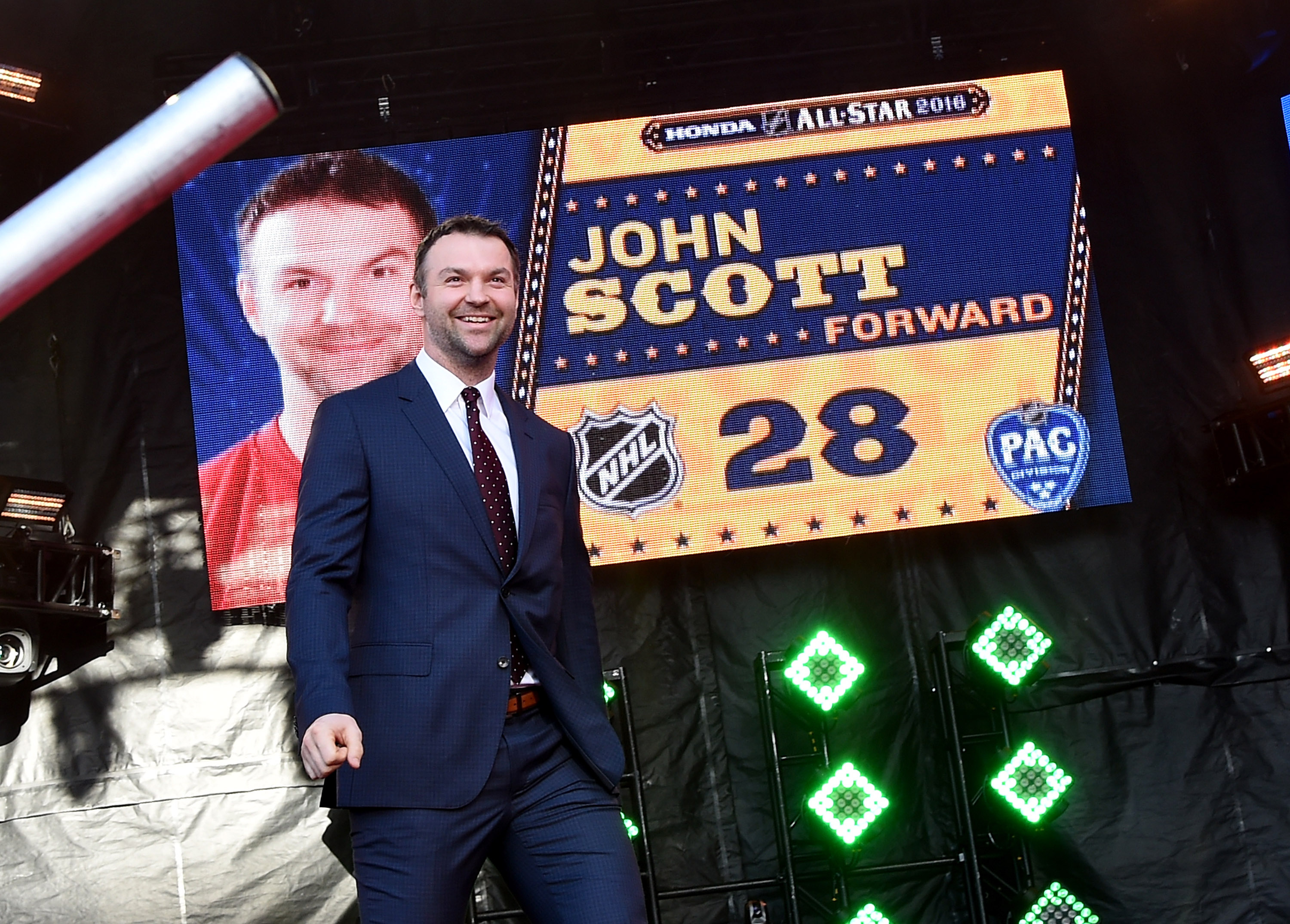 Want to troll the NHL for its new NHL All-Star Game eligibility voting rules? Here are five deserving candidates. 
Last season, the fans got what they desired. They wanted to see John Scott be an NHL All-Star Game participant and did he ever participate. Scott has recently retired, making his unforgettable MVP experience in Nashville the highlight of his hockey career.
Thanks to the NHL's new voting provisions, finding a new John Scott is going to be a bit more difficult. Under these guidelines, he wouldn't have been eligible last year. But that doesn't mean hockey fans have no way of sticking it to the league or making a player's day. Aside from the option of "pick the worst possible player you can think of who won't get sent down", here are five players who could follow in Scott's footsteps.
5. The Sedin Twins
Henrik Sedin and Daniel Sedin have been working their magic in the NHL for well over a decade. With the three-on-three format being used again at the 2017 NHL All-Star Game, why not have two guys who were born for all that open ice in the game? Who knows how long the Sedins are going to continue to dazzle us? Their decline has already sadly started.
Not only that, the Sedins are still quite deserving. Through 19 games, they have 25 points combined for a Canucks team that struggles to score goals. Technically, both couldn't be elected in since fans only get to vote for a captain. But even getting one in is good enough. The Sedins are a treasure, something fans should never take fore-granted.
Connor McDavid is infinitely better than the Sedins at this point. There's no denying it. But McDavid's going to the All-Star Game regardless. Nobody's stupid enough to leave him off the roster. So why not let one of the Sedins captain the team? Maybe if we're lucky, both will get in.
4. Patrick Marleau
San Jose Sharks forward Patrick Marleau has quietly put together one heck of a career. Not only has he played in 1,000 NHL games, he has 1,041 points and over 500 assists. Marleau is a mere 15 goals away from 500, which should all but ensure him a spot in the Hockey Hall of Fame. However, it's clear he's declining and he hasn't ruled out retiring after this season.
Despite his very solid numbers, Marleau has only been to three NHL All-Star Games. True, nobody looks at glorified exhibition game appearances when they review someone's Hall of Fame resume. But wouldn't it be awesome to send Marleau off the right way, with the city of Los Angeles cheering for him for perhaps the first time ever?
John Scott is awesome and electing him to the 2016 All-Star Game wasn't a mistake. However, Marleau is more deserving than him. Sure, he only has five points through his first 18 games and he's playing under 17 minutes a game. But his entire career, he's been unappreciated. Isn't that sort of why fans voted for Scott last year?
A guy like Marleau isn't a Hall of Fame lock. We all know writers are going to nitpick his career, saying he (to this point) hasn't won a Stanley Cup or even finished in the top eight for any major award other than the Lady Byng. Why not send Marleau off knowing he was the man for one last night? He deserves it.
3. Shane Doan
Much like Patrick Marleau, Shane Doan of the Arizona Coyotes has been around the NHL for quite some time. Perhaps no player in the league means more to his city and team than Doan. He has literally not played for any other franchise than the Coyotes. Doan's best days are behind him and he's very likely to retire after this season, especially with Arizona struggling. He's 40 years old and his skill has steadily evaporated. For these reasons, Doan would be a great candidate to vote into the 2017 NHL All-Star Game.
With him, you'd have a bit of the John Scott story going. Veteran whose playing style is starting to get ushered out of the league. Has never been appreciated much outside of Arizona. And the surprising thing? Doan's only been to two All-Star Games (2004 and 2009). Granted, he probably isn't going to the Hockey Hall of Fame. Hall of awesome guys who you love to root for? Absolutely. But Doan only has one of the magic numbers – 1,000 games. The one that's the easiest of the magic numbers to get. Much like Scott, Doan would have the time of his life at the NHL All-Star Game. And fans would enjoy it too, most likely.
2. Zdeno Chara
The Boston Bruins already have four NHL All-Star Game caliber players in Brad Marchand, David Pastrnak, Tuukka Rask, and Patrice Bergeron. But why not let the giant Zdeno Chara have one last moment of glory? Chara turns 40 in March so he might be retiring soon. Age has finally caught up to him. While he still plays huge minutes for the Bruins, he might have too much pride to play if he's not at his best.
Admittedly, the biggest reason you should vote for Chara has nothing to do with the NHL All-Star Game itself. Rather, it's because of the skills competition. Chara currently owns the hardest slap shot on record at 108.8 miles per hour. Yes, he uses a special stick for the competition, but still, that's incredible. On the other hand, Shea Weber has come darn close to beating it the past two seasons. Who wouldn't want to see Chara and Weber in an epic hardest shot competition? It could be like The Rock versus Hulk Hogan at Wrestlemania, a symbolic passing of the torch from the Bruins defenseman to the Canadiens defenseman.
Chara is still a very good player, so he's a deserving candidate. As deserving as others? Maybe not. But hey, the NHL All-Star Game is more about the fans and what they want anyway.
1. Jarome Iginla
The NHL could be seeing the retirement of one of its most important players over the past 20 years – Jarome Iginla. He turns 40 in July and he will be a free agent after this summer. Iginla has virtually nothing left to play for other than a Stanley Cup. And who knows if a contender is going to want to sign him to a contract during the offseason? Iginla has some very impressive numbers, with 1,277 points in 1,491 games as of Nov. 21. His 613 goals (as of Nov. 21) are 16th all-time among NHL players. If anyone deserves one last shining moment, it's Iginla.
Sure, the All-Star Game would be nothing new for him. After all, Iginla's been to six in his career. Another one won't change anything. But it might give him the opportunity to be the star for one last night. Fans would get an opportunity to appreciate him and thank him for all the great moments he's produced.
If fans want a "John Scott" moment at the All-Star Game, voting for Iginla is the right move. Deserving guy who could ride off into the sunset the way a legend deserves to.
This article originally appeared on