New York Rangers: Zibanejad injury means change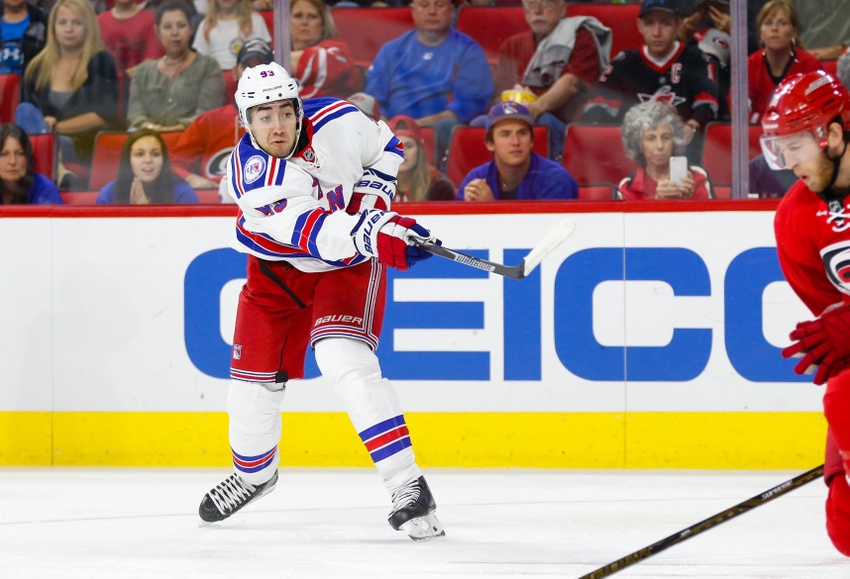 On Sunday night, the New York Rangers lost forward Mike Zibanejad to a broken fibula. The injury will keep Zibanejad sidelined for at least 6-8 weeks.
Want your voice heard? Join the Blue Line Station team!
The New York Rangers saw one of their top forwards, Mika Zibanejad, slide into the boards feet first after he was tripped up while battling with Reilly Smith for a puck behind the net. Zibanejad's injury came just 41 seconds into the overtime period against the Florida Panthers on Sunday. The injury was gruesome, and the expectation off the bat was a long term injury.
Zibanejad was playing a huge role in the New York Rangers' offense through the first 19 games. He had five goals and ten assists playing on the second line with Jimmy Vesey and Mats Zuccarello. Zibanejad also played a major role on the Power-Play that ranks in the top 10 in the NHL.
The Rangers have shown tremendous depth throughout the season. It will be tested in the coming weeks without one of their top six forwards.
Next Man Up
Coach Alain Vigneault has a very tough dilemma on his hands now. How does one replace a player like Mika Zibanejad? Oscar Lindberg should be the next man up on the roster, but not on the second line. Vigneault will more likely go with someone who has been with the team throughout the year to fill that void.
JT Miller is a solid first guess at who could join Zuccarello and Vesey. Miller has seven goals and ten assists through 19 games. He has been electric with Kevin Hayes and Michael Grabner. He typically plays right wing, but has experience as a center. His strong play this year makes a strong case for an increased role with the group on the second line.
Brandon Pirri is another forward who has been playing wing this year, but can play center. He has five goals and five assists for ten points. The big question with Pirri would be playing time. He is averaging approximately12 minutes per game, while Zibanejad was averaging close to 17 minutes. The extra playing time could be a good thing for Pirri.
Given how well Miller has played with Grabner and Hayes, it is unlikely that AV wants to move JT Miller from that line. When there is great chemistry on a line and guys are scoring, its hard to justify breaking that up. Pirri's presence will be missed on the fourth line, but he should make a bigger impact on the second line.
Of course, there is more that goes into this decision than what is seen in games. Practice makes perfect, so perhaps Vigneault sees something in practice that would transfer well to games. It will ultimately come down to what he thinks is best for the team.
More from Blue Line Station
This article originally appeared on