New York Rangers: Why This Is Not Just a Peak: Part 1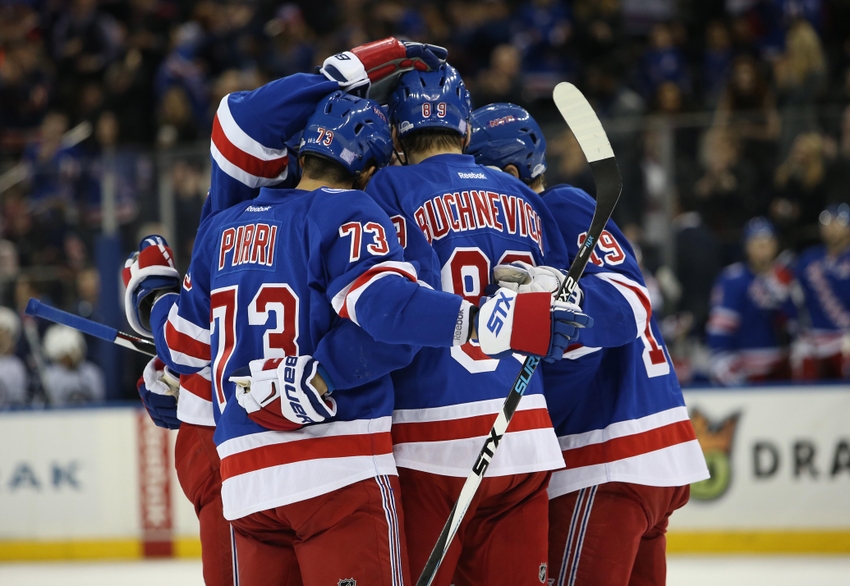 Despite what some pessimists say, the New York Rangers are for real.
We've heard it said by many New York Rangers' fans, the pessimists, the casual followers, the diehards, and even sometimes those who seem most optimistic- "This is just a phase that the team will either have early in the season or late, but it won't last." Oh really? This is one the reasons I believe our amazing play isn't going anywhere.
Now, I like to consider myself more on the optimistic side of this fandom, which means there is always a slight potential for me to want to find the good in this team no matter how they might be playing. But seriously, how can you not find something good to say when the New York Rangers are averaging over four goals a night?
  Reason 1. "Spreading the Wealth"
The Rangers have come bursting out into the season averaging 4.13 goals a night and giving up a little more than two. They have an astonishing 58 goals in their first fourteen games as opposed to last season's 25 in about the same amount of time. JT Miller and Kevin Hayes currently lead the Rangers with 13 points each, so it's only fair they get mentioned first.
– Miller Madness  The phenomenal play of JT Miller has brought him five goals and eight assists along with an impressive +13 rating. And as all hockey players say, it was a group effort. Or well, a line effort that is. With the new and improved Kevin Hayes as a center and Michael Graber on the other wing, it's no wonder Miller has been able to up his game. Last season he played in all 82 regular season games for his team, as he registered 22 goals and 21 assists for 43 points. He is already on pace for an extra nine goals this season at his current rate.
– Hey, Hey- Hey, Hey HAYES!  As previously mentioned, the new Kevin Hayes is one that Coach Alain Vigneault is obviously more than happy to see. Everyone complained last season of how they expected more out of him. From a player that was supposed to bring a lot of speed and be hard on the puck, it was confusing to see how he wasn't performing to the standard coaches and fans alike had expected. Well, he's probably thinking, "How do you like me now?" He is currently riding a bit of a hot streak. However, even once that cools down to an extent, he's got help from his linemates to keep him playing good hockey.
– Step-an Up  As it stands, Derek Stepan only has one goal in his team's first fourteen games. But that's ok because his nine assists have him tied with three other players at ten points apiece. Stepan proves that sometimes it's more about being a play-maker than an actual goal scorer when the team's overall offense is operating at beyond exceptional.
– Getting Nash-ty  Oh the endless complaints we all heard about Rick Nash last season. Frankly, it seemed over half the fan base was practically screaming "trade." Entering this season, Nash is in the same boat as Kevin Hayes. He must prove himself worthy to don the red, white, and blue. So far, his six goals and three assists are helping prove his case.
– Grabbing the Opportunity  Michael Grabner has been pretty darn good to start the season. Yes, it is true that three of his seven goals came in one spectacular game, but that just goes to show every player has that one night that it seems everything goes right. His +13 rating also indicates his better-than-expected performance. Overall, he is exceeding expectations and helping the team remain hot.
– That Was Vesey  Over the offseason, the Rangers won the Vesey sweepstakes, and man has it paid off! In the first fourteen games, he has a respectable +5 rating. He also has six goals and four assists on his extremely impactful line. In looking back at game recaps, it's evident that he could even have a few more goals by now with the way he's been playing. There must have been at least two times in separate games where he missed an empty net. But if these are the early stages, we can only imagine how great the rest of his Rangers' career will look.
– In-Kreid-able!  Despite having back/neck spasms after coming out on a hot streak, he has rebounded pretty nicely. Although he has yet to score after briefly being out, he has a few assists and still brings his big presence every night. He is finally using his speed and strength to wear down the opposition. Rangers' fans can stop complaining about him now, as well. (It seems there was a lot of complaining last season!
Get the FanSided App
– Zucca-hello!  This is #36's second season after overcoming his head injury. While it may seem like old news at this point, it surely isn't. I'm sure most of us can't even imagine what it's like to take a slap shot to the head and not be able to even tell people what's wrong. Our Norwegian Hobbit continues to prove what he's made of with his great start to the season. And who knows? Maybe he will exceed my prediction for him in the player preview.
Want your voice heard? Join the Blue Line Station team!
This is the first reason of four that I believe makes this team great…and will make them stay great. Obviously, the offensive capability is well known. Even in last season, it was evident at certain points that we had the potential for high scoring. Our defense, though, limited us in that department. If you ask me, the defense has gotten better and has given the Rangers the opportunity to break out.
In comparison to the Oilers, who just happen to have McDavid on a hot streak right now, the Rangers have many players that are providing scoring. The Oilers currently have three players without points. As it stands, Oscar Lindberg is the only Ranger without a point, and it is understandable. He came back much earlier than expected from his injury, and has been kind of quiet. But quiet is not always bad…maybe I'll elaborate on that in my next article's point!
More from Blue Line Station
This article originally appeared on