New York Rangers Trade Targets: Antoine Roussel from the Dallas Stars
The New York Rangers main target should most certainly be a right-handed defenseman, but somewhere on their wish list should be a gritty, two-way bottom six forward that fits their system.
Between the instance of New York Rangers goaltender Henrik Lundqvist getting ran over by Dallas Stars forward Cody Eakin and nobody responding and Brandon Pirri and Ryan McDonagh getting jumped in back to back games earlier in the season among others, it is more clear than ever that this team needs a player with some sandpaper in the lineup to deter some of this behavior.
And no, Tanner Glass is not an option.
A right-handed defenseman who can move the puck north-south needs to be their top trade priority, but somewhere on that wish list needs to be a bottom six forward with sandpaper in their game. The Rangers should look no further than the lineup of the Dallas Stars and veteran forward Antoine Roussel.
Roussel, one of the three active NHL players from France, would be a welcome addition to a lineup in desperate need of toughness. He, unlike Tanner Glass or other players that have no other redeeming qualities brings skill to the table as well. The winger has 5 goals and 12 assists through the Stars first 34 games this season. He has been driving possession, too. He is second on the Dallas Stars in CF% with a 54.1%.
When you put all of that together with his six fights through 34 games, he is quite the bottom six player. Contract wise, Roussel is pretty affordable, too. He has another year on his contract after this one at $2 million, which the Rangers can afford. He's also been a solid penalty killer throughout his career, so if the Rangers decide to move a player like Derek Stepan, he can be a replacement there.
What deal might work?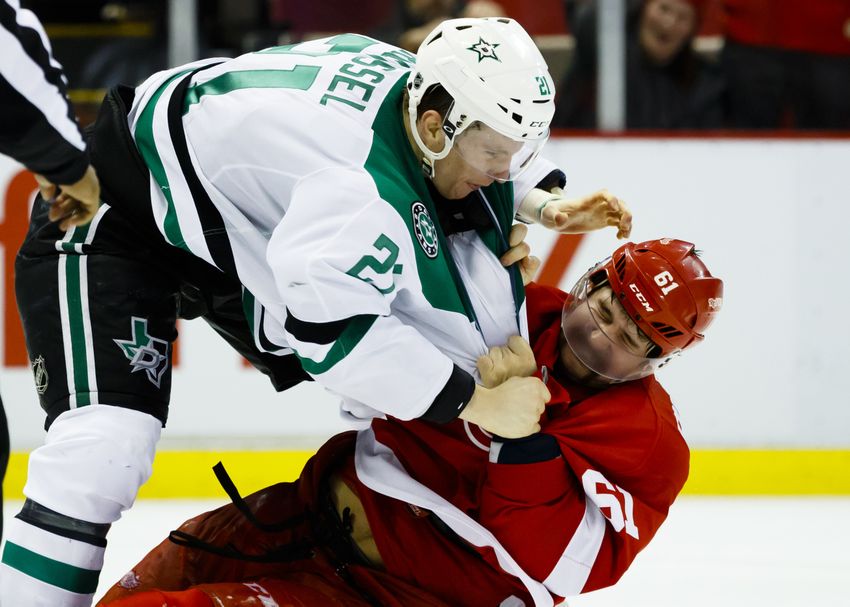 Almost half way into the season, the Stars aren't looking too great, sitting in 5th place in their division and fourth place in the wild card standings with a 13-14-7 record.
Fortunately for them, they are only two points out of a wild card slot thanks to the west not having the Metropolitan Division in their conference, so the Stars could go either way as far as being buyers or sellers at the deadline.
If they are sellers, the Rangers could probably swoop in and get him for a mid-round draft pick. If they are buyers, the Rangers will probably have to give up a forward of their own. Would a bottom six forward like Jesper Fast along with a 6th round pick be enough for the Stars? I'm not sure, but something in that ballpark should be enough for the Rangers to get their man.
If the Rangers can only make one acquisition this year at the deadline, it needs to be a right-handed, puck-moving defenseman. The rugged Roussel should second on their list.
This article originally appeared on