New York Rangers: The Michael Grabner Experiment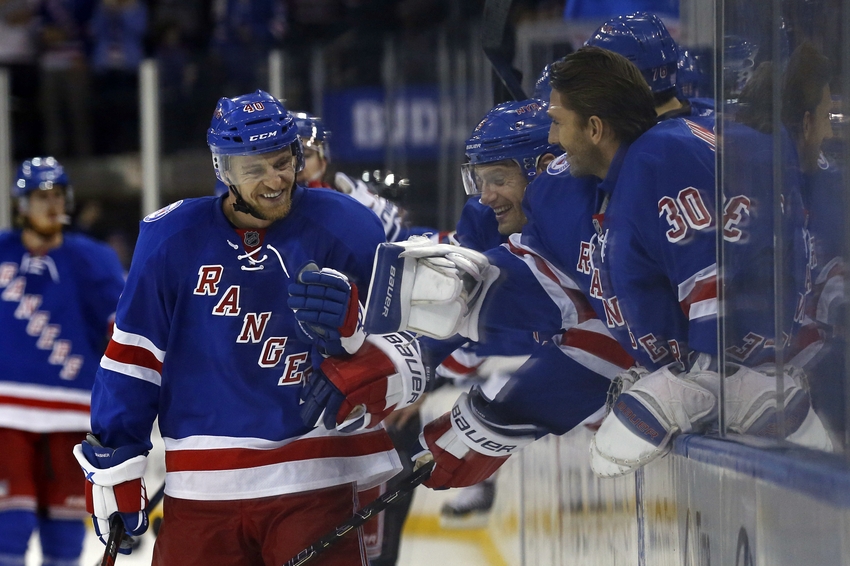 The former Islander and Maple Leaf has turned from a depth signing into an important piece of the offense.
For a major part of his NHL career, Michael Grabner has had a reputation for being fast. Probably one of the fastest guys in the league. However, his biggest kryptonite was capitalizing on the chances his speed gave him.
It was on July 1, 2016, where the New York Rangers and then 28-year-old Michael Grabner agreed to a 2-year, $3.3 million contract. Back then, who would have thought 16 games in, and he would be second in the league with 10 goals. Above all, leading the league with ten full strength goals.
Want your voice heard? Join the Blue Line Station team!
For Grabner, the scoring started early. As early as the 13-minute mark of the first game of the year. Against his former team the New York Islanders. He followed it up with scoring every few games, to collecting a hat-trick, the third of his career, in a 6-1 win over the Tampa Bay Lightning. As a matter of fact, in the last nine games, Grabner has ten goals.
During the game against Edmonton, Grabner tallied goals nine and ten. For Grabner, you can only hope the hot streak continues. Nonetheless, this is a big deal to Grabner, who is trying to show he belongs in the NHL, considering the last three seasons he has scored 9 (15-16), 8 (14-15) and 12 (13-14). His career high, 34, which he scored his sophomore season in 2010-11.
Notably, this season has been much different for the forward. In Edmonton, he played on a line
with Rick Nash and Derek Stepan, so it's easy to believe he had some room to maneuver. In contrast, the first few weeks when he played on the third line for the team.
Grabner was the 14th overall draft pick of the Vancouver Canucks in 2006, then was traded to the Florida Panthers. He failed to make the Panther's team out of training camp and was picked up on waivers by the New York Islanders.
Technically, the Rangers are his 5th NHL team, but only the third NHL team whose main roster he has played on.  So, what is different about this year? It could be that Grabner feels this year is a year to prove himself, show that the NHL is where he belongs.
One of the biggest differences is that he is playing a complete game. He is using his speed to create offense; he's putting pressure on with his forecheck as well. Secondly, he has concentrated on his defensive game. Making plays on defense and converting them into offensive opportunities. Lastly, and most important, he is cashing in on his opportunities.
Whatever it is, if he stays healthy, and continues to produce, he could be a big factor for the Rangers. Especially come playoff time.
More from Blue Line Station
This article originally appeared on