New York Rangers: Ten Thoughts Through the First 30 Games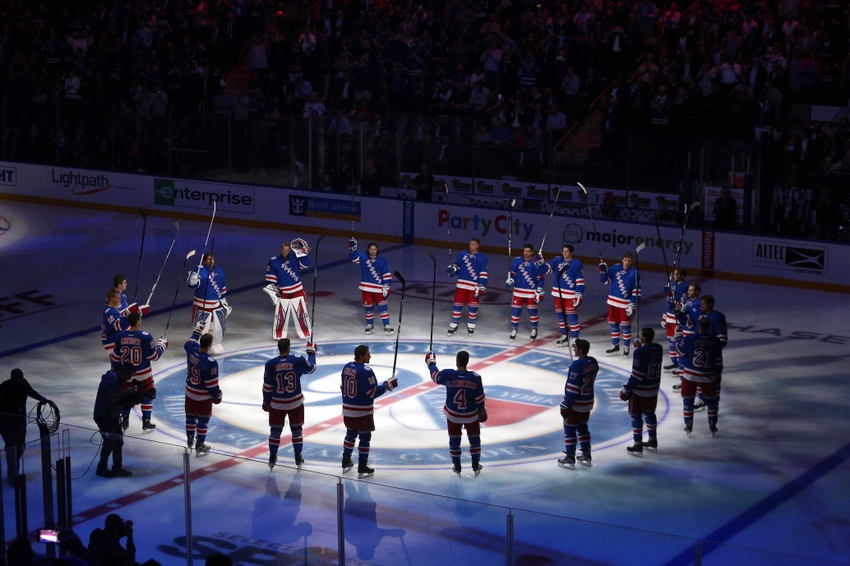 The New York Rangers have completed their first 30 games of the season, providing plenty of room for analysis. Let's take a look at the season thus far.
The top story of the season is the Rangers' scoring prowess. Scoring over three goals per game is impressive, but doing so with a wide margin is tremendous. The story was semi-predictable with New York's outstanding depth, but few could have called Michael Grabner's 13 goals, or the extent of which the depth has helped this team.Jeff Gorton deserves plenty of credit for his work in fixing the bottom six. Even with Pavel Buchnevich and Mika Zibanejad out, the Rangers' depth has been a strong point. Brandon Pirri has not been nearly as impressive as expected in his role, but for every struggle a Ranger has gone through, a teammate has picked him up. That's 2016-17 Rangers hockey.
Jeff Gorton also deserves blame for the Rangers defense. The belief here remains that Gorton must not be excused for failing to buy-out Dan Girardi in the off-season. Gorton had the opportunity and opted not to, also allowing Keith Yandle to leave. Adam Clendening and Nick Holden have been fine additions, but Gorton did not bring in help in the Rangers' most glaring area of need.
Ryan McDonagh continues to be Ryan McDonagh, in the sense that he holds the potential to be Norris-caliber, but is instead merely above average. Early in the season, McDonagh looked unstoppable. Then Alain Vigneault returned Dan Girardi to McDonagh's pair, and the captain lost his way. One of the great tragedies of the recent past for the Rangers has been Vigneault's insistence of playing the two together. McDonagh deserves better, but the expectation is he will not receive better.
In net, Antti Raanta is playing like Henrik Lundqvist and Henrik Lundqvist is playing like Antti Raanta. Look for that to even out over the course of the season, as Lundqvist is far too good to continue to struggle. Of note, however, is Lundqvist looking extremely uncomfortable in net. Lundqvist normally works in robotic fashion, but teams have found him out of position more often than ever.Often this season, Lundqvist glared at his defensemen following goals. Lundqvist appears to be less patient than ever regarding deflections and screens from his own players.
The newbies sure have come to play. Mika Zibanejad was working wonders as a trigger-man on the power-play before getting hurt. Pavel Buchnevich had a four game goal streak at the time of his injury. Brandon Pirri has struggled some, but Jimmy Vesey's scoring touch has balanced the struggles out. Michael Grabner's 13 goals would be good enough for the entire season, better yet the first 30 games.
Speaking of Grabner, the likely future Las Vegas Golden Knight may be the Rangers most valuable player this season. The award could also go to Kevin Hayes, J.T. Miller, or Rick Nash, but let's focus on Grabner. The former 30-goal scorer has put up 13 goals despite swapping linemates on a near-nightly basis. Grabner has played on all four lines, producing offensively regardless of where he is placed.The most important part of Grabner's success is not his scoring touch, however. With Grabner wreaking havoc on the penalty-kill, the Rangers advanced from the 26th ranked kill to the NHL to 7th. New York also scored as many short-handed goals as last season.
The power-play has not been nearly as strong, but Mika Zibanejad's return will help in that department. New York badly misses having a right-handed trigger-man on the man advantage. Playing five lefties at a time is a disadvantage, and Derek Stepan cannot make quick enough decisions to serve as an ideal right-handed option. Pavel Buchnevich will also assist, as recently the Rangers looked to Nicklas Jensen for power-play time. Not ideal at all.
Another observation on the power-play. The point men have shot the puck far less often than in recent seasons. New York prioritized passing plays throughout the season, often wasting the clock on themselves. With Kevin Hayes, Chris Kreider, and Rick Nash serving as big bodies, Ryan McDonagh should be rifling the puck on net to find deflections and rebounds.
How to win a hockey game, New York Rangers version:
Option 1: Rangers offense outscores Rangers defense's miscue total.
Option 2: Rangers goaltender outperforms Rangers defense's miscues.
Option 3: Opposing team cannot handle Rangers depth, Rangers score on few shots.
Option 4: Luck, luck, and more luck.

Despite the poor possession numbers and concerning defense, sitting among the top teams in the NHL 30 games in is quite nice. Regression may be coming, but the season thus far has brought a plethora of memorable moments.
More from Blue Line Station
This article originally appeared on