New York Rangers Should not Pursue Jets' Trouba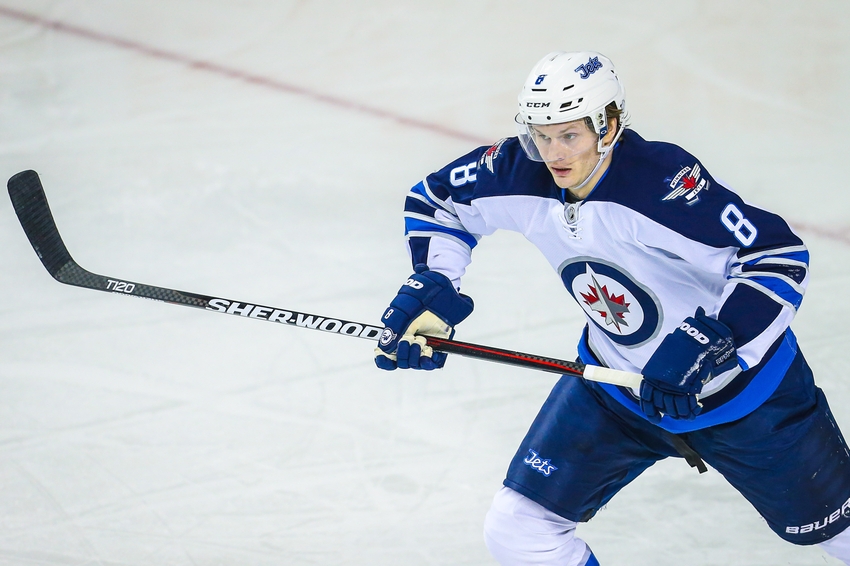 Rumors have been circulating since Winnipeg Jets defenseman Jacob Trouba submitted a trade request in September. Should the New York Rangers pursue him?
On October 21, Trouba's agent, Keith Overhart, released a statement saying that after months of negotiations, the talks were at a standstill and rather than work on a new deal, his client and Jets management were working towards finding a landing place for the 22-year-old.
Trouba is in his third season with the Jets after being selected ninth overall in the 2012 draft. He has played 211 NHL games and has 23 goals and 72 assists while averaging 22 minutes per game.
Trouba had been playing as a part of Winnipeg's bottom defensive pair, which, as The Hockey News reported, has had a negative impact on the young defenseman's production. Trouba's camp certainly believes that Jets head coach Paul Maurice's use of the 22-year-old inhibited him from playing to his full potential.
The statement released by Overhart stated that the request for trade had nothing to do with the Jets, Winnipeg or his relationship with management and ownership – it comes simply because Trouba feels his current playing situation is not one where will be able "to realize his potential as a right shot NHL defenseman."
With the Dec. 1 restricted free agent deadline fast approaching, Trouba and Overhart have some decisions to make rather quickly. If he does not sign a contract somewhere – whether with the Jets or elsewhere – Trouba becomes ineligible to play the remainder of the season.
Trade Conditions
Moving Trouba might be hard for Jets GM Kevin Cheveldayoff. Trouba is asking for a sizeable amount of money he wants. Assuming that Trouba manages to sign a long-term contract, it Is safe to say that he could have a cap hit in the $5 million range – the same as young players like Seth Jones, Hampus Lindholm, Morgan Rielly and Rasmus Ristolainen.
Want your voice heard? Join the Blue Line Station team!
The Jets already have two right-handed defensemen in Dustin Byfuglien and Tyler Myers so the Jets ideally are looking for a team willing to shell out a young, left-handed defenseman. A team with little cap space (like the Rangers) would have to trade a player who comes at around the same price point in order to free enough space to fit Trouba.
Why this trade won't make sense for the Rangers
It is likely that the Rangers will trade for someone who could be an extremely solid top-four defenseman at some point this year – but in trading for Trouba the Rangers may have to give up a core forward (not what the Jets are looking for) and potentially more.
Upcoming

Schedule

11/6

Winnipeg Jets
11/8

Vancouver Canucks
11/18
at

Columbus Blue Jackets
11/20

Florida Panthers
11/21
at

Pittsburgh Penguins
Money is definitely an issue for the Rangers. They have only $3.12 million dollars left in their cap space, and as mentioned, would need to trade someone of similar value to absorb some of the cost.
Names in the likeness of combinations like J.T. Miller and Brady Skjei – Larry Brooks even suggested Chris Kreider as an option back in early October – have been mentioned in regards to making this opportunity a reality. Since the Rangers limited trading ability due to a handful having no trade clauses, this would mean they would have to trade core players without clauses, a solid young defenseman or even might need to trade prospects or picks.
All of it is just too much to give.
With how dominant the New York Rangers offense has been at the start to this season, management has a buffer. The defense is definitely something that needs attention, and there is no problem with expressing interest in players but nothing necessarily needs to happen right now. It is not worth it to give up players who have become the core of the offense, a promising young defenseman, prospects or picks for just one player.
There is no reason for the Rangers to rush to figure out their defensive issues by Dec. 1. July 1 will be here before they know it – then Kevin Shattenkirk will become available with only a large price tag.
More from Blue Line Station
This article originally appeared on