New York Rangers Scoring Aplenty During Win Streak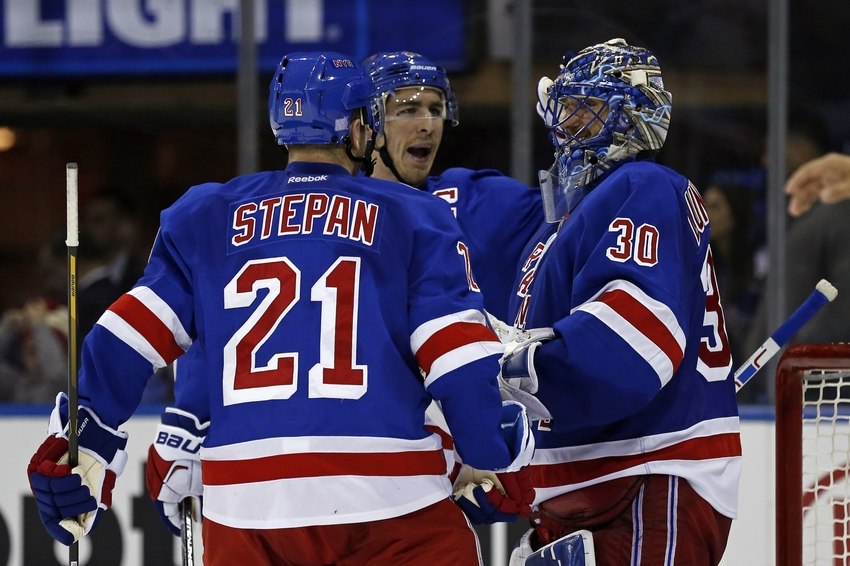 The New York Rangers (10-3-0) have the hottest offense in the NHL, tallying five goals in each of their past five games en route to a league-leading +26 differential.
Can the New York Rangers maintain their current scoring pace? The Rangers are 1st in the NHL in average goals per game scored, sitting at 4.2 goals per 60 minutes. Their power play, which has long been a lament of fans, is clicking. Sitting 8th in the league, the Rangers are scoring on about 23% of their power plays. Even the penalty kill unit collected two short-handed goals on November 5th. In eight of the Rangers 13 games, they have scored five or more goals.
All in all, the Rangers have looked unstoppable since October 30th, where they scored six goals on the Tampa Bay Lightning.
Leading Goal Differential
Scoring the most goals in the NHL isn't usually synonymous with the New York Rangers. Embracing their new identity, the Rangers haven't traded in defense for offense. Instead, they're using a beautiful tandem system, one that has catapulted them to the best goal differential by 12 goals.
Of course, it doesn't hurt to have Henrik Lundqvist in net as The King has looked every bit his best. If you look at last season's statistics, the Rangers were 11th in goal differential at +18.
Where is the Offense Coming From?
Rookie Jimmy Vesey has looked well worth the courting the Rangers gave him during the off-season (6-4-10) and continues to be a threat. Another notable rookie, Pavel Buchnevich, is a modest 2-2-4 but is looking more comfortable with each game.
Off-season acquisitions Brandon Pirri, Michael Grabner, and Mika Zibanejad have provided depth. Looking down the chart each line has at least one new name on it.
Vesey skates the top line. Zibanejad has centered the second line in the swap with Derick Brassard (who went to Ottawa). Grabner has been a wonder on the third line wing. Pirri and Buchnevich have chipped in on the fourth line with Jesper Fast. The darling system of scoring depth so championed by coaches is being shown off wonderfully by the Rangers.
Defense Chipping In
Even the defense hasn't been sacrificed to add to the Rangers offensive explosion this season. Captain Ryan McDonagh leads points by Rangers d-men with nine, all assists.
In his second season, Brady Skjei has eight points to help the offense. Even new defensive acquisition Nick Holden has chipped in with seven points, also leading the defense with a +13.
There is no telling whether the New York Rangers can maintain their torrid scoring pace, but any team having to face them now should be weary. If each line continues to play as they have the past five games, the Rangers could be challenging for the top spot in the league this season.
This article originally appeared on