New York Rangers: Say Hello to Some Familiar Faces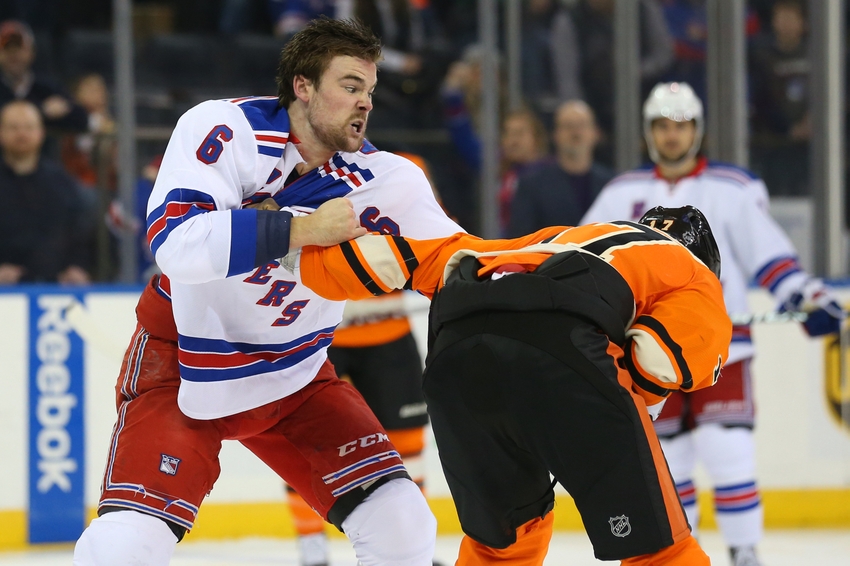 Last night the New York Rangers hosted the Florida Panthers. It was the first time Dylan McIlrarth returned to the Garden since being traded.
A chilly Sunday brought in a team from the warm and sunny state of Florida. Familiar faces filled Madsion Square Garden on both sides, as Brandon Pirri faced his former squad for the Rangers, and defensemen Dylan McIlrath and Keith Yandle returned to their old stomping grounds.
While the Rangers lost Yandle to free agency, losing McIlrath via trade was a choice the Rangers di not have to make. Jeff Gorton moved the enforcer for a 7th round pick and Steven Kampfer, signaling the Rangers did not think highly of the former first round pick. Fans have seen several favorites depart, but that is business.
With time passed, it is worth considering how missed the bruising defenseman is in New York. As the Rangers continue to succeed without McIlrath, the belief here is he is not missed much. In terms of team production, there appears to be much more production from the back end when McIlrath is out of the lineup.
A player like Dylan McIlrath is one that is necessary to have on any hockey team. When players like Mats Zuccarello and Jimmy Vesey and Pavel Buchnevich, are part of the main core of the team, that is a small lineup. McIlrath can keep opposing teams in check, allowing those players to roam freely.
Gritty players that will stick up for their teammates are like big-foot, they may be seen from time to time but they are largely urban legend sat this point. The team will miss him when they play teams like the Philadelphia Flyers, who like to use their bodies.
It is important to acknowledge McIlrath is nothing more than a fighter. For one to consider McIlrath formerly an impact player would be head-scratching, as his value was in an outdated aspect of the game. He did not bring much to the table other than fights and big hits.
Some believe McIlrath had a powerful shot from the point, but his lack of offensive production in the NHL tells a different story. Regardless, the Rangers need much more than what McIlrath could provide.
Mc-Attack
Going up against a former team has always been a day marked on the calendar. Players must battle the same players that they once stood up for and fought with. Many fans enjoyed watching McIlrath take the ice and be the big brother standing up against the bullies for his teammates, but winning will always be of the most importance.
So, as McIlrath leaves New York once again following last night's contest, let's take a moment to appreciate his finer moments.
Last year against the Flyers, Rangers fans were excited to see him get payback against Philly.
This past preseason, McIlrath did what McIlrath does best, standing up for his teammate and taking on another Flyer.
INSERT NEXT POST SHORT CODE HERE
While the trade was worth it, looking forward it will be interesting to see if McIlrath fights the very team he once defended.
More from Blue Line Station
This article originally appeared on