New York Rangers Rookie Jimmy Vesey Is Unstoppable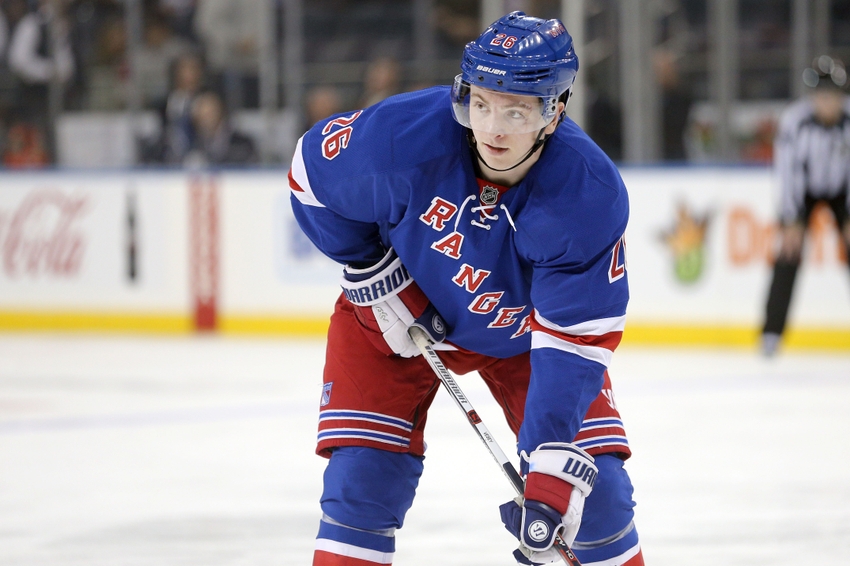 New York Rangers prized college free agent signing Jimmy Vesey is turning heads early and has found his name in the early Calder Trophy conversation.
New York Rangers rookie Jimmy Vesey is off to a great start this season and recently led the team to a 5-0 win over St. Louis on Tuesday night.
Vesey has had all eyes on him since he became a college free agent over the summer and is finally showing everyone what he can do.
Jimmy's talent is on full display as he keeps scoring and benefiting his team. Vesey has been a standout on the Rangers and is beginning to seem unstoppable.
The "Jimmy Vesey Sweepstakes"
Vesey became a college free agent in August and was exploring team opportunities outside of the Buffalo Sabres – who acquired his rights from Nashville back at the NHL Draft. Vesey met with several teams throughout the free agency process but ultimately signed an entry-level contract with the Rangers.
The rookie immediately became a vital part of the Rangers' younger core players. Vesey had 24 goals in 33 games in his final season at Harvard and many were waiting to see what kind of offensive threat he would become in the NHL after being named Hobey Baker Award winner.
Initially, some were skeptical of what Vesey had to offer and wondered how he would adjust to the NHL. The rookie was quick to show everyone what he can do and is now a very vital part of the Rangers.
The Rookie Power forward
Jimmy Vesey knows how to score. After just 10 games with the Rangers, he currently leads the team with six goals.
Vesey is becoming a power forward; he gets the puck to the net, he accurately passes the puck, and he scores. The rookie has excelled along linemates Rick Nash and Derek Stepan.
Jimmy currently also has three assists so far this season. He recorded two of three assists against the St. Louis Blues on Nov.1 when he recorded a three-point game (1 G, 2 A).
Vesey has been an excellent puck mover and has been using his play-making abilities to his advantage. He has an accurate shot when it comes to scoring and has found just the right chemistry with his line mates.
He is an offensive force on the ice and it seems like he can't be stopped. He is definitely a rookie to watch as the season progresses.
Rookie To Watch
Vesey is excelling and it's only the beginning of what he can do. In just 10 games he has six goals and three assists and there are many more games to play.
Get the FanSided App
As of right now Vesey is tied with Maple Leafs rookie Auston Matthews in goals and trails him by only one assist. While all eyes have been on Matthews, especially after his four-goal debut, Vesey has slowly been catching up with the Toronto rookie.
Vesey has a lot to offer and has become a very important member of the New York Rangers. If he keeps up this play as the season continues, Vesey will have a tremendous breakout season.
The rookie has already made his mark on the Rangers and the NHL and it's just the beginning. Looking forward, we can expect to see Vesey excel on the ice by making plays and grabbing goals.
The Vesey excitement isn't over yet, especially for New York Rangers fans. There's a lot of games left and a lot of time for Vesey to make his debut season even better.
More from Puck Prose
This article originally appeared on