New York Rangers offense is making people forget about defensive woes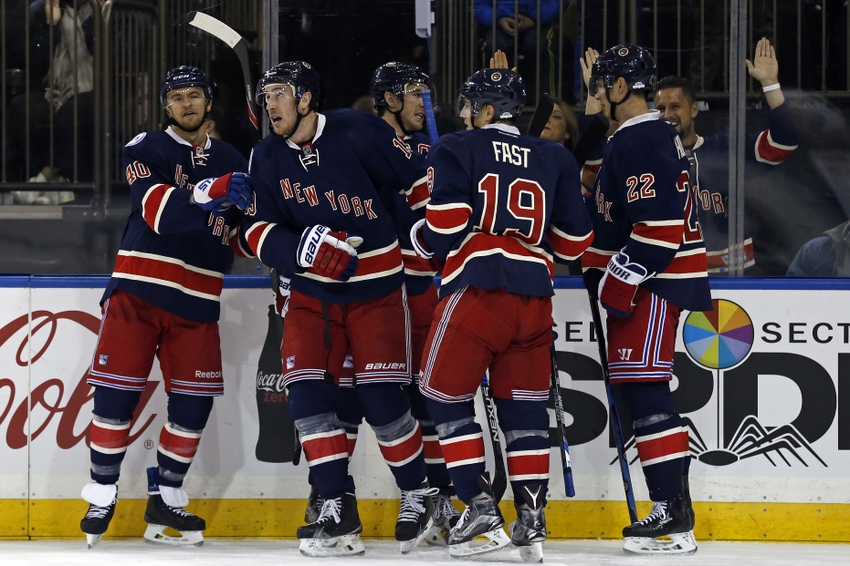 After an offseason full of vitriol being thrown at New York Rangers general manager Jeff Gorton not going out and making a move for a defender, the team has opened the season with the defensive issues playing second banana to the best offense in the league.
So we are 9 games into the season and the team sits currently with a 6-3 record. While I know it still is really early to say I told you so, I will do it anyway.
All offseason long, I told you guys and anybody else who would listen to me–surprisingly not a lot of people–that the New York Rangers had the deepest forward group in the Eastern Conference and quite possibly in the league. I think others are starting to realize that this is true.
Want your voice heard? Join the Blue Line Station team!
The Rangers averaged 3.9 goals per game in October, which is absolutely ridiculous. As you could imagine, that is the most in the league. The Rangers are the only team as of November 1st that boasts 9 skaters with more than 1 goal.
Like I said, it's still early in the season, but this is all worth noting.
The biggest difference about this team is that Alain Vigneault doesn't feel the need to roll out a checking line with a guy like Tanner Glass anymore, instead opting to use a 4th line full of speed and skill which he should've been doing all along
And all of this is keeping eyes away from two things that would've been clear as day last year; the defense is still far from perfect and so is Henrik Lundqvist.
Upcoming

Schedule

11/1

St. Louis Blues
11/3

Edmonton Oilers
11/5
at

Boston Bruins
11/6

Winnipeg Jets
11/8

Vancouver Canucks
Lundqvist is boasting some pretty mediocre numbers 7 starts into the season. He has allowed both his goal against average and save percentage dip– 2.45 and .901% respectively.
Regardless of the what the fan base will say, Lundqvist's days as the top goalie in the league are over. With that being said, I do think Lundqvist can and will be a very effective, and has shown before that after slow starts he bounces back in dominant form, but I don't know. This slow start, for whatever reason, seems very different to me.
And as far as the defense, this has mo do with AV continuing to play favorites despite obvious poor play. Full disclosure, though; as I speculated in the offseason, Marc Staal has been much better this season which is great for the Rangers. Even Dan Girardi has shown flashes of being a competent NHL player so far. But my god, Nick Holden is some kind of bad.
Whether it's doing a snow angle or blowing a defensive assignment, AV still plays Holden 19:36 a game. When you misplay as situation–despite getting lucky–so badly as the one with Dylan McIlrath and you leave a guy like Adam Clendening who at one point led the league in CF% out of the lineup for a guy who literally does nothing for your game (Holden) then you deserve to be questioned. Holden was a fan-favorite in Colorado, so maybe he is just slumping right now and he'll bounce back. But I just wish AV would play the guys who give the team the best chance to win.
I'll leave you guys here with this, and this will be another toot of my own horn but deal with it. I wrote an article in the offseason with why I thought this team was still a contender and I got so much flak for it. Now with the offense clicking the way it has, even with just 9 games under the team's belt, who is gonna say I'm wrong now? And Henrik isn't even at his best.
Just wait, NHL…
.
More from Blue Line Station
This article originally appeared on