New York Rangers news rumors and notes December 12th, 2016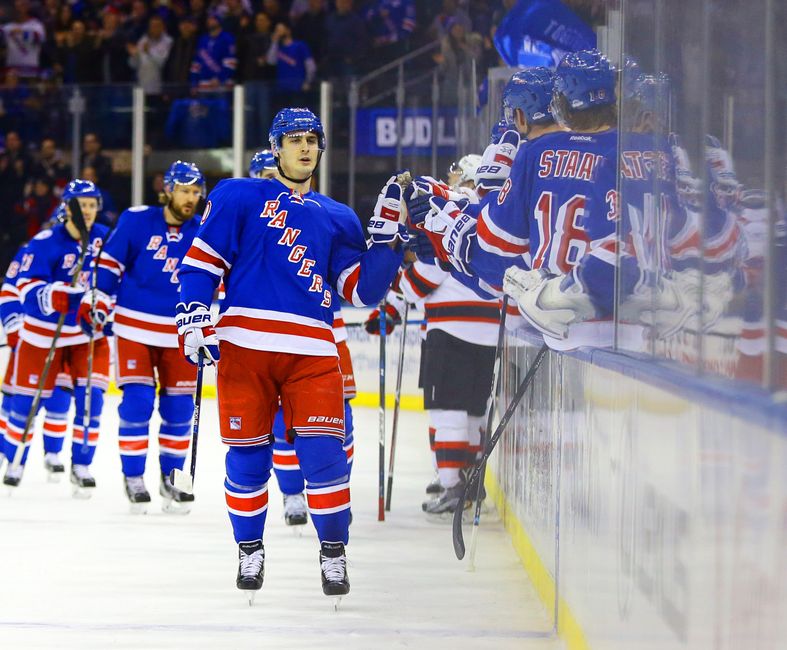 All the New York Rangers news you need with your morning cup of coffee for Monday, December 12th.
First things first, the New York Rangers destroyed the New Jersey Devils last night to the tune of a 5-0 win. I was kind of getting worried that they hadn't scored five goals in a game for a while before last night.
All joking aside, each goal the Rangers scored was important for a different reason. With Chris Kreider's goal, he now has seven points in his last six games including four goals in his last five games. J.T. Miller's goal was hard fought and well earned and gave the Rangers some insurance. Brady Skjei got his first career goal which is pretty self-explanatory. Brandon Pirri finally got the monkey off his back and scored his first goal in 13 games, and Jimmy Vesey scored again, which must be great for the rookie's confidence.
The other thing that this game provided was the continued stellar play of backup goalie Antti Raanta. Raanta made 19 saves for his second shutout in as many games. The New York Post's Brett Cyrgalis wrote about how Raanta may be forcing a goaltending controversy in Manhatten, a town which hasn't had this problem in a long time.
Prior to the game, Cyrgalis wrote about how Lundqvist knows he has to be better and how he understands Alain Vigneault's decision to start Raanta a third straight game.
During his postgame conference, Vigneault said that he knew who would start the team's next game, but did not say who it was going to be. One could assume that it will be Raanta, who will start his fourth straight game when the Rangers take on the Chicago Blackhawks again Tuesday, this time at the Garden.
Yesterday morning, I wrote about how regardless of what it looks like right now, Henrik Lundqvist is still the King of the Rangers' crease and will continue to be for a long time.
I do agree with Vigneault's decision to keep starting Raanta though. How could you possibly not start a guy after he has had two straight shutouts? I know that he hasn't had the workload that Lundqvist had in his last three starts, but regardless it's impressive.
And to my point, Tim Dianora of The Hockey Writers wrote about how Lundqvist should be the least of the Rangers worries. I tweeted this out yesterday morning–you could follow me on Twitter @JaW1224 by the way–but I truly believe when Lundqvist plays his next game, he is going to be a beast in the crease.
In other, none goalie related news, after being placed on waivers on Saturday morning, Josh Jooris was claimed by the Arizona Coyotes. Jooris fell out of favor with the New York Rangers coaching staff pretty early on. The timing of the team waiving him with all the injuries they have at forward is a testament to that.
Justin Tasch of the New York Daily News wrote about how the New York Rangers are thinking playoffs already, and how that may be a good thing for them.
And lastly, Full Tilt Rangers' Anthony Scultore took a look at the Derek Stepan contract and whether the team should move it before his no-movement clause kicks in on July 1st. This has been a long-debated issue, and, in my opinion, if the Rangers can get a young, puck-moving defenseman and a solid two-way center in return for him in a package with somebody like Kevin Klein, I think they should do it. Otherwise, I don't see the harm of keeping him on the roster.
More from Blue Line Station
This article originally appeared on