New York Rangers must protect Rick Nash in Expansion Draft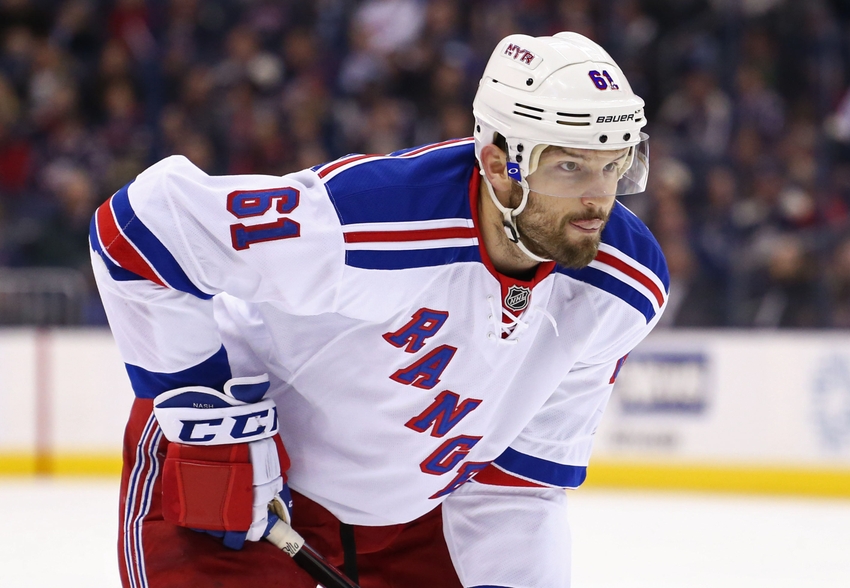 Previously mentioned as a strong possibility to be exposed to the Expansion Draft, Rick Nash has now been announced as protected from the possibility. Let's take a look at what this means for the New York Rangers.
Rick Nash was supposed to be one of the hot-button names regarding NHL Expansion. Nash will have one year and $7.8 Million left on his contract when the season ends, making him an expensive rental.
The Rangers would have been faced with the choice of trying to trade Nash's last year, keeping Nash, or seeing if the Vegas Golden Knights wanted to take the contract off of their hands.
New York had the decision made for them this afternoon, as it was announced Nash is exempt from the process. Sportsnet explained:
For example, veteran winger Rick Nash is required to be protected by the New York Rangers. He's been a popular player to expose in mock drafts conducted by users of capfriendly.com or the (now defunct) generalfanger.com site because of the Rangers cap situation and the fact Nash is due to carry a $7.8-million cap hit next season.

However, the language in the contract he signed with Columbus on July 3, 2009 stipulated that he maintained the no-move aspect of the deal when it came to being waived or loaned (and ultimately exposed for expansion, under the NHL's new interpretation) even though his full no-trade clause was downgraded to a 12-team list in June 2015.
The Rangers now have no choice but to trade Nash prior to the Draft, or protect the forward for the last year of his contract. Nash managed a mere 36 points last season, leading to speculation the Rangers would trade him.
Instead, Nash was kept on board as a part of the Rangers new four-line deep forward corps. Nash has played well in his penultimate contract year, scoring 13 points in 20 games. $7.8 Million is a large chunk of change for a team seeking multiple defensive upgrades, making Nash's contract a question mark. Giving up Nash would have been difficult, but gaining the cap space would have been a strong addition.
The Rangers will be in the market for Kevin Shattenkirk and Michael Stone should they reach free agency, but now with more limited options unless Nash is dealt. Additionally, the inability to trade Nash impacts the Rangers Expansion Draft possibilities.
More from Blue Line Station
New York must buyout at least one of Dan Girardi or Marc Staal to save money, while the other will be required to be protected. With that, New York will protect three defensemen, seven forwards, and a goalie.
Henrik Lundqvist will be the goaltender protected. Ryan McDonagh, Dan Girardi, and Marc Staal are currently the three defensemen that will be protected, but the bet here is one of Girardi or Staal is moved, and another defenseman is brought in. Regardless, the seven forward spots were expected to be open–until today. Now the Rangers have six forward spots open after the Nash news.
Exempt due to lack of NHL playing time will be Pavel Buchnevich and Jimmy Vesey, leaving six spots for Jesper Fast, Michael Grabner, Kevin Hayes, Josh Jooris, Chris Kreider, Oscar Lindberg, J.T. Miller, Matt Puempel, Derek Stepan, Mika Zibanejad, and Mats Zuccarello.
Hayes, Kreider, Miller, Zibanejad, and Zuccarello will be protected barring unforeseen circumstances. One spot will be left for one of Fast, Grabner, Jooris, Lindberg, Puempel, or Stepan. Unless the Rangers seek to shed salary, Stepan will be the forward protected.
That means with the news about Rick Nash, scoring sensation Michael Grabner's time in New York is more certainly running out than ever before. New York must have a player plucked from the team, and with the defense being horrid, it will come down to the aforementioned forwards and Antti Raanta. There will be many goaltenders available, but few double-digit scoring speedsters that can play on the penalty kill.
In conclusion, look for either Rick Nash to be traded before the Expansion Draft, Derek Stepan to be traded before the Expansion Draft, or Michael Grabner to be selected by the Vegas Golden Knights in the Expansion Draft. Rick Nash can no longer become a Golden Knight by selection.
This article originally appeared on