New York Rangers Mika Zibanejad out 6-8 Weeks With Broken Fibula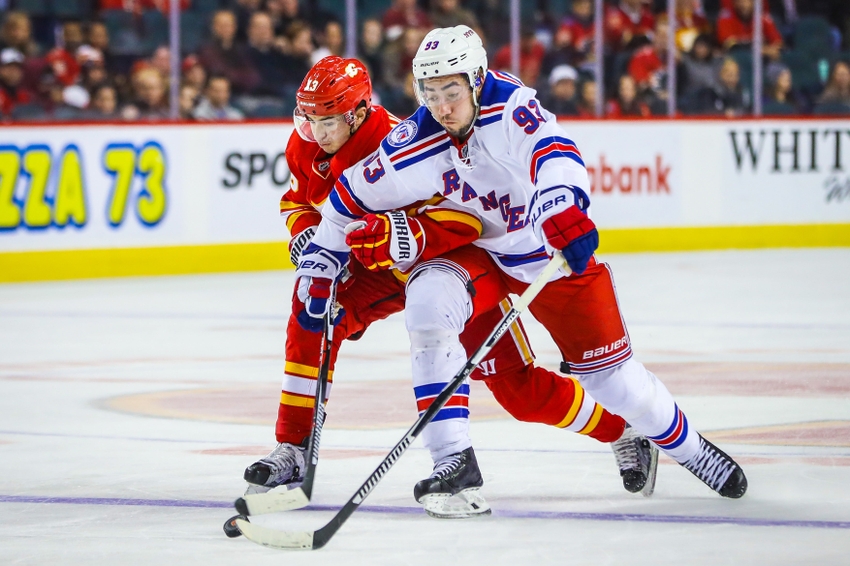 New York Rangers forward Mika Zibanejad Will Miss the Next 6-8 Weeks After Suffering a Broken Fibula After Crashing Awkwardly Into the Boards on Sunday Versus Florida. Opportunity Knocks for 2015-16 Rookie Sensation Oscar Lindberg
After hitting a recent rut, things got worse for the New York Rangers on Sunday. Prized offseason acquisition Mika Zibanejad was forced out of action versus Florida 41 seconds into overtime after getting tangled up with Panthers F Reilly Smith.
Zibanejad fell awkwardly into the boards and it was later revealed that he suffered a broken fibula on the play. The fibula, commonly referred to as the "calf bone", is the smaller of the two leg bones located on the lateral side of the tibia. The Swedish center will miss an estimated 6-8 weeks.
*Warning: The initial play at full speed is difficult to see, but the replay later on in the video is not for squeamish stomachs.
Lousy Timing
Despite the Rangers dropping their last two games after a memorable start, it's worth noting that Mika Zibanejad was one of the few standouts over the last few games. He was off to a terrific start with five goals, 10 assists (15 points) in 19 games.
And to think, Ottawa was willing to surrender a draft pick along with Zibanejad in order to acquire Derick Brassard. The Sens new center has two goals, five assists (seven points) in 18 games so far.
Opportunity Knocks
New York Rangers fans don't want to hear this right now, but this may actually be a blessing in disguise. The opportunity in which it creates may ultimately help strengthen the blue shirts long-term. Let me explain in a little more detail:
Remember 2015-16 rookie sensation Oscar Lindberg? He came out of the gates red-hot, but eventually cooled down as the year progressed. Oscar wound up finishing the season with 13 goals, 15 assists (28 points) in 68 games. Well, the Swedish center wound up undergoing hip surgery back in May 2016, which forced him to the injured reserve to start the new 2016-17 campaign.
Lindberg was activated off the IR back on October 23rd. In that near month since, Oscar has spent a lot of time in the press box. He has appeared in seven games, recording one assist, a -1 plus/minus rating, eight penalty minutes, five shots, all while averaging just 9:54 of ice-time/game.
Call it a mix of factors to help explain his lack of ice-time. The most obvious being an abundance of forwards that are getting the job done. No other team in the NHL compares with the NYR right now in terms of depth scoring. You also have to imagine it will take some time to get back to 100 percent for Lindberg. Missing offseason training and training camp/preseason in general means there could be plenty of rust to shake off.
Blessing in Disguise
This could be a major make or break moment for Oscar Lindberg.
It's unclear where he draws into the lineup moving forward, but imagine this: Lindberg joins the scoring parade to prove that 2015-16 wasn't a fluke. By the time Zibanejad returns, the New York Rangers have yet another scoring threat for their Stanley Cup run.
Add a productive Lindberg to a team that already possesses 14 players with 10 or more points through 19 games, we could be looking at the best New York Rangers squad in years.
Want your voice heard? Join the Puck Prose team!
Line Juggling?
It's unclear if coach Alain Vigneault plans to tweak his lines much following the injury. Given the two-game slide, it might be the perfect opportunity to shake things up slightly.
*Also, it's important to note that rookie Pavel Buchnevich is also on the IR dealing with back spasms. We're still waiting for more details on a return timetable, so for now, let's consider him day-to-day.
Here's what I would do with the lines (minus Zibanejad/Buchnevich):
Chris Kreider – Derek Stepan – Mats Zuccarello
Jimmy Vesey – Kevin Hayes – Rick Nash
J.T. Miller – Oscar Lindberg – Michael Grabner
Brandon Pirri – Josh Jooris – Jesper Fast
The New York Rangers get no time off as they get straight back to work on Monday night. They travel to Pittsburgh to take on the reigning Stanley Cup Champions in a highly anticipated match-up. Let's see how the blue shirts respond in the face of adversity moving forward. Something tells me they'll have no problem continuing their dominance over the Eastern Conference.
This article originally appeared on