New York Rangers: Mika Zibanejad Has Big Shoes to Fill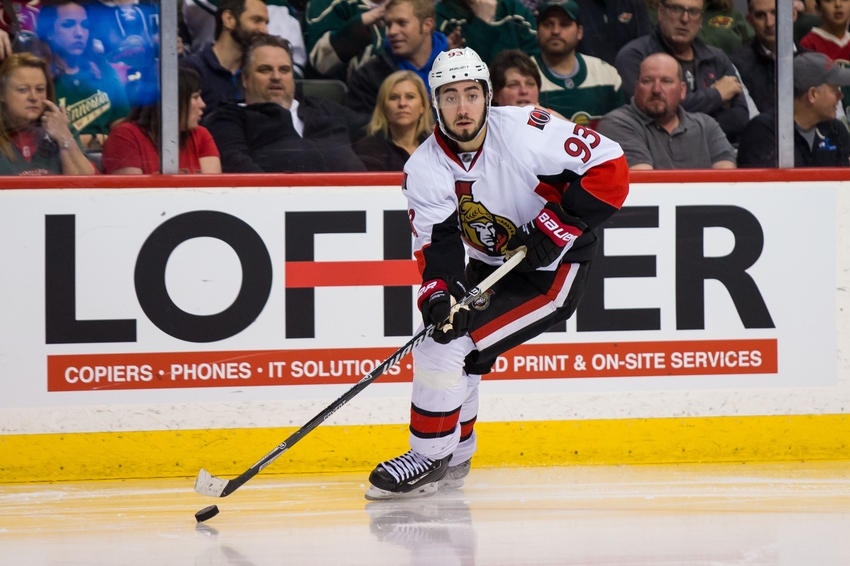 In the next part of our New York Rangers player preview series, we take a look at newly acquired Mika Zibanejad, and what type of impact that he will have for the New York Rangers in the 2016-2017 season.
After having two straight 20 goals seasons, the 23-year-old Mika Zibanejad was traded to the New York Rangers for fan favorite Derick Brassard back in July. Brassard was one of the Rangers most consistent players for the past few seasons. He led the team in goals last season (27) and played on the team's top line with Rick Nash and best friend Mats Zuccarello.
The passionate Brassard was also a phenomenal playoff performer for the Rangers over the years. His play and passion for the game and his teammates will surely be missed, but with Zibanejad on board, the New York Rangers may have become an even more skilled team with exponential offensive upside.
2015-2016 Traditional Stats
Games Played: 81
Goals: 21
Assists: 30
Points: 51
+/-: -2
PPP: 11
FO%: 50.5%
TOI: 17:46%
Previous Role: 2nd Line Center
Season in Review
The Mika Zibanejad story is an interesting one. Zibanejad became one of 5 players in the league at age 22 or younger that have been able to put together two 20 goal seasons thus far into their careers (Filip Forsberg (NSH), Alex Galchenyuk (MTL), Johnny Gaudreau (CGY), Nikita Kucherov (TB), and Sean Monahan(CGY) are the others.)
New York Rangers: A Trade is Brewing
Yet, the Swedish-born Zibanejad was still coined as inconsistent by many Senators' writers and fans alike. When you look at his numbers by the month, Zibanejad looked to be actually fairly consistent. Zibanejad tallied 8 points in every month of the regular season except for December where he had 7 and April where he had 4 points in 4 games.
Even when you look at the road/home splits, Zibanejad had just about the same point production whether he was playing at the Canadian Tire Centre or not. He had 27 points at home in 40 games and 24 points in 41 road games.
The only substantial difference between his road/home splits is his plus/minus rating. He was a plus-13 at home this past season and a minus-15 on the road. That is pretty eye opening. This is where the inconsistency lies with Zibanejad, and that is common for a young player.
Zibanejad mostly played on a line with Milan Michalek and Bobby Ryan on his wings last season. If Bobby Ryan's production didn't drastically fall off towards the end of the season, Zibanejad would likely have had even better numbers for the Senators.
If you look at Zibanejad's fancy stats, you would see that he produces goals at a high rate for somebody in his role. Offensively he is very sound, but and while there are necessary improvements that need to be made on the defensive side of the puck, he is not bad by any means in that area.
2016-2017 Projected Stats
Age Entering Season: 23
Games Played: 82
Goals: 24
Assists: 32
Points: 56
+/-: +8
PPP: 8
TOI: 17:50
Expected Role: Second Line Center
Reasoning: We have talked about Zibanejad a lot over the summer, so I will try to keep this a little briefer than usual. You can look at a more in-depth preview of him right here.
I think Zibanejad is going to have a big year with the New York Rangers. He will likely play on a line with Rick Nash and Mats Zuccarello, which will be by far the best wingers he has played with thus far into his NHL career. Zibanejad has vision enough to make great passes, and his quick wrister will look great as it scores off a bunch of Zuccarello's wizard-like passes.
No In-Editor Preview for SI Videos
Video Details
ID: 5040515129001
Source: SI
Every single year, Zibanejad has increased his point total to some extent. He had 33 points three years ago, 46 points two years ago and 51 points last year. He could easily increase that point total this year for the Rangers.
Earlier in the summer, I talked to SenShot.com's Ian Smith and this was what he had to say about Zibanejad's potential.
The optimist in me says he scores 70 points by the season after this next one. Worst case scenario, he ends up plateauing in that 55-60 point range.
You can read the rest of that interview here.
Another key thing to note about Zibanejad is that he will be getting a lot of penalty kill time with the Rangers this season. The team ranked 26th in the league last year in penalty killing, and a player with the skills that Zibanejad possess will be needed. After killing 1:25 of penalty kill time a game last year, the Rangers know they can rely on him there.
Against Metropolitan Divison opponents, Zibanejad was very productive. In fact, he had more points against the Metropolitan Division than any other division. He scored 17 points in 24 matchups against the Rangers and their rivals last season. If you take away the Rangers matchups, those numbers turn into 15 points in 21 games.
A lot of people, including myself, have very high hopes for Zibanejad over time. I think most of us would concede that Derick Brassard will probably score more goals this year than Zibanejad will for the Rangers. Even still expect Big Z to be a big contributor for the Blueshirts, and look for him to be a future stud for this young forward group for years to come.
More from Blue Line Station
This article originally appeared on