New York Rangers Michael Grabner Signing is a Win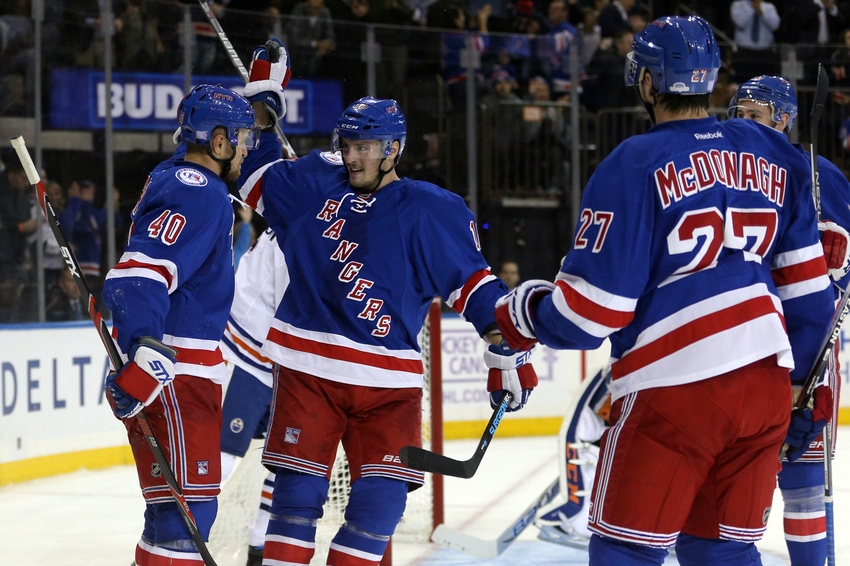 The New York Rangers signed forward Michael Grabner and have been winning with the addition ever since. Grabner has quickly become a speedy offensive threat for the Rangers and currently leads the team in goals
Grabner has 10 goals this season and is tied for second in the league with three other players, including Pittsburgh Penguin captain Sidney Crosby. He has been a leader in the New York Rangers offense and has brought even more speed and scoring skills to the roster.
The Rangers signed Grabner over the offseason to a two-year, $3M contract. For the extremely affordable average salary of $1.6M, the Rangers are winning with the signing as Grabner becomes a vital member of the Rangers.
Grabner's Role in New York Rangers Offense
Grabner has 10 goals, three assists and a plus/minus of 15 in 16 games so far this season. He is currently leading the Rangers in goals and is third in points with 13.
Grabner scored twice in the Rangers last game against the Edmonton Oilers on Nov.13. His second goal of the night game the Rangers their final winning score, 3-1, and was an unassisted breakaway shot.

Grabner's speed and offensive abilities have been driving his success this season. With 10 goals in 16 games, Grabner has already beat the goal counts of his last two seasons. Once Grabner grabs two more goals he will beat his high from the past three seasons.
Last season, Grabner had just nine goals in 80 games with the Toronto Maple Leafs. Before that, he had eight in 34 games in 2014-15, 12 in 64 games in 2013-14 and 16 in 45 in 2012-13 with the New York Islanders.
Grabner also recorded his first hat trick in nearly five years earlier this season. The forward beat Tampa Bay Lightning goaltender Ben Bishop three times in the Rangers' 6-1 win over the Lightning on Oct.30.
The 29-year-old forward has taken many by surprise with his sudden spark of play. Prior to the start of the season it was speculated that Grabner would be a fair fourth line player signing but he has exceeded expectations.
Grabner has been an offensive threat since the season's start. His speed, puck-handling and playmaking have made him a front-runner in the Rangers' production.  His speed has been unparalleled by opposing teams and it has given him the upper hand in his scoring opportunities.
 The Big Picture
Grabner is on the road to having his best season in a long time. His production is much greater than his last few seasons and he is finding great chemistry with his linemates, J.T Miller and Kevin Hayes.
If Grabner can keep his offensive coming he might be able to get close to a career season. Grabner's career-high in goals was in 2010-11 with the New York Islanders when he finished the season with 34 goals.
Grabner is finding a new level of team chemistry and is producing at an all-new level. His production just keeps increasing and it doesn't seem like he'll let up anytime soon.
After dealing former Ranger Carl Hagelin in June 2015, the Rangers lost a key player who brought speed and offense to the table. Grabner has brought back the same kind of play Hagelin brought and even more.
Grabner fits seamlessly into the lineup. He vibes well with the rest of the team and brings that speed factor that the Rangers have been looking for. The forward has been a perfect match for the team and has become what of the biggest producers despite being an early underdog.
Grabner was just the right fit for the Rangers and his contract is a small price to pay for such a standout player.
A Winning Signing
All in all, the Rangers made out winners by signing Grabner when they did. They took a chance on an underdog and wound up striking gold.
Grabner will continue to perform for the Rangers; he has performed so well already and it doesn't seem like he'll stop anytime soon.
Grabner's scoring, speed, and skills are going to keep pushing him through the season. He will continue to help the Rangers win and to be a vital component of the winning team.
He has brought so much to the table to help the Rangers win and they won by taking a chance on the forward.
The New York Rangers will finish their tour of Canada with the Vancouver Canucks on Nov.15 at 10 p.m ET.
More from Puck Prose
This article originally appeared on