New York Rangers: Mats Zuccarello is Team's Heart and Soul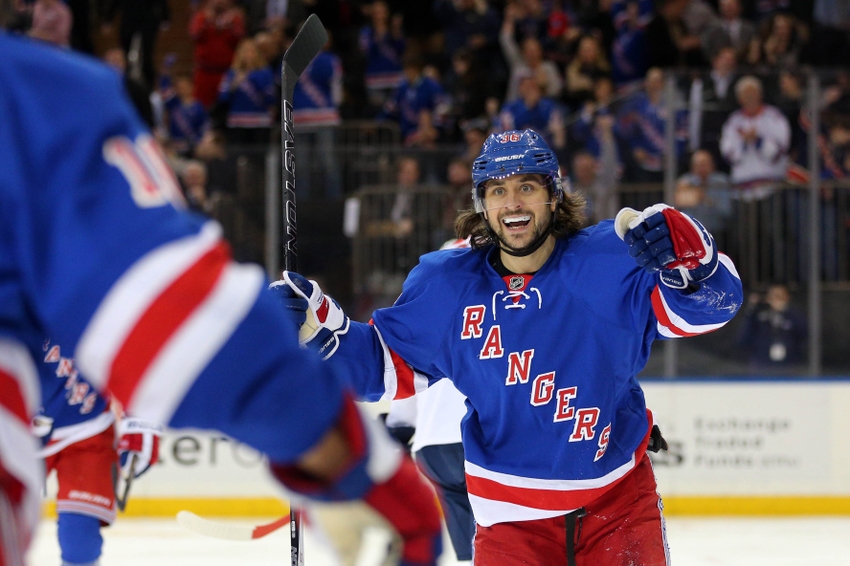 If Heart and Soul was a form of measurement, Mats Zuccarello would be the biggest New York Rangers player.
According to Yoda, the ancient Jedi Master, size matters not. Well, that same theme runs true with the New York Rangers, because their heart and soul is the smallest player on the team. The "Yoda" of the New York Rangers, is Mats Zuccarello; who leads by example and is all over the ice. Although small in stature, the man the fans call "Zuuuuc" sticks his nose in everywhere fearlessly. He is a tireless worker and his passing ranks among the League's best.
Top Norwegian Scorer in NHL History
Born in Oslo, Norway; Mats is only the second Norwegian-born NHL'er to amass over 100 points. The other being Espen Knutsen, but Zuccarello tops the charts in all four categories. His 306 Games Played, 73 Goals, 134 Assists and 207 Points, tops any other who played in the NHL that hails from Norway.
Returns from Devastating Injury
During Game 5 of the First Round of the 2014-15 Playoffs against the Penguins, Mats was struck just under his helmet by a slap shot off the stick of Ryan McDonagh. This injury not only put Zucc out of the playoffs and into a hospital, it darn near ended his career and his life.
A bruise to his brain, some bleeding inside his skull and a loss of speech were just part of the trauma he went through.
But through hard work, determination, grit and a desire to come back; Mats rejoined the Rangers for the 2015-16 season. Already a fan favorite, he rose even a few more notches in the eyes of the Blueshirt Faithful.
Steven McDonald Extra Effort Award
Upon this remarkable comeback by Mats, the New York Rangers fans awarded him with his second Steven McDonald Extra Effort Award. This award is named after former NYPD police officer Steven McDonald, who was shot and crippled in the line of duty.
Each year Blueshirt fans vote on which player they believe goes above and beyond each and every game. Those qualities exemplify Zucc to the tee.
Starting off the Season Right
Three games into this season, Mats finds himself on a line centered by Derek Stepan and rookie Jimmy Vesey on the left wing. They have proven that they belong and have accounted for 7 total points in three games. Jimmy Vesey scored his first goal of the season against the Sharks on a pretty feed from Derek Stepan. Steps has 2 assists on the new season. Zuccarello leads the line with 4 points (2 goals and 2 assists).
The heart and soul of the New York Rangers is entrenched in their smallest player. Blueshirt fans and Jedi Master Yoda all agree that when it comes to the engine that drives the Rangers, it is Zucc. And size matters not.
This article originally appeared on