New York Rangers: Marc Staal has quietly bounced back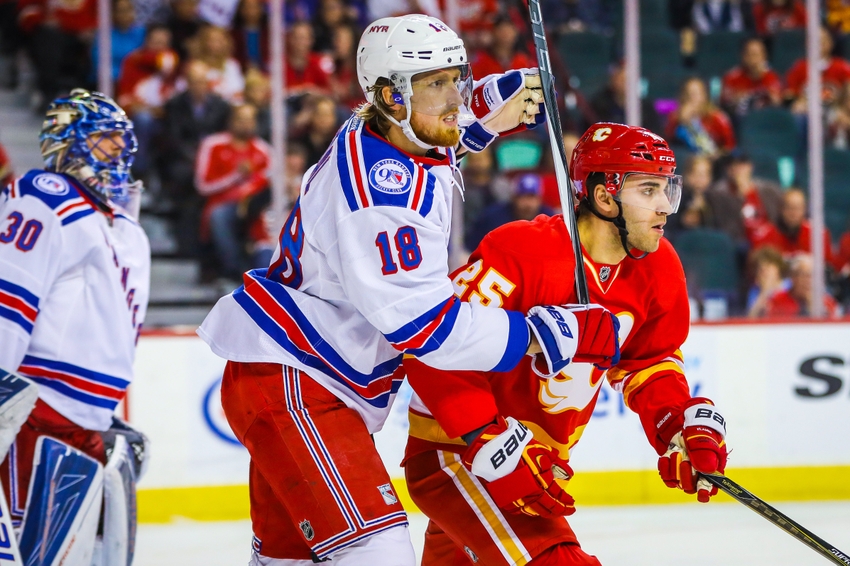 In the offseason, many people called for the veteran blueliner to be shipped out of Manhattan. The New York Rangers didn't bite and now have a solid-enough top four defenseman.
It's been a weird start to the season for many reasons for the New York Rangers. They lead the league in goals with 85, 15 more than the next best team in that category, the Tampa Bay Lightning. They have gotten scoring contributions from up and down their lineup, including 12 tallies from Michael Grabner, a guy making $1.65 million who was expected to be a fourth liner.
Another thing that, nobody has really noted thus far into the grind of the regular season is how decent Marc Staal has been playing.
After practically every Rangers fan and their mother jumped on the "trade Staal" bandwagon in the offseason, the New York Rangers front office decided not to move him, although it has been speculated by those in the media that they tried to feel out his trade market.
Maybe it was that they didn't feel that they could get the value they would expect for him, or maybe they couldn't find a taker altogether–although you would think there would be at least one team *cough, cough, Canucks, cough* that would wanna take on the veteran's hefty contract. But, here we are at the end of November with the veteran blueliner of 10 years still on the Rangers roster and in a top four role.
And he has been, to the surprise of many, solid.
Now let me preface this by saying that Staal isn't a top pairing defenseman by any stretch of the imagination. He is a player that at this point in his career is a great 5th defenseman who could manage to play 4th defenseman minutes and that's exactly what he has been for the New York Rangers.
If you were to go off of the time on ice per game stat alone, then Staal would happen to be the Rangers 3rd defenseman. Prior to Tuesday night's game, he had logged an average of 19:31 a game this season, which is just behind Ryan McDonagh and Nick Holden.
Staal isn't the type of player that will provide you offense. He owns a 45.9 corsi for percentage, which while isn't a great output, corsi for really isn't a great stat, to begin with for evaluating defenseman.
CA/60 is probably a more accurate way to go for Staal, as it registers shots against per 60 minutes of ice time. Staal's 58.49 CA/60 is still not fantasic, but it ranks third on the team of Rangers defenseman behind McDonagh and Holden. Even though those numbers are ever so slightly better than last year, it has made a difference.
If you dig a little bit deeper, you would find that Staal's CA/60relTM (shots against relative to teammates) is much improved. This year, he sits at a 1.54 as opposed to last year's 2.5, which was the third-worst mark among defenseman behind Brady Skjei and Dan Girardi.
Even the eye test will tell you that Staal has been better than he was last year. He has been much more aware this year than he was last year in the defensive zone and has been more active in the offensive end as well.
The first few games of the season weren't too great, but you could also attribute that to Nick Holden's horrible first few games this year. Now that Holden has been better, so has Staal.
Even with all that said, his style of play isn't the best fit for Alain Vigneault's system.
Staal would fit terrifically in an east-west system as opposed to the Rangers' speed predicated north-south style. With this bounce back this year that he has been having, Staal's trade value, one would imagine, has gone up.
I don't know what you could get for Staal on the trade market right now, but in order for a Staal trade to make sense at this point, they would likely have to commit to making a few other moves, namely acquiring a puck-moving, north-south style defenseman which you're not going to get straight up for Staal. That means you might have to trade one of your top-six forwards away, like Derek Stepan.
The Rangers have to ask themselves if it's worth it to break up their high powered forward group when a guy like Staal has been steady.
Until then, Staal's continued resurgence is welcome.
This article originally appeared on