New York Rangers: Jimmy Vesey's Exceding Expectations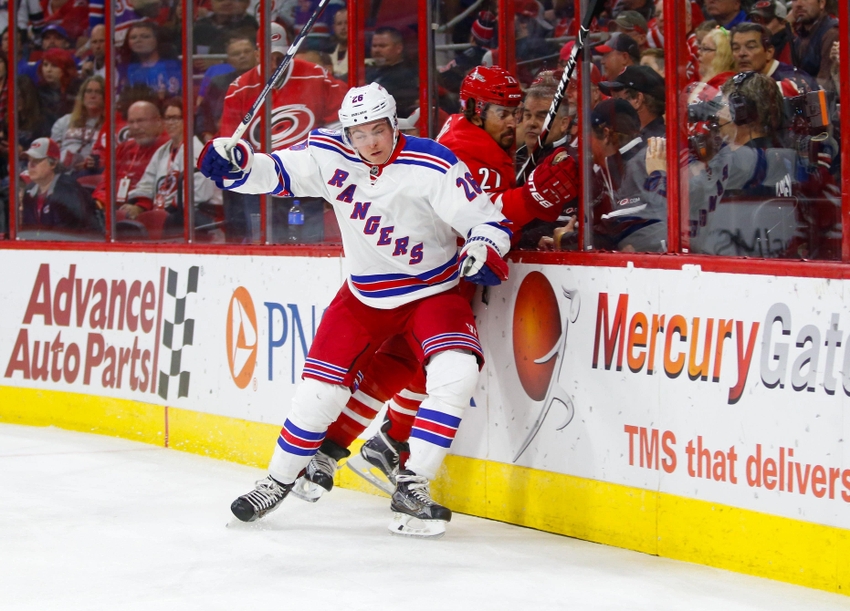 The New York Rangers' youngster has 5 goals through his first 9 NHL games and is looking like the real deal.
I was wrong.
I was very wrong.
And I couldn't be happier.
Before the season started, I wrote in my bold predictions article–which for the most part, is going pretty well–that I thought Jimmy Vesey would only score 13 goals and 20 assists this year as he gets acclimated to the league.
Well, I think it's safe to say that if he stays healthy, he could pass those marks–especially the goals one–pretty easily.
Vesey has been a beast. On T.V. he looks very small, maybe due to his child-like face, but he is actually 6'3″ and weighs over 200lbs. He is certainly making other teams realize that too. A majority of Vesey's goals thus far into the young season have come at the goal mouth. He has a nose for the net and uses his size and speed to get there on the rush almost routinely.
A great example of this is this goal he scored a few games ago against Brayden Holtby and the Washington Capitals.
Wow…
The Vesey-Stepan-Nash Line
Without a guy like Chris Kreider in the lineup, Vesey and his line have stepped up a tremendous amount lately. The line of Vesey-Stepan-Nash has become the go-to line for the Rangers in the last few games, and for good reason. All three players on the line are so smart and good with the puck. They are also all very defensively responsible too.
Upcoming

Schedule

11/1

St. Louis Blues
11/3

Edmonton Oilers
11/5
at

Boston Bruins
11/6

Winnipeg Jets
11/8

Vancouver Canucks
Stepan is the eyes on the line. He is not a shoot first guy but he has a knack for passing, and that's where Nash and Vesey come in. The two wingers both employ shoot first mentalities but can also pass well too.
They are both big bodies who like to play in front of the net and honestly, it's refreshing to see the Rangers have players with that mentality after years of watching a team that never had anybody in front of the net.
A guy like Vesey scoring as much as he has coupled with the rest of the team seemingly putting the puck in the net allows for a guy like Derek Stepan, who has not notched a goal so far this season to not be the center of the media's attention and put unnecessary pressure on him, so hopefully he can turn it around.
The New York Rangers are playing very well of late, and Vesey has been at the center of it. If Vesey wanted to continue putting goals on the board, I think I'd be fine with swallowing my pride and eating tons and tons of crow because of the bold prediction that got away.
More from Blue Line Station
This article originally appeared on