New York Rangers have a Dan Girardi Problem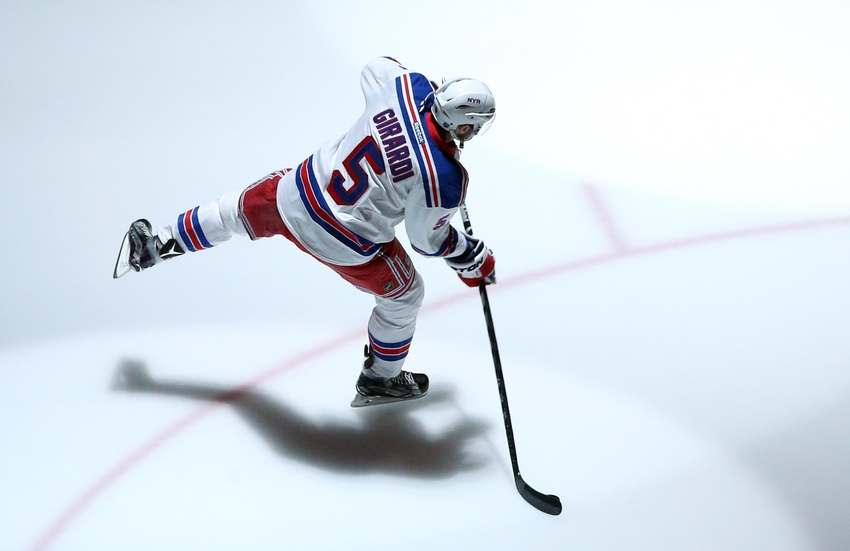 Over his nine seasons with the New York Rangers, Dan Girardi has had his ups and downs. Here's a look at his problems and what Alain Vigneault can do to fix them.
It is common knowledge that Dan Girardi has suffered numerous minor injuries over the course of his time in New York. These injuries have definitely played a major role in slowing him down and not allowing him to play the type of game he's used to. A healthy Girardi likes to play a strong defensive game first and then contribute offensively when capable, knowing when to pinch and when not to. For a while, though, he has not looked like himself, even without injuries plaguing him.
Girardi suffered his first injury in the 2014-2015 season when he hurt his foot. From then it only got worse, as he suffered four different injuries last season. These included problems with his knee,  a lacerated hand, an upper-body injury, and an undisclosed injury right before the playoffs of 2016.
All of these injuries have negatively affected his play, and he does not look like the player the Rangers had signed to a six million dollar contract. There have even been rumors of the team buying out the remainder of his contract.
In the beginning of the season, Girardi was put on the third defensive line, and in his time there, he played a better game. He was more structured, had better positioning, and generally was more energized. This is due to the fact that he logged fewer minutes.
Now, back with Ryan McDonagh on the first defensive pairing, he is playing a slower game.
Unfortunately, a team that's looking to win the Cup cannot have an unsteady player on their hands. Also, what Girardi brings to the table is not as useful as the other defensemen in other departments. He does not provide that offensive side and speed that the team is bent on seeing in every player. His partner, McDonagh, is extremely capable of putting up points, whereas Girardi's are harder to come by.
If he wants to continue to play, he must log fewer minutes in order to prevent his body from wearing down. This is Head Coach Alain Vigneault's doing. If he wants to see both McDonagh's play improve, and Girardi get back to his former self, he must make sure Girardi is on the ice less often. He'll have less wear and tear on his body, and it will help him concentrate more on each and every shift.
Exhaustion leads to mistakes, and as the great football Coach Vince Lombardi once said, "Fatigue makes cowards of us all." It is up to Dan Girardi to work his hardest and Alain Vigneault to make sure he is capable of being in the best place to succeed. Otherwise, the New York Rangers have a massive problem on their hands.
More from Blue Line Station
This article originally appeared on