New York Rangers: Games You Just Can't Miss in 2016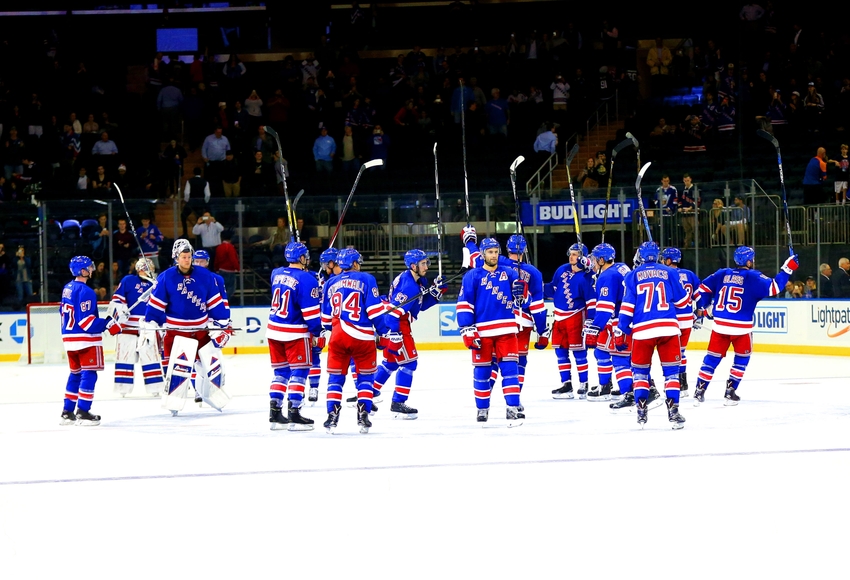 The new season is upon us, fellow New York Rangers' fans, and with that comes a responsibility…to watch the games, of course! Here are my top picks of games you can't afford to miss in the 2016 calendar year.
As a dedicated fan, you know how hard it is to fit each and every game into a busy schedule filled with deadlines and events. However, the people around you have probably already realized that you'll do everything and anything possible to get in your standard position (probably on the couch) on game nights. So I've put together a list of the top six games you'll just have to tell your co-workers, "Sorry, can't go…I have New York Rangers' hockey tonight."
1. Season Opener/Home Opener (10/13):
In my opinion, the home opener is always a "can't miss" game. The energy of the building is completely overwhelming, and I mean that in the best way possible. The anticipation just floats through the cold air, infusing every fan in the arena with excitement wrapped in nerves. And need I mention the pre-game ceremony where the (somewhat) changed roster is introduced to over 18,000 people who are ready to start screaming their heads off for goal one of the season? *Cue the Zucc chant.
Upcoming

Schedule

10/13

New York Islanders
10/15
at

St. Louis Blues
10/17

San Jose Sharks
10/19

Detroit Red Wings
10/22
at

Washington Capitals
But arguably the most important part of the night is the team the Rangers are facing off against, arch rival New York Islanders. As if this intense rivalry could get any more bitter, the teams square up against each other for their first game of the season, and it is sure to be a hard-fought battle. It always is. If you've ever been to a Rangers-Islanders game, you know that it feels as though somehow everyone's time-traveled to the middle of April once that puck is dropped on the opening faceoff. You definitely cannot afford to miss the emotions the action in this game will bring you!
2. At Washington Capitals (10/22):
The New York Rangers and Washington Capitals have over the past few seasons, slowly but surely, been developing a tenser rivalry. This is mainly due to so many playoff series they've ferociously fought. Their last series, in 2015, saw the Rangers storm back from a 3-1 deficit in which Derek Stepan scored the Game 7 overtime goal to send his team to the Eastern Conference Finals for the second year in a row.
While this moment is obviously etched forever in the minds of Rangers' fans everywhere, it's important to note the fact that the Caps were the President's Trophy Champions of the 2015-2016 season. And their roster has not changed much in the offseason. It'll be interesting to see how the Rangers play against them with all their offseason changes. Also, although it's still early in the season, it'll be good to see how they start off on the road. When they were the President's Trophy Champions of the 2014-2015 season (53-22-7; 113 pts) in addition to having the best record in the League, they also had the best road record. That changed in 2015, and they are surely hoping to build up that wins column, especially on the road, this next season.
3. Vs. Tampa Bay Lightning (10/30):
You're most likely wondering why I chose this as a top game to look out for. Allow me to briefly explain my strategy in picking games. I chose these games based on two things- the order they're played in (October to December) and intensity level. While you can't necessarily coin the term "rivals" for the Rangers and Lightning, they aren't exactly "nothing" to each other as if they were some random west vs. east matchup in the regular season.
Get the FanSided App
Perhaps one of the most emotionally exhausting nights in recent Blueshirts' history was the Game 7, 2-0 loss at home to this very team. Now, it's not the first time they've played since that series. However, I do strongly believe that there is some deep-seated anger in the hearts of all the veterans that are still on this Rangers' team. Equally important, Tampa has claimed a lot of players that used to don the red, white, and blue jersey and call the Garden's ice they're home.
Want your voice heard? Join the Blue Line Station team!
There's lots of emotions and lots of painful goodbyes that look into their faces during these matchups. (Yes, we're looking at you, Callahan.) I personally think the Rangers leave everything they have out on the ice when that team steps into their building, and it'll be a tense night.
4. Home-and-Home Against Pittsburgh Penguins (11/21 & 11/23):
As if this pick needs any explaining, right? With such high expectations in the previous season for the New York Rangers, it was extremely disappointing to see them go out of the playoffs in the fashion that they did. In a short five games, they were eliminated from Stanley Cup contention in the 2016 playoffs. This, of course, was due to the hot streak of the Pens, who would later call themselves that season's Stanley Cup Champions.
More from Blue Line Station
But this is besides the point. The main thing to remember is the great rivalry between these two teams. With "Crosby sucks" chants ringing through Madison Square Garden and "Henrik sucks" chants ringing through Consol Energy Center, you know it'll be a long night.
Now, what's the first word that pops into your head when you think of this home-and-home? Revenge. That certainly has to come to mind, doesn't it? This mini-series starts out in Pittsburgh, the place where it ended for the Rangers last season. Surely revenge is a key point in the Blueshirts' minds as they head out onto the ice that night. Expect the play to be a lot less of their normal strategy of "skating teams to death" and more physical. With the assumption that Crosby has returned by this time, that will add to the depths of this duel.
Expect the play to be a lot less of their normal strategy of "skating teams to death" and more physical. With the assumption that Crosby has returned by this time, that will add to the depths of this duel.
And of course, the Rangers playoff games at home haven't exactly been stellar, to say the least. When they battle the Pens back in their own building two nights later, they have something to prove- to their own faithful fans, to Pens fans, and to their opponent. This should surely be an exciting one (or technically two) to watch.
5. Vs. Ottawa Senators (11/27):
Ok, I'll swallow my pride and say it. Most times when players leave for other teams I find a way to hate them just as much as I hate who they're playing for, but not here. Not with Derick Brassard. I don't know why poor Zuccarello keeps losing his best friends, ahem…but I digress.
There will obviously be some kind of ceremony for Brassard since the game is played in New York City. They'll recount all of his goals and special moments with the team, and knowing Brass, he'll be very grateful and might even shed a few tears. (I know I will.) It'll be an emotional night as well for Mika Zibanejad, who spent a few seasons up in Ottawa. Altogether, I think the sentiment of the night will give the game a profound meaning, this time not because of rivalries or hatred, but because of bonds and unforgettable memories.
And don't lie- you know you're crying on the inside knowing that you'll never see Brassard pick up Zuccarello after he scores a goal.
6. Vs. New Jersey Devils (12/11):
Last but not least is the Rangers' first game against what is arguably their second biggest rival, the Devils. They squared up a few times against each other in the preseason, trading a win each. Personally, I think each time the Devils come into the Garden there's a lot of fans of both teams, and it builds on the sensation of the heat in the building. This is more of a fun one to watch, not so much with any deeper meaning other than, hey, let's beat these rivals!
New York Rangers' hockey is right here, my friends. The waiting is over. Let the new season begin, and may the odds be ever in our favor.
This article originally appeared on