New York Rangers' Forwards Battling for Spots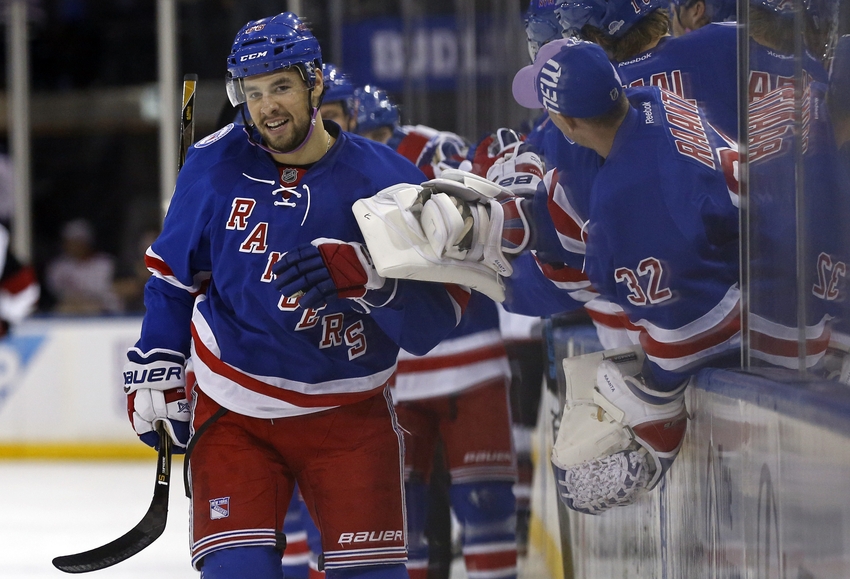 As the New York Rangers work tirelessly in games and practices to win, a trio of players are fighting their own battle. With the impending return of Pavel Buchnevich and Mika Zibanejad among others, the Rangers forward depth will gradually push depth players off of the roster when they get back. That leaves Josh Jooris, Oscar Lindberg, and formerly Matt Puempel fighting for spots.
The New York Rangers will soon have some decisions to make once the laundry list of injuries stops piling up like it has.
Once everyone gets healthy, the team will only be able to carry one of Josh Jooris, Oscar Lindberg, or inevitably Matt Puempel when Pavel Buchnevich and Mika Zibanejad, among others, return. It remains possible the Rangers suffer another injury, but for now the trio are fighting for one roster spot. In a survivor-like situation, Buchenvich's return will remove one from the roster, then Zibanejad's return a few weeks later will remove the other, leaving only one remaining.
Each forward has his own pros and cons, while none of the three appear to have locked down a guaranteed spot in the lineup. Alain Vigneault swaps forwards in and out without notice, creating uncertainty around the decision. Let's take a look at the trio.
Josh Jooris signed a one-year deal with the Rangers in the offseason. Jooris suffered an injury in the pre-season that looked to end his Rangers career before it ever started. Surprisingly, however, Vigneault opted to bring Jooris on the opening night roster. The new Ranger healed, and quickly scored his first goal for the Rangers against the Arizona Coyotes. Jooris plays primarily on the penalty-kill, failing to contribute enough offensively to move up from the fourth line.
Thus far, Jooris played fewer minutes per game at even strength than Oscar Lindberg. Jooris is strictly a fourth line, penalty killing option on a team that has plenty of penalty killing options.
Oscar Lindberg scored the first goal of the season for the Rangers last year. He followed up the opener by scoring three more goals in his next two games, earning a permanent spot in the Rangers lineup. A hip injury and increased forward depth worked against Lindberg's ability to crack the lineup, but recently he has re-entered the fray in Jooris' spot.
Lindberg holds greater offensive ability than Jooris, while also being able to move up from the fourth line. Lindberg can play on the penalty-kill if needed, and his 13 goals as a bottom six forward last season impressed.
Matt Puempel was a rare in-season waiver claim by the Rangers. Considered similar to Brandon Pirri, Puempel is an offensive specialist with a strong shot. Puempel is not a defensive weapon or penalty-killing option, separating him from the pair he is in competition with.
Puempel can play on the power-play, but that ability is useless when Buchnevich and Zibanejad return. Puempel's contribution lies in his offensive ability. New York will decide if they wish to prioritize offense on the fourth line or not.
The newest Ranger suffered a concussion on Tuesday night, so his timetable is muddier than his teammates. Puempel can buy time while out, but he will eventually face the same decisions Lindberg and Jooris face.
Looking at the three players above, the estimation here is that Oscar Lindberg's spot is the safest. Jooris is the forward most in jeopardy, as Puempel is hurt and Jooris does not provide enough two-way talent to warrant remaining on the roster.
Lindberg is the only option of the three that can be relied on as a defensive option while being able to move up in the lineup.  Lindberg cannot be blamed for the Rangers rushing him back from injury.
Pavel Buchnevich should prior to Mika Zibanejad, and when he does, look for Josh Jooris to be demoted. Since Puempel entered the lineup, Alain Vigneault has been switching off between Jooris and Lindberg, leaving a spot for Puempel. With Puempel now out, Lindberg receiving ice time is an indication of how Vigneault feels about his options.
The 13th forward spot will once again belong to a player that can play in different types of roles, something only Oscar Lindberg can claim to do of the three options.
While plenty can change from now until Buchnevich and Zibnanejad's returns, three Rangers forwards are battling for one spot. Watch the fourth line carefully in the coming weeks.
More from Blue Line Station
This article originally appeared on