New York Rangers F Rick Nash Bouncing Back This Season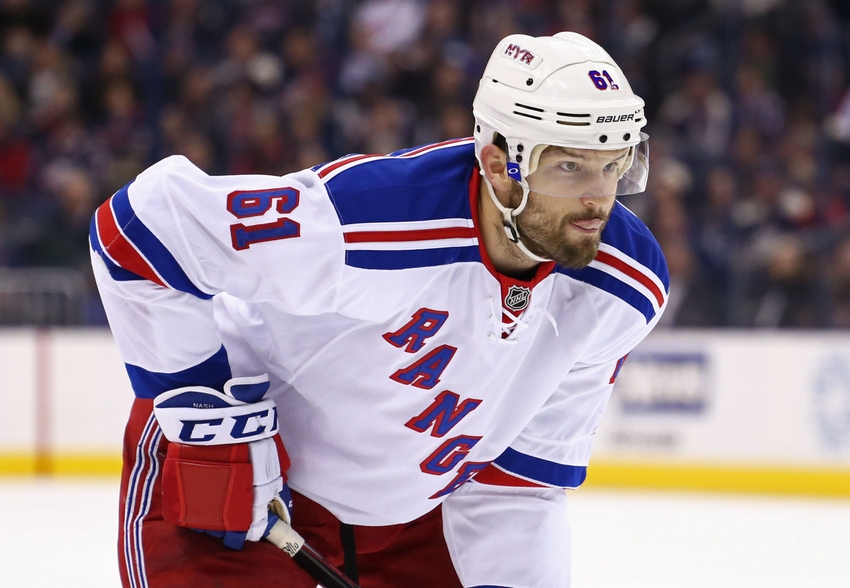 New York Rangers F Rick Nash Seems to Be Bouncing Back After a Miserable 2015-16 Campaign Where He Posted a Career-Low 36 Points
New York Rangers F Rick Nash is finally being himself again. Last season Nash had career lows and many were apprehensive that he would be able to bounce back. Nash is already bouncing back to his old self even just a few games into the season.
Designated as a new alternate captain, Nash is confident, strong, and scoring again. It's time to expect the return of the old Rick Nash, the Nash who can score, move the puck, and be a leader for his team.
New Alternate Captain
Prior to the start of this season, Nash became the fourth alternate captain on the Rangers. He will now stand alongside fellow alternate captains D Dan Girardi, D Marc Staal and F Derek Stepan.
The team revealed that coach Alain Vigneault and captain Ryan McDonagh thought Nash would be the perfect alternate to replace Martin St.Louis' spot.
Nash was humbled by the new title he received not long after he joked that he hoped he played well enough in the preseason to make the final roster.
The new title motivated the veteran forward who is proud to wear the letter and lead his team. Nash's new title came with a surge of confidence, which helped improve his game even more.
Nash is already off to a much better start than last season and is on track to leave that slump year in the dust.
The Old Rick Nash Is Back
Nash was always a scorer and a puck mover; he was known for launching himself, sometimes sloppily, towards the net and making an unbelievable goal for his team.  The Nash that scores and moves that puck is finally back to play.
Last season Nash posted 15 goals and 21 assists. At the moment, Nash has a quarter of as many goals with five goals and three assists in 10 games. This blows away his first 10 games last season where he only posted one goal and two assists.
In the Rangers last game against the St. Louis Blues, Nash gave the team a 3-0 lead in a speedy goal he snuck through Blues goaltender Jake Allan in the second period. The goal, assisted by rookie Jimmy Vesey, was a quick goal in typical Nash fashion.
Nash is finally making plays, scoring goals, and moving the puck the way everyone knows he can. His five goals in 10 games proves that Nash is ready to put his all into his play again just like he used to.
Get the FanSided App
Nash has brought back a physical flair to his play and has revived his active and offensive play. He has been setting up plays, assisting on goals, and getting the puck in the net when he needs to.
Nash is on track for a good season, a season that will make his 2015-16 season forgettable and forgivable. If he keeps up this play, Nash is in for a good and memorable bounce-back season.
Rangers Offense Getting Ahead
Overall, the Rangers are boosted offensively. The Rangers are currently the highest scoring team in the NHL with 40 goals and have 10 players with multiple goals.
Nash has excelled alongside linemates Stepan and Vesey, who currently leads the team with six goals. Combined, Nash's line has 11 goals and 12 assists among the three forwards.
Offense and confidence is up for the Rangers, including for Nash. If Nash can keep producing like he has been so far this season he can take everyone by surprise and get back to his old play.
Despite Nash's rough last season, he is ready to get in the rink and put his best play forward. His new confidence and his revitalized play is enough to be a game-changer for the forward.
A good season is ahead for Nash, and the Rangers, if he can keep up this same level of play. The new alternate captain is finally putting his all into his play again and it is already paying off.
This article originally appeared on