New York Rangers: Evaluating Rick Nash's Future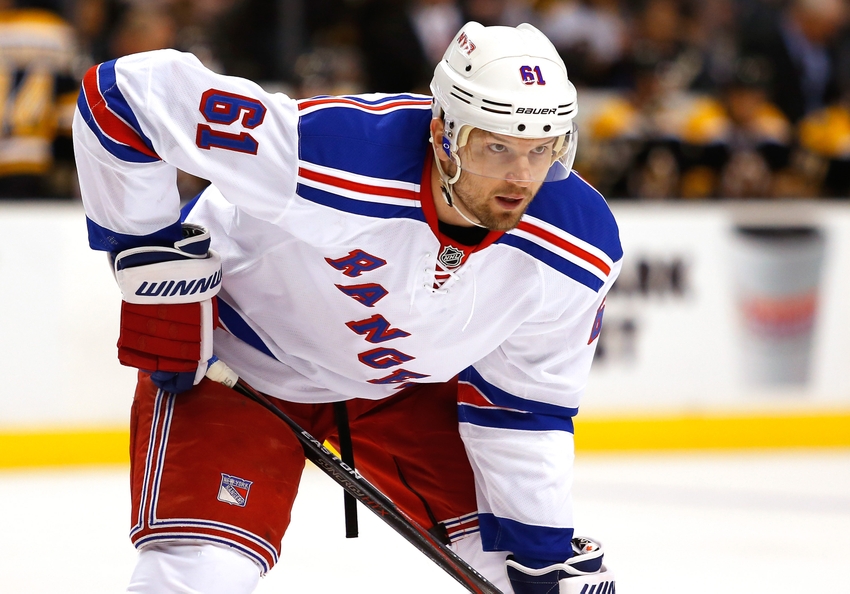 For better or worse, Rick Nash is either the forward you love, or the forward you love to hate as a New York Rangers fan.
In each of the past few offseasons, the New York Rangers faithful bemoan the fact that Rick Nash is still wearing the Rangers Blue.  Every year it seems that he is the number one player that a majority of the fan base talks about trading for something…anything.
Despite this, year after year he still is a New York Ranger to start the upcoming season.  This year is no different. Yes, he has been hobbled by injuries, certainly is not getting any younger and he has become ineffective as a top line player in many critics eyes.
Where will He Fit in for the Upcoming Season
At this point in his career, Nash is no doubt the number two left winger on the team behind Chris Kreider. With that being said, he will see less ice time, and because of that, his point total will probably be in the 40 to 50 range as long as he remains healthy.
Even when he only recorded 36 points last season–down from the 69 the previous season–partly due to injury, Rick Nash was the focus of the Ranger faithful throughout the season as they looked to him to help lead this team on the ice.  His biggest struggle last season came on the power play, recording only 4 points over the course of the season with the man advantage.
Having watched Rick from his junior days in London it has become clear to me that with the game becoming quicker and having less time and space to operate his lack of true foot speed has hampered his production on the ice.
That being said, two seasons ago Nash recorded 69 points which was his second-highest point total of his NHL career while playing with a better set of linemates than he did last season.  It seems that everyone in Rangerland has always expected Rick Nash to be that superstar they have come to expect to wear a New York Ranger jersey.   Simply put he isn't in the Ovie, Crosby class of player and never has been.  He is a solid two-way forward with great hands and size that is tough to play against.
Trading Rick Nash has never been an Option for New York
Realistically speaking the New York Rangers have not seriously thought of trading him for the past few seasons.  Solid two-way forwards that do produce points are tough to find and his salary makes other teams think twice.  In this day and age
In this day and age IF New York had designs on moving him, the most they could expect is a prospect or two and possibly a second round draft pick.  Not much in my opinion, for a team in transition that will need his type of player and experience as they continue to get younger.
Look for Nash to have a Bounce back year
With all of his struggles last season behind him, I expect Rick Nash to have a bounce back season and be near the top of the leader board on the New York Rangers in points after 82 games.
I am sure by mid-season the Ranger fans will be calling for him once again to be moved.  But as this team rebuilds on the fly, patience will be needed.
More from Blue Line Station
This article originally appeared on