New York Rangers eke out 3-2 victory despite Black Friday struggles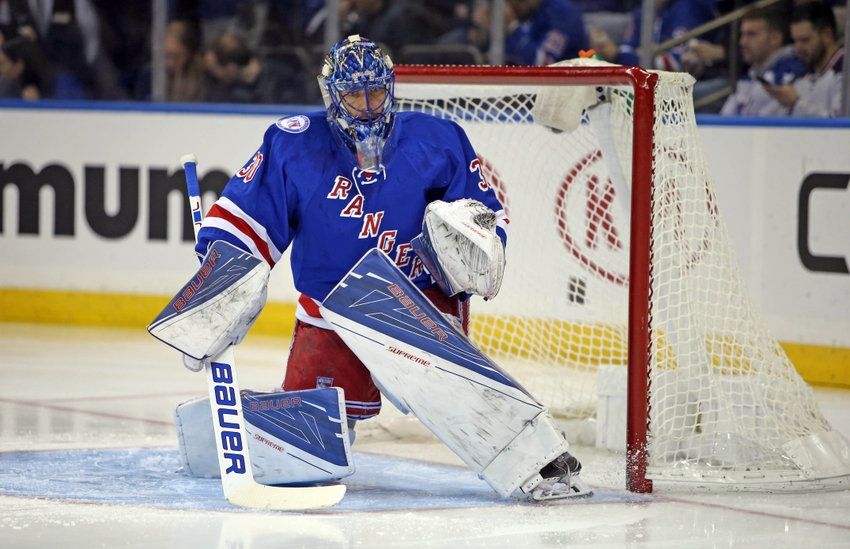 The New York Rangers defeated the Philadelphia Flyers 3-2 on Black Friday. Henrik Lundqvist was phenomenal in net and the forwards capitalized on their chances, handing New York a huge road victory.
In a feature here at Blue Line Station, we will be providing thoughts and analysis following every Rangers game. Make sure to stop by after games to see what you might have missed!
Game Action:
-Only 17 seconds into the game former Ranger great Dale Weise struck Nick Holden with a high stick. Holden bled, putting New York on a four minute Power-Play.
-Matt Puempel was featured heavily on the Power-Play, a pair of unsuccessful endeavors for the Rangers. There was a plethora of locked passes and shots by the Flyers, leaving the Rangers with plenty of frustration and a zero on the scoreboard.
-Henrik Lundqvist followed the failed Power-Play by making a series of outstanding saves on the Flyers. The Rangers were much more willing to provide open lanes at even strength than the Flyers were on the Power-Play.
-Next? The predictable chaos that comes from a Flyers-Rangers game. Brandon Pirri leveled a shoulder to shoulder hit on Brandon Manning, which was for some unknown reason labeled boarding. Travis Konecny jumped on Pirri as a result, negating the potential Power-Play for the Flyers. Here we like to call that a "McIlrath."
-The Flyers controlled play fiollowing the scuffle, almost scoring multiple times. Lundqvist stopped them all, leading to the puck re-entering the Flyers zone. J.T. Miller plucked the puck away from the Flyers and found Derek Stepan in front for a Rangers goal. 1-0.
-Matt Puempel played in his first game with the Rangers, and it took under 15 minutes for him to contribute. Jimmy Vesey found Puempel in the middle of the ice with a beautiful saucer pass, and Puempel did the rest. First goal with the Rangers, 2-0 New York.
-Chris Kreider decided to finish the first period with a bang. Kreider and Brandon Manning took center-ice and exchanged blows, a meaningless fight to take Kreider off of the ice for five minutes. Fighting is meaningless and should be foreign to the Rangers. Regardless, 2-0 Rangers, Flyers up 10-7 in shots after one period of play.
-The second period puck possession play belonged to the Flyers too. Philadelphia churned out chance after chance against Lundqvist, but he was up to the task.
-Much like the first period, the Rangers capitalized when they had the opportunity. An egregious turnover by Marc Streit handed the Rangers the puck, and a Kevin Hayes deflection of a Nick Holden slapper widened the lead. 3-0 Rangers.
-Most noticeable in the second period was the positive impact of Brady Skjei and the negative impact of Kevin Klein. Skjei was a monster, getting out of Lundqvist's way when necessary and helping out when needed. Offensively, Skjei contributed to keeping the puck in the zone and getting it on net. Klein contributed to multiple Flyers chances, including skating to the skater already covered by Skjei to allow a 1 on 0 chance for Philadelphia.
-3-0 Rangers, Flyers up 19-13 in shots after two.
-Straight off the bat in the third, the Rangers allowed a controlled zone entry to Andrew MacDonald off of a line change. Yes, Andrew MacDonald. MacDonald used a strange bounce off the boards to find Chris Vandevelde's skate and place the puck in the net. 3-1 Rangers.
-Next, Michael Grabner was sent free on his daily breakaway opportunity. Saved. This may become a recurring feature at this point.
-After a TV timeout with three minutes remaining, the Flyers got back to work. Philadelphia controlled play, found Shayne Gostisbehere for a slapshot, deflected off of Zuccarello's stick, 3-2.
-A chaotic final minute brought a variety of chances on Lundqvist, but the star said no. It took 40 saves for Lundqvist to get the win, as the Rangers escaped with a 3-2 win, outshot 42-23.
Final Thoughts:
-Alain Vigneault put his lines in a blender in hopes of avoiding a repeat of the debacle vs. the Penguins. Vigneault continues to rob his forwards of any chance of consistent chemistry, while refusing to make any changes on defense.
-There is no excuse for Jesper Fast playing on a line with Chris Kreider and Derek Stepan. Both Jimmy Vesey and Matt Puempel would be better fits, but Alain Vigneault insists that Fast belongs in the top nine. Fast is a perfect fourth liner, not an offensive role player.
-Impressively, Philadelphia was not awarded a single Power-Play in the contest. Considering how the match-ups usually go, that's significant.
-Currently, Rangers hockey consists of being outplayed, but using the tremendous forward corps and goaltending to win. That may be sustainable considering how outstanding the forwards and Lundqvist are, but it's not ideal. New York needs a defenseman, stat.
-Kevin Hayes, J.T. Miller, and Brady Skjei stood out today. Henrik Lundqvist reminded why he is an elite goalie.
-Any win against the Flyers is a good win. Derick Brassard returns to New York on Sunday, when the Rangers will hopefully continue their winning ways.
This article originally appeared on