New York Rangers: Derick Brassard's Garden Return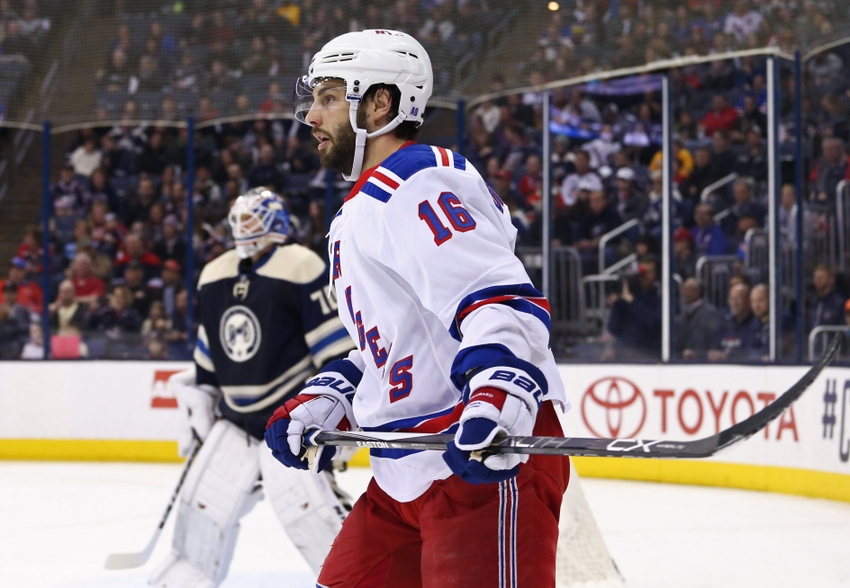 On July 18th, 2016, the New York Rangers and the Ottawa Senators exchanged centers, as Derick Brassard went North and Mika Zibanejad went South.
Acquiring a Spark Plug
On April 3rd, 2013 Rangers President and GM Glen Sather sent elite scorer Marian Gaborik to the Columbus Blue Jackets for a trio of players. John Moore, Derek Dorsett and Derick Brassard joined the Rangers in the deal. Of the three, Brassard immediately paid the most dividends as he scored five goals and dished out six assists in the last 13 games of the regular season. Brassard then scored two goals and added 10 assists in 12 playoff games.
A Four Year Run on Broadway
Sather's trade brought three players to New York, and of the three, it was Brassard who played the best. In 254 games with the Blueshirts, Brassard scored 69 goals, dished out 105 assists and totaled 174 points. He also finished with a +26 rating.
Brassard scored a playoff overtime goal in the 2014 semifinals against the Penguins, giving the Rangers a 1-0 series lead. In the 2015 Eastern Conference Finals, Brassard had a marquee Rangers moment. Down 3-2 in the series, Brassard notched a hat trick and five points to help force a game seven for New York.
Last season was Brassard's best as a goal scorer, as he lit the lamp 27 times. But the Ranger season ended in a five game series loss to Pittsburgh and the team seemed in disarray. New GM Jeff Gorton needed to make some moves and he did.
Centers Exchanged
One of the first moves made by Gorton was to send Brassard (28) and his five million a year cap hit to Ottawa for Mika Zibanejad (23) and his two.six million a year cap hit. The move made the Rangers quicker, younger and freed up two.four million dollars in cap space. It was hard dealing away a player like Brassard, but it was necessary.
Zibanejad to Miss the Garden Party
So far this season in 20 games, Brassard has three goals and six assists for nine points and a +1 rating for the Ottawa Senators.
On the other hand, Mika Zibanejad was having a great start to his first season on Broadway. Five goals, 10 assists for 15 points and a +1 rating in 19 games.
A great defensive play, combined with a bad crash into the boards resulted in a broken fibula. He should be back in anywhere from four to eight weeks, depending on his healing. It would have been great to see them in the face-off circle against each other, but it will not happen.
Tomorrow night, the Madison Square Garden crowd will welcome back Derick Brassard. The Rangers will skate past him in warm-ups and there will be a video replay of his best plays on the screens atop the Garden. The fans will let him know how much he meant. But once that is done, they will forget all about Brassard and cheer on the New York Rangers.
One is loved as a Ranger and hated as the opponent. It is the nature of the game and the belief of the fans. And as a hockey player, Derick Brassard is all for it.
More from Blue Line Station
This article originally appeared on