New York Rangers' Choice To Recall Marek Hrivik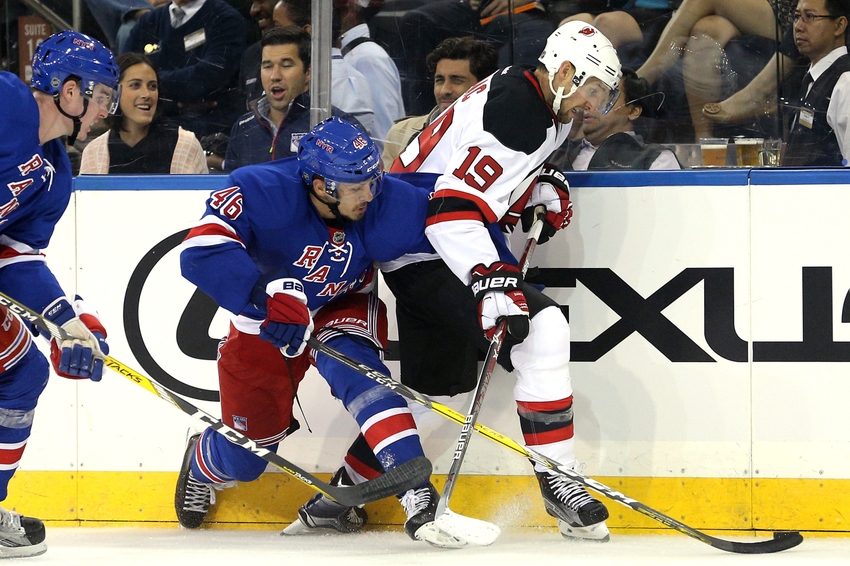 Yesterday, the New York Rangers announced they had recalled Hrivik from the Hartford Wolf Pack.
Marek Hrivik will play in place of Michael Grabner against the New York Islanders on Tuesday. Grabner is on bereavement leave following the loss of his grandmother.
In an interview yesterday, New York Rangers' head coach Alain Vigneault confirmed he would play in place of Josh Jooris or Oscar Lindberg, who have been filtering in and out of the fourth line.
The Rangers signed Hrivik in 2012 as an undrafted free agent. He made his NHL debut on Feb. 21, 2016 against Detroit. He earned his first career NHL point on Feb. 23, 2016 against the New Jersey Devils.
Why the change?
With Jooris back in the lineup after separating his shoulder in October, he had a chance to establish himself as a solid bottom-six player – especially after the loss of Zibanejad due to his broken fibula.
Lindberg, who played with the Rangers last season, was coming off an injury suffered at the end of last season. Due to this, and also to the fluidity of the fourth line, Lindberg has only skated in 11 games for the Rangers this season.
Both players have had limited production based on the short amount of time they have played–Jooris has two points (one goal, one assist) and Lindberg has one point (no goals, one assist)-but despite the limited time, Vigneault has not liked what he's seen.
In an interview yesterday, Vigneault said he made the decision to call up the 25-year-old from Slovakia first and foremost because he has been playing well. On top of this, Vigneault said that he is still unhappy with the play of Josh Jooris and Oscar Lindberg.
"From this end I'm not quite satisfied right now with some of the different personnel that I'm looking for as far as possible fourth line steady personnel… " Vigneault said. "[It's] going to give us an opportunity to put [Hrivik] in and decide here between Oscar and Josh for who I put in as far as the next game goes."
Breaking it down
This season for the Wolf Pack, Hrivik has played in 20 games and has recorded eight goals and nine assists. He leads Hartford in points (17) and short-handed goals (two) and is tied for the team lead in goals.
Hrivik is a solid choice to place in the lineup. He has some positive experience in his five games in the NHL. In total, Hrivik has skated in five games with the Rangers, in which he has tallied one assist along with a +3.
Right now is a good time to be experimenting with different bottom six combinations. It is still early, and there is room to grow–it will give them an idea of where to go if something goes awry (God forbid there is another injury) in the coming months.
However, Vigneault has always had an issue with sitting players when they are not performing up to expectations–Jooris must have done something to get Vigneault mad in the game against Ottawa, only playing 6:59 in the game. Not giving players the opportunity to make mistakes, and to learn and adapt in their positions when mistakes are made will not lead to any progression and is something that needs to change.
Hrivik is playing well for the Wolf Pack this season, but him being pulled up to the Rangers roster has more to do with Vigneault being fed up with a lack of performance from the two players that have held roster spots this season.
There is no problem with getting different skaters on the ice to see if something clicks, and Marek Hrivik could be the perfect fit.
More from Blue Line Station
This article originally appeared on