New York Rangers: Brady Skjei has been crucial to early success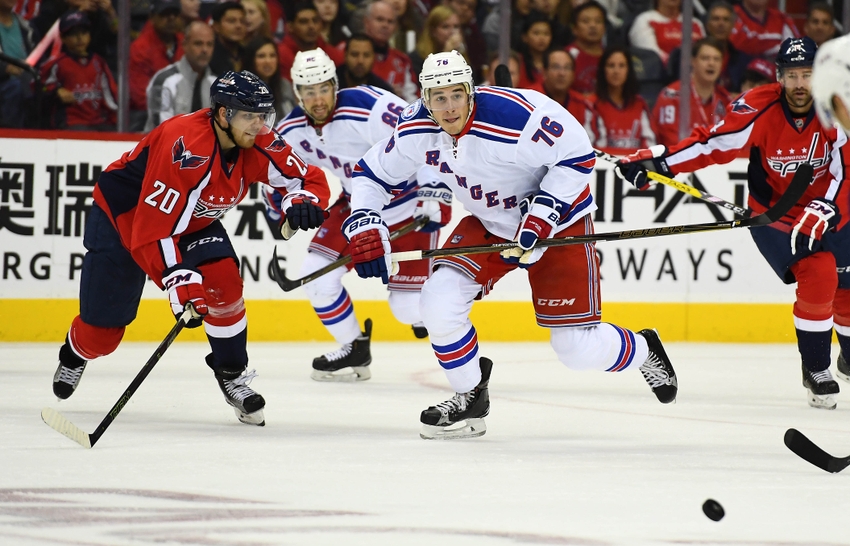 The New York Rangers rookie defenseman is off to a terrific start to his career, offensively and defensively. He has been one of the biggest reasons for the team's early success.
A lot of people expected big things from Brady Skjei this season, but nobody expected the rookie to be as productive as he's been through 24 games. The 22-year-old Skjei is the first rookie defenseman in Rangers history to tally 12 points in 24 games since Brian Leetch did in 1988-1989.
Skjei was never a guy that was expected to be a huge contributor on offense. In college, he only had 8 goals and 19 assists over the course of 109 games. The fact that Skjei is 7 assist shy of his college total through 24 NHL games is astonishing and is a real credit to Rangers assistant coach Jeff Beukeboom for helping him find his offensive game.
And yes, it always helps when you are on the highest scoring team in the NHL, but Skjei has played a bigger part in that than the stats show.
New York Rangers' Hayes, Miller and Grabner have been fantasy hockey studs
Skjei is one of the few defensemen on this team that has the ability to make the breakout pass from the defensive zone, which has been a heavily discussed topic recently. The Rangers don't have many defensemen with puck-moving ability other than Skjei, McDonagh and Adam Clendening–who has been unrightfully benched. In a system which relies on moving up ice with a quick pass in transition where the defenseman springs the forwards up ice, utilizing their speed, the team has called upon Skjei in that role, and he has been outstanding.
Skjei does it on the defensive end, too.
While this is one of the instances where the advanced metrics don't tell the whole tale–because they are pretty unfavorable–Skjei has been stellar on defense. He wins puck battles, uses his stick to create and force turnovers.
The other thing he does so well is he uses his speed to perfectly, so even if he overcommits at the offensive end, he is always able to get back in position to make the play.
It's quite interesting how Skjei has been able to play the way he has even after a tough preseason. Skjei did not play well at all in the exhibition season which can be attributed to his illness that he was playing through that made him lose a lot of weight. Credit needs to go to the Rangers medical and training staffs for getting him back to where he was before he got sick in such a quick amount of time.
If there is one thing that Alain Vigneault needs to do to help the Rangers fend off this neutral zone trap that opposing teams are beginning to throw at them, he needs to bump Skjei's minutes.
Skjei is only getting just shy of 17 minutes of ice time per game (16:51) which is the lowest of all of the Rangers top-six. That is a problem, and if the AV changes that up, he is killing to birds with one stone.
A lot of people–unrightfully–expected Skjei to come out and replace Keith Yandle this season. To an extent, he has done that, but not by playing like Keith Yandle. Skjei has filled that slot by playing a very similar brand of hockey to what Ryan McDonagh himself played when he first got his chance in the NHL. I don't think anybody would complain if Skjei turned out anything like McDonagh, except for opposing teams.
More from Blue Line Station
This article originally appeared on