New York Rangers: Alain Vigneault's Overstated Decision, Real Concern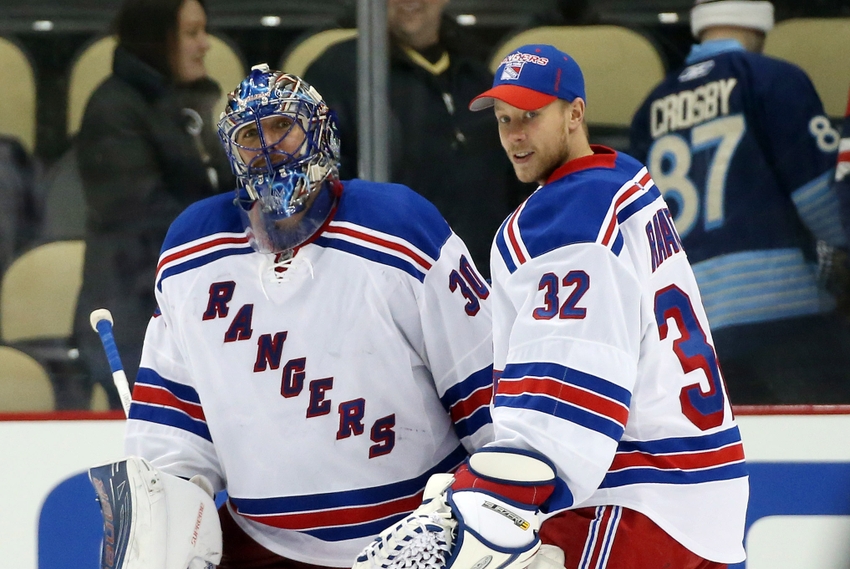 Following yet another sparkling performance by Antti Raanta on Sunday night, Alain Vigneault has a decision to make. Vigneault can continue to go with the hot hand in Raanta on Tuesday night, or return to his $8.5 Million goalie, Henrik Lundqvist. Much will be made of the decision, but the significance lies elsewhere.
New York Rangers vs. Chicago Blackhawks on Tuesday night. NBC Sports, two original six teams, the match-up will be storyline galore. The lead story will be whether Alain Vigneault opts to start Henrik Lundqvist or Antti Raanta in net.
Plenty has been made of the decision Vigneault must make. Raanta started the last three games, all Rangers wins, following Lundqvist starting the previous four, alternating wins and losses. Raanta is the hot hand, while Lundqvist is the $8.5 Million man.
Vigneault has plenty of options in making his decision. Antti Raanta can be ridden until his hot streak ends. Henrik Lundqvist can return to the starters net, with Raanta being thanked for his strong stretch. Vigneault can start Raanta, but state Lundqvist will start the following game. Plenty of choices for a decision deemed of great significance by the media.
The argument here, however, is that the decision is irrelevant. Whether Lundqvist starts or Raanta starts, there is no uncertainty in anyone's mind about who is the goaltender of the future for the Rangers. If Raanta starts on Tuesday and earns another shutout, questions will continue to linger. But Raanta is a career back-up for a reason, and Lundqvist is a future Hall-of-Fame goaltender for a reason. Regression will happen, and Lundqvist will earn his spot back.
While we cannot speak for players mental states, a fair assumption to make is that Lundqvist understands he is the starter. There is likely frustration in not playing, but Lundqvist cannot control the lineup. Lundqvist holding decisions against his coach would be childish and beneath him, so there is no reason to worry there.
Consider this: would a headline of "Raanta to Replace Lundqvist as Rangers Start" make any sense? No. No scenario exists in which Raanta is the starter past this hot streak. Like all hot-take inducing topics, this will pass soon enough.
Where the significance does lie, however, is in how the Rangers play with each respective goalie in net. New York's phenomenal play with Raanta in net the past few games raised eyebrows.
the obvious question is: Why does the team play better in front of Raanta and how do u get them to play this way in front of Lundqvist?

— Patrick Kearns (@PatrickKearns) December 12, 2016
Patrick's question is the one Alain Vigneault must answer. Henrik Lundqvist will be the man in net soon enough, and when that happens the Rangers must play like they have played for Raanta. New York plays a tighter game with Raanta in net, focusing on possessing and moving the puck more effectively.
Of note:
Rangers Corsi For Percentage in games started by

Henrik Lundqvist: 46%
Antti Raanta: 53%

— Brandon Cohen (@brandonco4) December 12, 2016
As stated previously, there is no question of who is the better goalie between Lundqvist and Raanta. Lundqvist's job is not in jeopardy, and Raanta's fantastic performances only help the team. The real storyline is why the Rangers play better with Raanta in net, and how to fix that.
For the Rangers to continue their winning ways, Alain Vigneault must be able to answer that question. Tuesday night is one game, but the Rangers ability to play tight, possession-minded hockey regardless of who is in net will make or break their success for the season.
More from Blue Line Station
This article originally appeared on