New York Islanders vs. Vancouver Canucks live stream: Watch online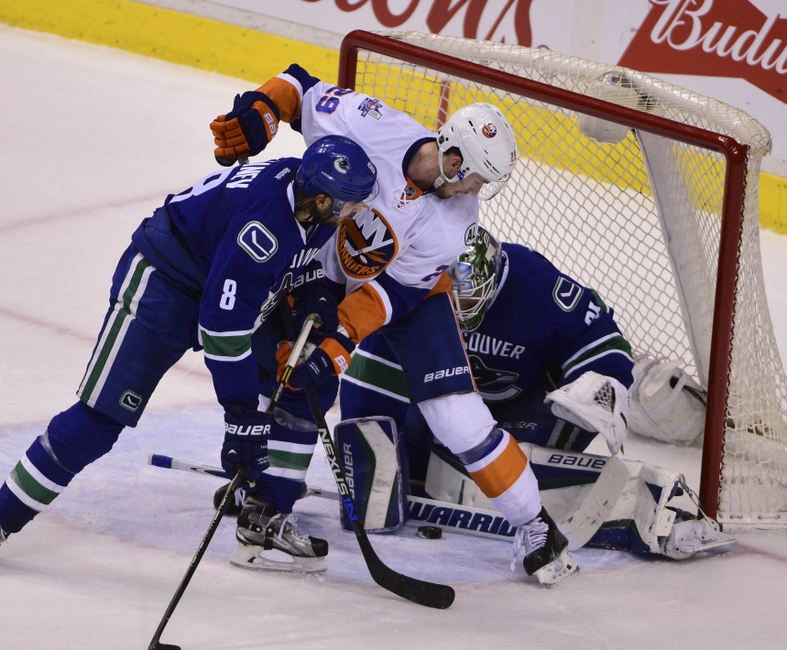 The New York Islanders will host the Vancouver Canucks for a faceoff on Monday night. Here's how you can watch this NHL game via live streaming. 
Two of the coldest teams in the NHL recently have been the Vancouver Canucks (4-7-1) and the New York Islanders (4-6-2). On Monday Nov. 7, the two struggling teams will square off when the Isles host the Canucks at the Barclays Center beginning at 7:00 p.m. ET. It can be viewed on NHL Network. The game will also be shown on MSG+ in the Greater New York area as well as SNP in Canada. For those who have a subscription to NHL.tv, it will not be available on there.
Vancouver enters the game on an eight game losing streak. They won their first four games of the season, but have dropped their last eight, including seven in regulation. The Canucks are coming off an embarrassing 6-3 loss to the Toronto Maple Leafs on Saturday. To make matters worse, they will be without Jannik Hansen, who injured his shoulder during the loss to Toronto. Vancouver ranks last in the NHL in goals scored with just 20 goals in 12 games. They have yet to win a game away from home with an 0-4-1 record on the road
On the other side of the ice, the New York Islanders have lost two straight in overtime. They have only won two of their past seven games. New York lost to the Edmonton Oilers 4-3 in a shootout on Saturday. They have a 4-3-2 record at home this season.
Date: Monday, Nov. 7
Time: 7:00 p.m. ET
Location: New York City, New York
Venue: Barclays Center
TV Info: NHL Network, MSG+, SNP
Live Stream: Sportsnet (subscription required), MSG+
Both teams are desperate for a win. The Canucks must find a way to stop their free fall to have any chance of making the playoffs. Meanwhile, the Islanders might be in for some changes if they don't start winning soon.
This article originally appeared on