New York Islanders Trade Rumors: Jaroslav Halak on the Trade Block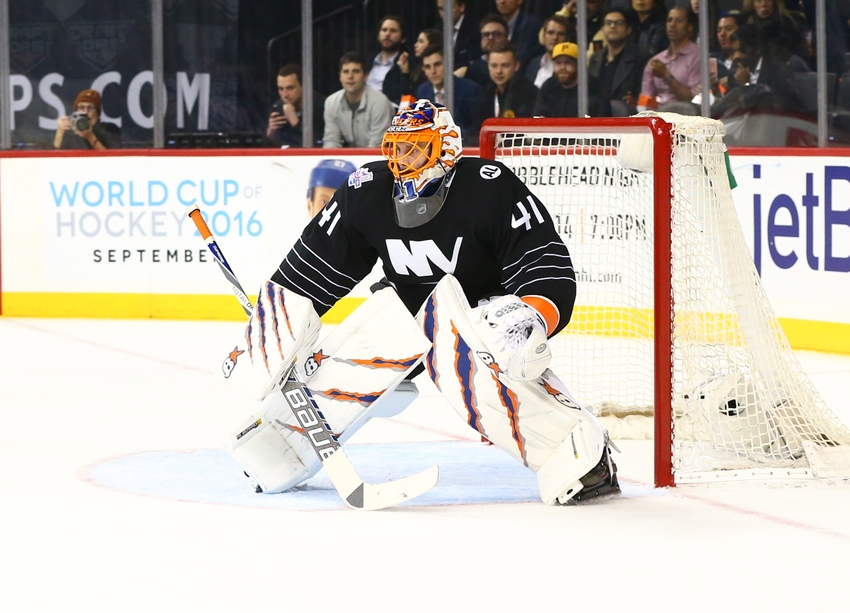 New York Islanders Trade Rumors: Goaltender Jaroslav Halak Reportedly on the Block Following Agent Allan Walsh's Outburst on Social Media Last Weekend
New York Islanders trade rumors have been centered solely around goaltender Jaroslav Halak of late. Rumors were prompted after Halak's agent expressed his concern of the Islanders' three goalie set up on Twitter, or three-headed monster as it's being called.
Halak's agent, Allan Walsh, shared tweets that expressed his disapproval with how the Isles have been juggling goalie practice time. Walsh, also the agent of Halak's fellow Isles goaltender Jean-Francois Berube, insinuated that the Isles need to change their current goalie situation.
Starting goalie for NY Islanders last game had only 1 quality practice in last 5 days before Penguins game. Going on 2 years of this now.

— Allan Walsh (@walsha) October 29, 2016
Walsh stated that the lack of consistent practice time  would have an impact on the sharpness and performance in goal. Walsh's tweets were quickly led to  rumors that Halak was hitting the trade block.
Jaroslav Halak on Trading Block
Halak has started five games for the Islanders this season and has just two wins. Halak has a save percentage of .898 and a goals-against average of 3.15.
The Islanders have a few reasons why dealing Halak is possible but the reliability of Thomas Greiss is a re-occurring reason. Greiss also has two wins and three losses in five games but has a save percentage of .908 and a GAA of 2.87.
Greiss played great for the Islanders last season and was able to carry the team while Halak was injured. Last season, Greiss won 23 of 38 games and brought four to overtime.  Greiss also won five of 11 playoff games for the Isles.
If the Islanders were comfortable making Greiss their first goaltender and having Berube take the role as backup, then it is likely the Isles can deal Halak.
Despite New York's openness to trading Halak, it might not be easy. Any team in need of goaltending help can express interest in Halak but taking on the goalie's contract might be  difficult. Unless a team was desperate for a more talented goaltender, they might not take on the $4.5 million dollar salary.
If the Isles decide to keep Halak and sacrifice a balanced goalie practice time, they can hold onto their goaltending depth as security.  Good goalie depth isn't something to toss away but giving goalie equal playing and practice time is important.
Possible Trade Rumors
Once the trade rumors began, team names also began to come into the mix. Halak would help any team in need of goaltending help or in need of an improvement between the pipes.
Get the FanSided App
Teams like the Carolina Hurricanes, who are in need of help, have had their names thrown around but nothing substantial has come yet.
Apparently, the Islanders have yet to have received a deal regarding the goalie, despite his being available. Given the time in the season and Halak's contract, there might be less trade options than the Isles hoped.
The three goalie situation has not been ideal and any Isles fans are growing anxious over what might happen. The Islanders can either keep their goalie situation and work through it or find a trade deal that works for them.
Potential Halak trade rumors will continue to swirl but nothing is certain yet.
The Islanders are currently seventh in the Metropolitan Division. The Isles will face the Philadelphia Flyers, who are in fourth place, tonight (Nov.3) at 7 p.m (et).
This article originally appeared on