New York Islanders Trade Rumors: 5 Potential Forward Options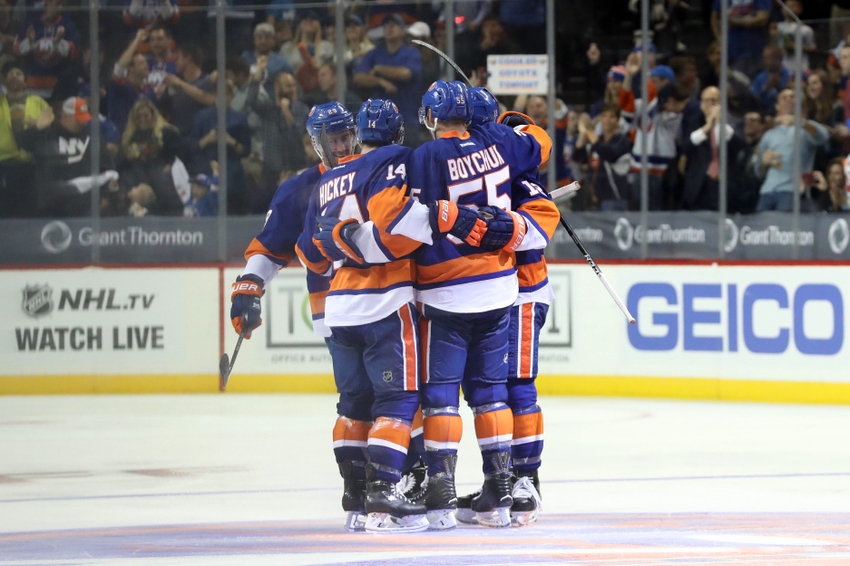 New York Islanders Trade Rumors Heating Up After Early Struggles, 5 Potential Forward Options to Help John Tavares on the Top Line
Over the last few days, New York Islanders trade rumors are heating up. GM Garth Snow gave a vote of confidence to coach Jack Capuano, and instead, it sounds as though the Isles plan to look to the open market in an attempt to help turn things around.
While many had Capuano squarely on the hot seat, it was hardly his fault. As I pointed out the other day in my NHL rumor roundup, a lack of emerging young talent left holes on this roster that were expected to be filled. Andrew Ladd and Jason Chimera were just part of replacing Kyle Okposo, Frans Nielsen, and Matt Martin. The Isles thought they'd have more rookies than Anthony Beauvillier in their lineup.
Time is Ticking
With star center John Tavares looking for a new contract in the summer of 2018, the Islanders don't exactly have the time to wait for Michael Dal Colle, Josh Ho-Sang, and Mathew Barzal to emerge. Instead, it looks as though Garth Snow may have to include one of these future stars in a package deal to find an immediate upgrade.
Garth's hands are tied here and if the Islanders don't do something, they risk putting themselves in a corner. What if the Isles tank in 2016-17 and Johnny T walks into training camp in the Fall of 2017 and says "I will not negotiate during the season". Now, you've got a guy who may walk and a media circus storm being created in Toronto.
Long story short, a move today (or in the near future) is more about preserving the long-term health of the franchise.
Package Deal Makes the Most Sense
For too long now, the Isles have gotten away with plugging away various players on that top line with John Tavares. Kyle Okposo was his best option, but hardly a first line talent (would be an excellent 2nd liner on a great team). It's time for the New York Islanders to prove to their franchise center that they're serious about winning. That means going out and finding a true first line winger.
In order to accomplish this, the Isles should look to package a defenseman with one of their top prospects. Why subtract from the blue line? Despite how they're performing, the numbers suggest someone like Thomas Hickey or Calvin de Haan could be plucked by Las Vegas next June. It would be a little easier if Ryan Pulock (also likely available in the expansion draft) were healthy, but nonetheless, it makes sense to shed a quality blueliner. Of course, additional players, prospects, or draft picks could be added, but a defenseman and top prospect are focal points of the deal.
New York Islanders Trade Rumors: 5 Potential Forwards to Target
Let's call this one unlikely given the character concerns. That being said, if Kane's value has taken that big of a hit, it might be a gamble Garth Snow is willing to take.
Hypothetical Deal: Islanders trade D Calvin de Haan and F Josh Ho-Sang to Sabres for F Evander Kane
Want your voice heard? Join the Puck Prose team!
This young man continues to fall just short of expectations in Carolina. He's been fairly productive thus far in his career, but has failed to take that next step. Perhaps a change of scenery is exactly what he needs.
Hypothetical Deal: Islanders trade D Ryan Pulock and F Michael Dal Colle to Canes for F Elias Lindholm
Truth be told, the Avs fans and organization love their captain. Beloved captain Andrew Ladd was traded from Winnipeg last year, though. Another captain, Dion Phaneuf was shipped from Toronto to Ottawa. This might be the shake-up Colorado needs. It's no secret they could use help on the blue line.
Hypothetical Deal: Islanders trade D Nick Leddy and F Mathew Barzal to Avs for F Gabriel Landeskog
With a plethora of offensive talent both in the NHL and knocking on the door down in Grand Rapids, the Red Wings could afford to shed a top-six forward if it means getting a bit more defensive help. Given the strength at LW, Tatar could the top target that Detroit might be willing to part ways with.
Hypothetical Deal: Islanders trade D Travis Hamonic and F Josh Ho-Sang to Red Wings for F Tomas Tatar and D Xavier Ouellet
So, this call starts with names like Mitch Marner and William Nylander, but it quickly turns to, "Hey, how about JVR?". Leafs fans would have no issue keeping van Riemsdyk long-term, but at some point, tough decisions will need to be made to address bigger needs.
Hypothetical Deal: Islanders trade D Travis Hamonic and F Michael Dal Colle to Maple Leafs for James van Riemsdyk and D Frank Corrado
This article originally appeared on