New York Islanders Roundtable: The Isles Need Fixin'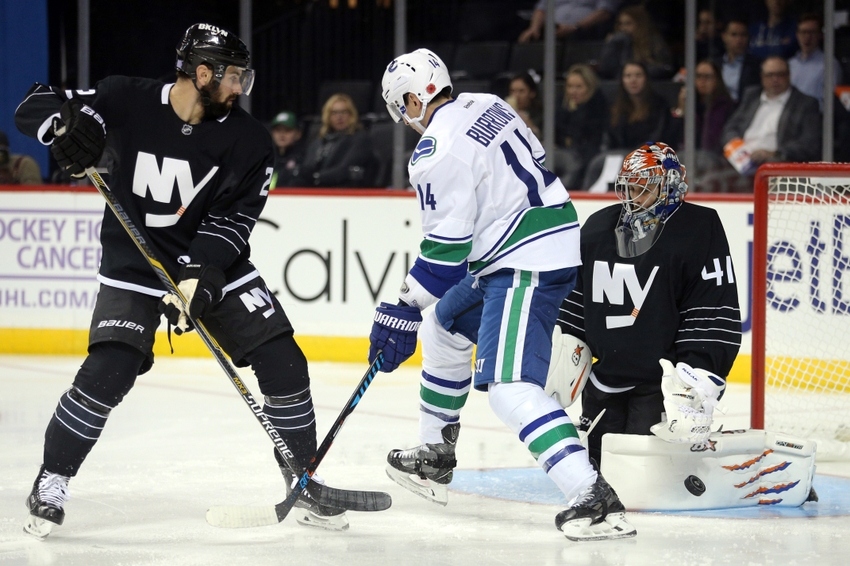 The New York Islanders are close to a .500 team, but things still aren't any better. If you could fix something, one thing about the Islanders, what would it be?
We gave the staff writers for Eyes on Isles the powers of Fix-it Felix. They could fix one thing about the New York Islanders. What would it be?
It's not easy to pick just one thing at the moment. The Islanders aren't exactly the benchmark of success this season. But, by that same token, they aren't the absolute worst either.
But recently the negative has certainly outweighed the positive. From poor on-ice performances, a floundering power play, and an equally ineffective penalty kill. To off-ice issues such as a the Barclays Center making headlines for all the wrong reasons and a crowded crease.
Take your pick! Heck, they could even focus on the lack of production from some of our big name forwards. *cough* Andrew Ladd*cough*
Just because he scored his first goal wear an Islanders jersey doesn't recuse him from criticism. Or maybe it's the coach's fault for not maximizing the human resources at his disposal to help these players become more effective?
See, tons of material to choose from.
Chris Lizza
If I could wave a magic wand and fix one thing for the New York Islanders it's the power play. The Islanders power play has been beyond anemic. Somehow the Islanders are ranked 24th (11.4%) and not dead last.
Last season the New York Islander's power play was efficient to the tune of 18.3%. Good enough for a mid-table finish at 17th. This season it seems the Islanders are lost without the 14 power play goals generated by Kyle Okposo and Frans Nielsen.
The bottom line for the Islanders extra man unit is there aren't enough pucks to the net. All good power plays have movement and make the penalty killers constantly move and expose the fact they are a man short. Watching the games you hear  Butch Goring say there aren't enough pucks to the net. Pucks to the net will create movement and opportunities. 
With the skilled players the Islanders have both upfront and on the blue line, they should have at least a solid power play. If the Islanders did, a lot of those one-goal losses would be wins.
Farrell Hirsch
If I had to choose one thing, from what I see on the ice, that is fixable? I'll go with "special teams".  Admittedly that is really two separate things. They have different personnel and different coaches. 
But with six of eight losses coming in games that were decided in the last five minutes, good special teams play could have the Isles in pretty good shape right now. 
The irony is that despite Doug Weight's half century long bungle of a power play, I think this area will improve during the course of the season. Call it inverted attrition. Pulock is due back in a month.
While he is not the "power play quarterback" that could make a group elite, he has good vision and a great shot. Either Barzal or Ho-Sang will be out there by January. Those are craft creative forces that can accomplish two goals. Improvisation, and a second option. 
Also, Andrew Ladd has five straight years scoring at a 25 goal pace. At some point, some of that is going to have to show.
But if I could, I'd try to fix the PK. An elite PK allows your team to play unafraid. It stops the deflating moments when momentum swings against you.
It gives your 3rd and 4th line guys (usually your killers) a sense that they are contributing to the team success. Having that confidence throughout the troops is invaluable. A PK at 77.1%, ranked 25th in the league, doesn't allow that to happen. 
Matt O'Leary
The Islanders have a lot of problems. Part of the reason for their slow start is due to the woeful power play, the struggling penalty kill, but the most glaring issue is the forwards. The Isles have actually gotten good offensive production from their defenseman, it's their forwards that have been the issue.
It took the two biggest free agent acquisitions, Jason Chimera and Andrew Ladd until game 13 to finally score their first goals as Islanders. They aren't getting enough production from their highest paid players.
Excluding John Tavares, the Islanders highest paid forwards are Andrew Ladd, Mikhail Grabovski, Nikolai Kulemin and Anders Lee. Those four players have combined for 3 goals and 5 assists (8 points).
The point is they aren't getting the necessary production for what they are paying their players. Granted Grabo's hurt, but he hasn't given you much offensively when healthy. Kulemin is a good defender but gives you little offensively. Lee has shown no signs of growth since his breakout rookie season and Ladd finally got on the board with a goal 13 games in.
It's frustrating when you see players like Nikita Kucherov signed to a contract with a cap hit under $5 million a year.
The Islanders need to address their forwards either internally, meaning giving Joshua Ho-Sang and or Michael Dal Colle a shot or externally by pulling the trigger on a trade. The Metropolitan Division looks like it's going to be an extremely competitive division this year. If the Isles want to compete for a playoff spot they need to address the offense, and more specifically forward production.
Michel Anderson
I wanted to focus on a perceivably small portion of the game. I want to talk about faceoffs. You know that thing that establishes puck possession after every stoppage in play?
Sure the power play needs some work, so does the penalty kill. Heck, the ice itself needs work. But if I could fix one thing it's faceoff wins. Mainly because there are actual solutions that can be applied to the special teams and the ice.
Establish a better zone entry scheme for the power play. What the Isles are doing this season isn't working. For the penalty kill, maybe the team needs to establish a better defensive structure. And for the ice, well, get rid of the PVC pipes.
Faceoffs are 50/50 almost entirely luck based events that happen on average 60 times a game for the Islanders. And the Isles are sitting at a 48% faceoff win ratio. Ranking then 27th in the league. (All stats from puckbase.com)
Losing possession over 30 times a game is counterintuitive to the goal of the game. That is to have control of the puck in such a way that you can facilitate it going into the net.
If I had Fix-It Felix's golden hammer I'd give all our centers Yanic Perreault like faceoff qualities. He wasn't perfect in the draw, but his 61.75% NHL average would be a massive upgrade. Given the Isles the puck another seven times a game, rather than to their opposition.
This article originally appeared on