New York Islanders Roundtable: Tavares' Worth in Trade Market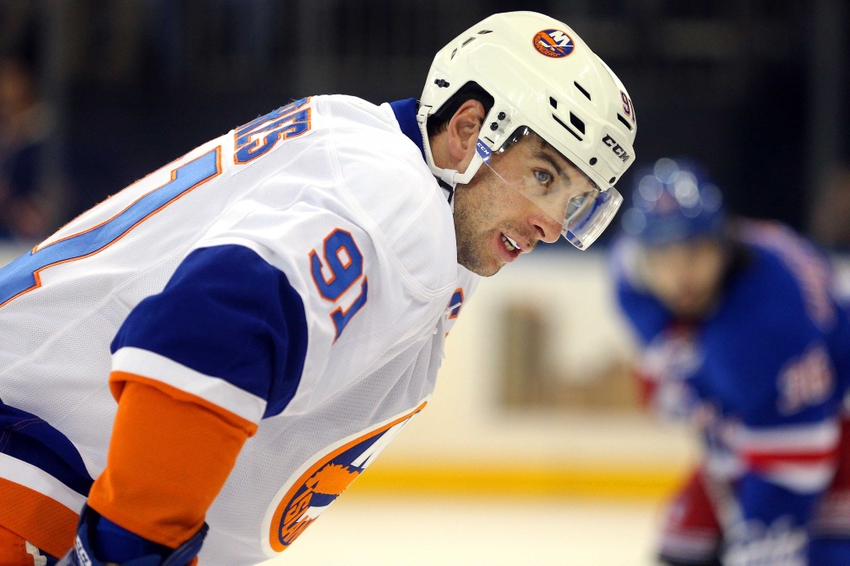 We know John Tavares worth to the New York Islanders, but what if Isles management went crazy, like crazier than you already believe them to be, and actually trade Tavares. What do you want to see come back?
The headline comes up on your phone at some random hour of the day: "New York Islanders trade former first-overall pick and team captain John Tavares for…" What comes next?
It's not something any of us want to see happen ever, but we know that Toronto is pining at the chance of landing one of their native sons such as Tavares as the prized possession in their on-going rebuild.
And now Montréal Canadiens writers are throwing out feelers on the Islanders superstar talent as a potential trade target.
But is Max Pacioretty and "someone else to sweeten the deal" worth it in your eyes? It sure shouldn't be. Like Kelly writes, it's not like Pacioretty is having a "good" year with 18 points in 26 games played.
Who is? That's we asked our writers. They couldn't say: "nothing". We know, we get it Tavares is irreplaceable. He's somewhere in the top 10-15 players in the entire league.
But let's just say that the Islanders went crazy and thought that they needed to hit the reset button on their roster and Tavares was sent to another market. What could come this way in return?
Farrell Hirsch
To determine a good return for Tavares, you have to first define the direction of the team. And clearly, if JT goes, that means we are starting over. 
You also have to realize that you're trading an elite player, top ten in the game. And the other nine are not available. So you're looking at a package, that has potential to help form a new Islander nucleus, and it would have to come from a win-now team.  
Such a trade feels to me like two budding young stars and a first round pick. And it can't be in the division. You can't give Tavares to the Rangers, the Pens, the Flyers, the Caps. So maybe Montréal for Alex Galchenyuk, Mikhail Sergachev, and a first? Maybe Nashville for Ryan Johannsen, Ryan Ellis and a first?
Of course, the best return for Tavares is, was, and will continue to be, that John Tavares returns to the New York Islanders. Despite the preconditions placed upon this assignment, I simply can not fantasize about trading him without adding that caveat.  
Jennifer Lapka
Like Farrell, it's hard to even enter this hypothetical. Not only is Tavares one of the best in the world, it's impossible to quantify his worth to the New York Islanders as a franchise.
Not to mention he's only 26 years old. This isn't a thirty-something player we're talking about here. In a universe where this has to happen, it'd have to be a package and even then there are few packages that could make this worth it for the on-ice product and for a franchise on a whole.
Names would probably include AaronEkblad, Nikita Kucherov/Jonathan Drouin, Mitch Marner. First-round picks would have to be involved as well, but even with a pick, it would have to be a team looking at a lottery pick.
A 20 to 30 first-round pick just isn't going to cut it here. And I have to add that it can't be Garth Snow using that draft pick considering his track record and the Islanders production of NHL players out of these first round picks. 
And this doesn't even make it viable. Any way you slice it, it's lose/lose.
Eric Vogel
From the Islanders' perspective, the return would be all about where they think they are right now. Clearly, you're not in full rebuild because you have high skill forwards like Dal Colle, Ho Sang, Barzal in the pipeline, Beauvillier in the press box and your top D pairing signed for the long term as well in Hamonic and Leddy. 
All of that leaves us with trade proposals that resemble the recent one for one trades of Hall for Larsson or Webber for Subban, with the addendum that Tavares isn't signed long term so the return is probably a less established player under team control.
– To the Maple Leafs for Auston Matthews or Mitch Marner. They get to throw a huge homecoming for JT and have a good chance of re-signing him. We get someone who would slot in nicely next to our young talent. We would have to take on salary to make this work.
– To the Oilers for Leon Draisaitl. I honestly think Draisaitl is on par with Matthews and Marner.  Again we'd have to take on salary.
– To the Avalanche for Gabriel Landeskog. He's signed long term. He's a wing who can go with all 3.5 million of our centers. We wouldn't have to take on salary.
One last thing to consider is that if he is traded, there should be no hope that he returns. Tavares has consistently expressed his dedication to the Islanders, but if they were to trade him all of that would most likely be out the window.
Billy Lewis
The worst headline imaginable for an Islanders' fan would be something saying John Tavares gets traded. It doesn't' feel right to talk about it, but that is what we have to do here.
The package you get in return for Tavares would have to depend on when you trade him. The best package would be trading him between now and the trade deadline. Let's say you trade him over the summer, you should still get a great package in return. If you wait to trade him until next season's trade deadline, then you probably don't get as much on the return.
All in all, if the Islanders did make Tavares available the suitors would be lining up. One thing for certain is I would stay away from the Eastern Conference. Unless an Eastern Conference team blows me away with a package, I would focus on the West.
I would be looking to get two star-caliber players and a first round pick. One team that comes to mind would be the Calgary Flames. They have Johnny Gaudreau, Sean Monahan, and Dougie Hamilton. I would look to get two of the three and a first round pick for Tavares.
Let's say you look to package Tavares and Jaroslav Halak to trade this year. I would think the Dallas Stars would come into play. I'd look to swap Tavares and Halak for Tyler Seguin, Jason Spezza, and a first rounder.
I hope it doesn't come to it, but if the Islanders had to trade Tavares I feel these two deals would make some sense. The best trade the Islanders can make for Tavares is trading his current deal for a long-term contract extension. 
Matt O'Leary
If it came to the point that John Tavares had to be moved the Islanders should trade with the Calgary Flames. In return, I'd look for Johnny Gaudreau, Sean Monahan and maybe a first round pick.
Johnny Gaudreau is only 23 years old an emerging star in this league. Last year, his second full year in the league he put up 78 points. At a young age, he's already one of the premiere players in the league. From Calgary's point of view, there's no way they can get JT without giving up Gaudreau in my opinion.
As for Monahan, he too is young at just 22 years old. He's put up 60 points now in back-to-back seasons and is off to a nice start this year as well. Then throw in a draft pick and I would pull the trigger on this trade.
I don't see this as very likely. The Flames would be giving up two very good young stars and a first rounder for a star in his prime. I'm not sure Calgary would want to give up that much, but from the Islanders perspective, I wouldn't want anything less than a king's ransom for Tavares.
I don't think the fans would take to kindly to trading Tavares even for a return like that.
Michel Anderson
It's going to be a sad hypothetical day on the island when the news breaks that the Islanders have traded John Tavares. I know he has a modified no-move clause, but the exercise here is to figure what Tavares' worth is in the trade market.
So we're assuming the Isles want to trade Tavares, and that Tavares gives the nod of approval. In the real world, neither of these probably occur. But, in the hypothetical world that this exercise lives in, both have happened.
So what do I want? Most of the Eyes on Isles writers already hit the nail on the head when they said: "Everything", or "a King's ransom". Because that's what Tavares is worth to us on an emotional level.
But outside of the pure emotion were talking about a point-per-game player over the course of his career. It's actually .92, but point-per-game is close enough. On a different team, it could be better. So, who's out there with the same acumen?
We're talking about Artemi Panarin, Joe Thornton, and Claude Giroux. Panarin is the only name that makes sense in this crazy hypothetical exercise. He's scoring at a rate of .93 points-per-game. He isn't covered by some sort of crazy no-move clause.
So how about Panarin and Alex DeBrincat for one of the best centers in the game to put alongside their other one-of-the-best-centers-in-the-game; Jonathan Toews?
This wasn't the most pleasant assignment for our writers and justifiably so. But I think they all did exceptionally well in trying to figure out what he's worth, and the resounding answer is "A LOT". And that's all assuming Garth Snow goes crazy tomorrow and decides he want to trade Tavares so bad that he alienates him into agreeing to leave. It's a crazy leap, but it's good to know just what we have here.
This article originally appeared on