New York Islanders Roundtable: It's Time for the Difficult Talk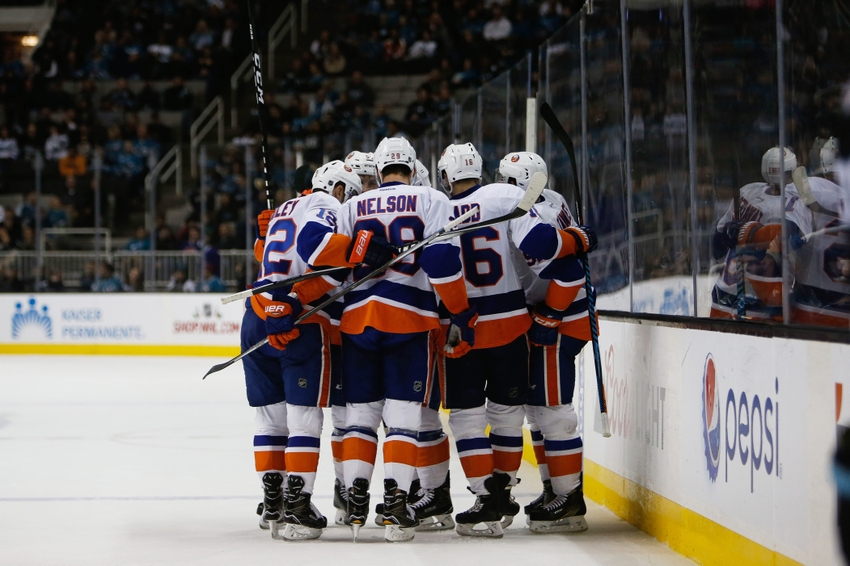 The New York Islanders are the worst team in the NHL. That winning ride was fun while it lasted, but here we are, back where we started. Is time for the Isles to retool or rebuild?
It's a tough question to answer. First of all the New York Islanders have only played 20 games of their 82 game season. So, anything can happen still. Although honestly incredibly unlikely.
Second, and probably more importantly, fans just don't have the appetite to go through a rebuild. This year was supposed to be about going forward, not about taking a step back. Admitting failure on this rebuild, the one that started ten years ago just doesn't sit right with fans.
And rightfully so. They put their emotional faith in the hands of Garth Snow to take this team out from under the terrible Mike Milbury years and bring them to the promised land. To the upper echelons of the NHL.
And as a repayment on that faith, we get Andrew Ladd and dismissive comments from the GM in impromptu media scrums. Awesome.
Rebuilding after a rebuild isn't fun. Ask the Edmonton Oilers fans how they felt after year ten without a single playoff appearance to show for it.
Farrell Hirsch
First things first, the status quo is unacceptable so that is not an option. I think the right path is the riskiest. Every move should be made with an eye toward keeping Tavares on the team for the next ten years (1.8 remaining on the contract, plus max length eight year contract). And you move forward with that plan knowing that if you don't keep him, you are screwed beyond comprehension.
What will make Tavares stay for eight more years in the summer of 2018? Being surrounded by a great young, winning talent. So, first, you prey that Sorokin, Pulock, and Barzal become that, and quickly. Then, you pray for Hamonic and Leddy to be as close to great winning talent as possible. After that, nobody can be safe.
Then you say to yourself, even in the unlikely event that every single one of those players maxes out on potential within the next year, you still need a first line winger. And everything is on the table in order to get one.
That means regular first team players like Brock Nelson, Ryan Strome, Calvin de Haan, and/or Casey Cizikas. Or prospects like Anthony Beauvillier, Joshua Ho-Sang, or Michael Dal Colle. Or draft picks, first-borns, your vial of Elvis' sweat, everything and anything people.
I guess the answer is, you retool till John Tavares leaves, then rebuild. Whether that's in two years, or ten will be the determining factor in how panic stricken I and the Islanders fan base become.
Chris Lizza
Is it time to retool or rebuild?
The answer to that question is a resounding none of the above. First off, the Islanders have a very deep farm system with a number of top prospects knocking on the door. They include Ilya Sorokin, Devon Toews, Mitchell Vande Sompel, Mathew Barzal, Michael Dal Colle and Kiefer Bellows to name a few. If the Islanders don't make the playoffs they will at the very least add one more top prospect to this bunch.
So, there is plenty in the cupboard. If the right trade is out there for a Matt Duchene type forward then Garth Snow should pull the trigger. That should have been done this past summer. That should have been done yesterday, and it's still on the table until such a time as it's done.
At the end of the day, it's up to this group, coaching staff and management to turn this thing around. If they don't then pending unrestricted free agents Cal Clutterbuck and Thomas Greiss will be moved at the trade deadline for the best package the Isles can get and ownership will be looking for a new GM and head coach come April.
Matt O'Leary
The Islanders definitely need to retool rather than rebuild. Rebuilding to me is blowing everything up. The GM and coach would have to go (maybe that's not so bad) and the Islanders would next have a fire sale. To me, a rebuild would have to include trading John Tavares and I absolutely in no way want the Islanders to do that.
John Tavares is a cornerstone player, a star, plus I remember the Islanders before Tavares.Those were some sad times, even sadder, darker and more depressing than the present.
We saw what he can do for a team within the Florida Panthers series. He carried the Islanders to that series win. Him and Thomas Greiss of course.
To me, the answer is retooling, because the Islanders did the rebuilding process already. They have their star to build around in John Tavares and they also have talented prospects in the system.
They could either move some of their under-performing yet still young forwards like Ryan Strome or Brock Nelson. If they didn't want to go that route the Isles could then trade a few of their prospects for a complimentary piece to Tavares.
Andrew Ladd was supposed to be that guy, but he's struggled so far in blue and orange. To me, the Isles are a few moves away from being competitive rather than blowing it all up and starting over.
Billy Lewis
I feel the Islanders do have some pretty good pieces in place. Any team that has John Tavares on it should stay away from a rebuild. The Islanders should look to retool rather than rebuild.
Islander fans are much too familiar with the term rebuild. We've been hearing it for a long time, and up until the beginning of this year felt like we were about to reap the benefits. I don't believe you would find anybody who would tell you that winning one playoff round could be considered a successful rebuild.
Last year Tavares was a man on a mission in the postseason. For that reason alone I'd lean towards retooling the Islanders. If it's up to me I'd be willing to trade anybody but Tavares and Nick Leddy.
I also wouldn't be afraid to move some of the young talent if the right deal comes along.
I feel at this point ideally, we would see another General Manager and coaching regime making this moves. Assuming Snow would be the one in charge, I will give him some credit for the moves to acquire Leddy and Johnny Boychuk . Those two deals were quite literally Snow's finest hour as a GM.
I would love to see Snow pull some of that magic and finally get Tavares the elite winger he deserves. An elite winger could be just what JT needs to reach the 100-point plateau. Right now the Islanders are struggling, but they may just be a few pieces away from propelling themselves into the playoff conversation.
Michel Anderson
I promise John Tavares isn't going anywhere. But I want a rebuild. Now that doesn't have to mean rebuild what's on the ice only. The rebuild can start in management.
Do we want a rebuild? Do we want to admit the last ten years of Garth Snow was a failure? Do we want to go back to those dark gloomy days? Nope. Nope. And, nope.
You don't always get what you want. Sometimes, just sometimes you get what you need. And what this team needs is an overhaul from the management down.
Garth Snow, and his staff, gone. Jack Capuano and his staff, gone. Maybe the scouting staff can make a case for staying onboard with recent picks like Sorokin, Ho-Sang and Dal Colle. But they also drafted the likes of Josh Bailey, Ryan Strome, and Griffin Reinhart. So, their argument better be on point.
This needs to be one before the Vegas expansion draft. This new management core has to sort itself out so they don't get fleeced come June. Once the draft is done,
Which gets me to the playing staff. The Islanders have an overload of second to third line players. Gone are the likes of Josh Bailey, Anders Lee, and Ryan Strome. Love Cal Clutterbuck, but if he's got worth, let him go.
Get rid of them for $.10 on the dollar, early second rounds, anywhere in the second round really. Doesn't matter the youth that can move up and take their place is more promising. How does a second line with Dal Colle-Barzal-Ho-Sang over Bailey-Strome-Lee sound?
This might not sound like a classic rebuild. Mainly because it doesn't need to be. The rebuild is in the way this franchise thinks, operates, and approaches winning hockey games. They might have the same name as they did ten years ago, but they aren't the same team. The goals have changed, expectations need to be met.
More from Eyes On Isles
This article originally appeared on