New York Islanders Roundtable: Back to the Future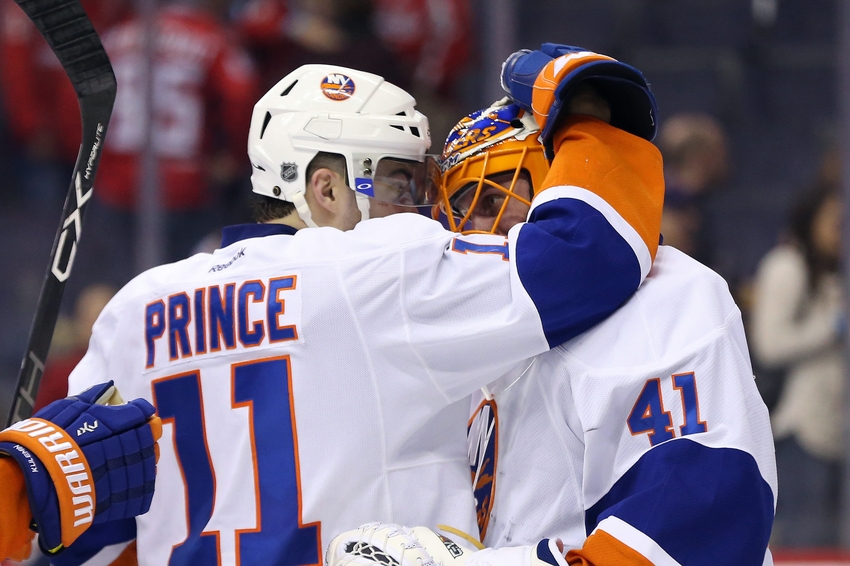 Back at the start of the week, we asked Eyes on Isles staff to answer a simple question: What would you do to fix the Islanders? Now, that the Isles are on a bit of streak it looks silly, but three games is a fraction of 82.
At the beginning of the week, we asked each of our writers to answer a single question: "What would you change about the New York Islanders?"
That single question had one caveat. The answer had to come from the staff they currently had. That means no trades, the coach has to stay and the management has to stay. How do the New York Islanders improve with they have right now?
So that means Jack Capuano has to stay. It means Garth Snow has to stay. And there's no trading Ryan Strome for Matt Duchene straight up.
Three of the easiest answers, or at least most abused when it comes to trying to diagnose and rectify what's ailing the New York Islanders.
So what's it going to be? Maybe focus on the powerplay? Or just special teams in general? Maybe its a more structure system? Or simply: "don't rely on dump-and-chase".
Whatever their solution is, remember this was all written before the Isles remembered how to play hockey. Maybe some of their solutions have been used without our guys knowing it.
Jennifer Lapka
While the Islanders have roster issues, the problems with this team are not completely a talent/skill issue. In lieu of relieving the coach and general manager of their positions, the coaching staff has to reconnect with their players.
It seems that Capuano has lost sight of his player's strengths and has boxed them into a grinding, dump and chase system that is unnatural to some of the skill players like Ryan Strome.
Not only is it unnatural to them, the Islanders do not have the size to play this kind of game and sustain it over 60 minutes. That contributes to the continued lack of energy showed night after night. 
The coaching staff has to redistribute ice time and if there's a possibility that Andrew Ladd is going to get going (he had a slow start last season but finished strong), he can't play a fourth line with Casey Cizikas. It is a misuse of the skill he actually does have and there's no way he gets it together when relegated to a fourth line – which is also hell on the confidence. 
Which leads to confidence. Maybe Capuano needs to take some kind of classes for motivating or instilling confidence in others because this is another part of his job in which he fails miserably. There's this notion that coaches have their guys and have guys who are not their guys and he's got to get over that. This is especially true when he's sitting a skill guy like Strome and Cizikas is thrown into almost every big situation. 
If the Islanders are going to flail and fail, then they should be flailing and failing at the skates of their skill, not the grinders. 
Colby Guy
Many people don't think about this, but I think the best way to provide a change to this team and potentially find a winger for Tavares to play with is calling up Micheal Dal Colle. Dal Cole has been absolutely amazing for the Sound Tigers, as he's tied for the team lead in goals (last time I checked) with Steve Bernier.
Sure, the move may throw the hot Sound Tigers off, but we're in dire need for offense and Dal Colle could possibly bring it to us without having to give up any assets at all. If Tavares can find chemistry with the former 5th overall pick, it could spark this team offensively and give us new life.
Another way to wake this team up is to bring in a new coach. As the Penguins did when Mike Johnston was fired, the change in coaches will make them realize that something isn't going right, and who's a better candidate to come in than former Islanders assistant coach, Gerard Gallant. Gallant coached a Panthers team that had been awful beforehand into a playoff contender and guided them into the first round against us.
As we saw during the series, the Panthers played with dominance and was able to hold the lead for the majority of the series, Gallant also helped develop the young guys down in Florida. The fact that Ekblad already has the leadership qualities of a seasoned veteran already shows us the wonders Gallant can do, so why can't he do it for us?
All-in-all, I definitely feel like change is a very necessary thing to do if we really want this team to get back on track. Some people might think I'm crazy, but I think it might just work.
Eric Vogel
Short answer – They don't.
Long answer – Jack Capuano is going to continue to use the fast, skilled, puck controlling players that Garth Snow has drafted/signed/traded for to dump/chase/board battle their way to the middle of the league (because of course, we'll finish out of the playoffs, but not in the lottery).  Functionally the equivalent of taking a thousand dollar nail gun and trying to bang a nail into a wall with the handle.
If you're Snow and you don't want to go down with the ship you have as much of a fire sale as you can in an attempt to tank for a lottery pick. You fire Capuano at the end of the season in the hopes of finding a more progressive coach while assuring ownership that the talent you've drafted will be better suited to a new system and next season will be a different story.
Finally, you fill up the YeSUV with as much money as you can, drive it to John Tavares' doorstep, and beg him not to leave.
If you're Capuano and you don't want to go down with the ship you… I don't know, open a book maybe?  Somehow finally realize that carrying the puck over the blueline, especially when you have players who can do that effectively, is a much more reliable way of generating scoring chances than deliberately handing over control of the puck?  Maybe he should walk around with taxi fare in his pocket at all times just in case.
Farrell Hirsch
Winning with what they have right now, would require several things; 1) Luck. 2) Playing crappy teams only for the remainder of the season 3) A complete reversal in the careers of several players.
While this team doesn't seem talented enough to pull themselves out of a hole this big, we have all watched over the years as equally talentless teams found a way to overachieve.  I would look to them as a role model. I swear The Devils won Cups with not much more hockey skill than the Islanders have right now, except in goal. How did they do do it?
Great goaltending, stifling defense, tireless effort, banging bodies, and scoring that was not exceptional but very well balanced. I think the Isles goaltending might be up to the challenge. Not vintage Marty, and not Cup contending. But good enough to play at a playoff spot pace from here on in.
The roster of defenders is deep, pretty big, play well positionally, and can skate a puck out of trouble. They can handle it.
The current roster of forwards is problematic. We have a team of third liners. Why are we not embracing that? I think its built to play the classic Devils style more than Scott Gordon's "overspeed". Tavares will succeed in any style, no worries. Ladd, Cizikas, Clutterbuck, Chimera, Kulemin, and maybe Lee, would look better than they currently do. 
This kind of play doesn't take as much talent. But it does take a complete team buy-in. A couple of young guys are going to have to forgo getting their stats back up. Nelson? He has never shut anyone down. He approaches games like they are public skating sessions at Newbridge rink. That would have to change. Strome? I'm advocating telling Strome, a guy with no points in a month, to play less offensively. A very scary proposition. 
Andy Hicks
"In any team sport, the best teams have consistency and chemistry."
~ Roger Staubach
The New York Islanders are on a slippery slope to nowhere right now. They cannot score goals and are giving up late goals due to……..lack of the three big Cs.
They need confidence and consistency which will bring chemistry. The win against the Calgary Flames will have helped this and, in many ways doing it in the way they did may actually enhance that confidence. They need to build on this confidence and go into the Penguins game knowing they can win.
Confidence goes hand in hand with consistency and chemistry.
The chemistry isn't there with the forwards right now. Can you blame them? John Tavares and Josh Bailey are they only two players to have had any type of chance to get something going on a line together. The constant changing of lines cannot help the players confidence or consistency.
The Islanders management needs to sit down and work out which 12 forwards give them the best shot at winning the next 6 games and in which combination. Andrew Ladd is being paid top 6 money and has appeared on all 4 lines in the last month. Ladd will come good, so play him where you are paying him to play and get him along side our best player.
Cal Clutterbuck and Casey Cizikas play their best hockey when they have a consistent linemate. Brock Nelson is the 2nd top point scorer and this has been done, with a revolving door on either wing. Give him a chance to grow with consistent line mates.
Finally Ryan Strome, not 2 months ago, The New York Islanders announced Strome as the third line center.  Why now is he a healthy scratch? It's because he has again being bunted to the wing. A position, management last season accepted was not his best.
If the management team starts to give consistency to the lines, the chemistry will follow. If and this is a huge if at this point. The Islanders can get 11 points on the board between the Calgary game and the Blue Jackets next Saturday then the League and the confidence, as well as the NHL standings will look and feel very different to right now.
Billy Lewis
The Islanders are a team that should be better than they are. They are sitting near the bottom of the league, which is just unacceptable. Last year was supposed to help propel them to contenders for the Stanley Cup and instead, they have taken a huge step back.
The really frustrating part about this team is they are seemingly in every game.  They have eight losses by only one goal. Unfortunately, bad teams typically find a way to lose games, and thus far the Isles are a bad team.
The fact that they are in almost every game should be a good sign. Outside of the Tampa games, there haven't been too many games that were over from the beginning.
In order to turn their season around, the Islanders just need to learn how to win again. I would like to see them play a faster game. Think back to two years ago when they were one of the most fun teams to watch.
They were using their speed and skill to outshoot teams game in and game out. They became a team that nobody wanted to play. Now players are wishing they played the Isles more.
They have pieces in place for a fast paced game. Tavares, Strome, Beauvillier, and even Jason Chimera would see their games take an upturn. The Islanders aren't dead just yet. I do not want to see this season get out of hand too early. This team might not compete for a Stanley Cup, but there is no reason they can not at least make a run at the playoffs.
Matt O'Leary
The Islanders are clearly struggling with what they're currently doing. They can become marginally better if they just change the style of play that they use.
Jack Capuano loves to dump and chase but if the Islanders instead carried it into their own zone that should help. Think about it, does it make sense to give up possession to fire the puck into the corner than beat an opposing player to it, or would you rather just retain possession and carry it in?
The Islanders actually have a better personnel to use this style opposed to the dump and chase old school hockey way.
Jason Chimera currently has just 1 goal and 5 assists. He was brought in to replace Matt Martin, but also provide more offense which he hasn't done. What if the Islanders used his speed to their advantage, at 37 he's probably not out-muscling someone in the corner but turning on the jets to make a nice play that's still on the table.
Chimera's not the only one who could benefit from this; Ryan Strome is more of a skills forward than a grind it out style. Although it seems like Capuano has a personal agenda against Strome, maybe a change of style could help propel him as well.
Additionally, the Islanders have to put Andrew Ladd back on the top line. If he continues to play fourth line minutes he won't produce anyway. Put him next to John Tavares where at least he has a chance of putting up numbers.
This article originally appeared on