New York Islanders Pros Cons For Next Coach
Michel Anderson/FanSided via Eyes On Isles

Fansided
With Ken Hitchcock getting the ax in St Louis, the questions over the New York Islanders interim head coach started coming up. Assuming the Isles make a pitch for a new coach like Hitch, what are likely to be the pros and cons of that discussion?
As soon as Ken Hitchcock was let go by the St Louis Blues, he was immediately linked to the New York Islanders. It makes sense, the Isles have an inexperienced interim coach in Doug Weight behind the bench at the moment. Ken Hitchcock is also likely to be inducted to the hockey Hall of Fame.
Hitchcock is the fourth winningest coach in NHL history with 781 wins to his name. One back of New York Islanders legend Al Arbour. On that alone, it makes sense to at least talk to Hitchcock.
I know the Islanders have a good thing going with Doug Weight right now. But they still have a responsibility to make sure they have the absolute best candidate in position.
So what do the Islanders bring to the table, and shy away from during any sort of interview with Hitch? What are some of the positives for this franchise and some of its negatives?
Any discussion has to start with superstar center John Tavares and has to steer away from all of this arena drama that's going on with the team.
Here's a breakdown of the pros and cons that would likely be discussed between Garth Snow and any coach they would interview for their vacancy.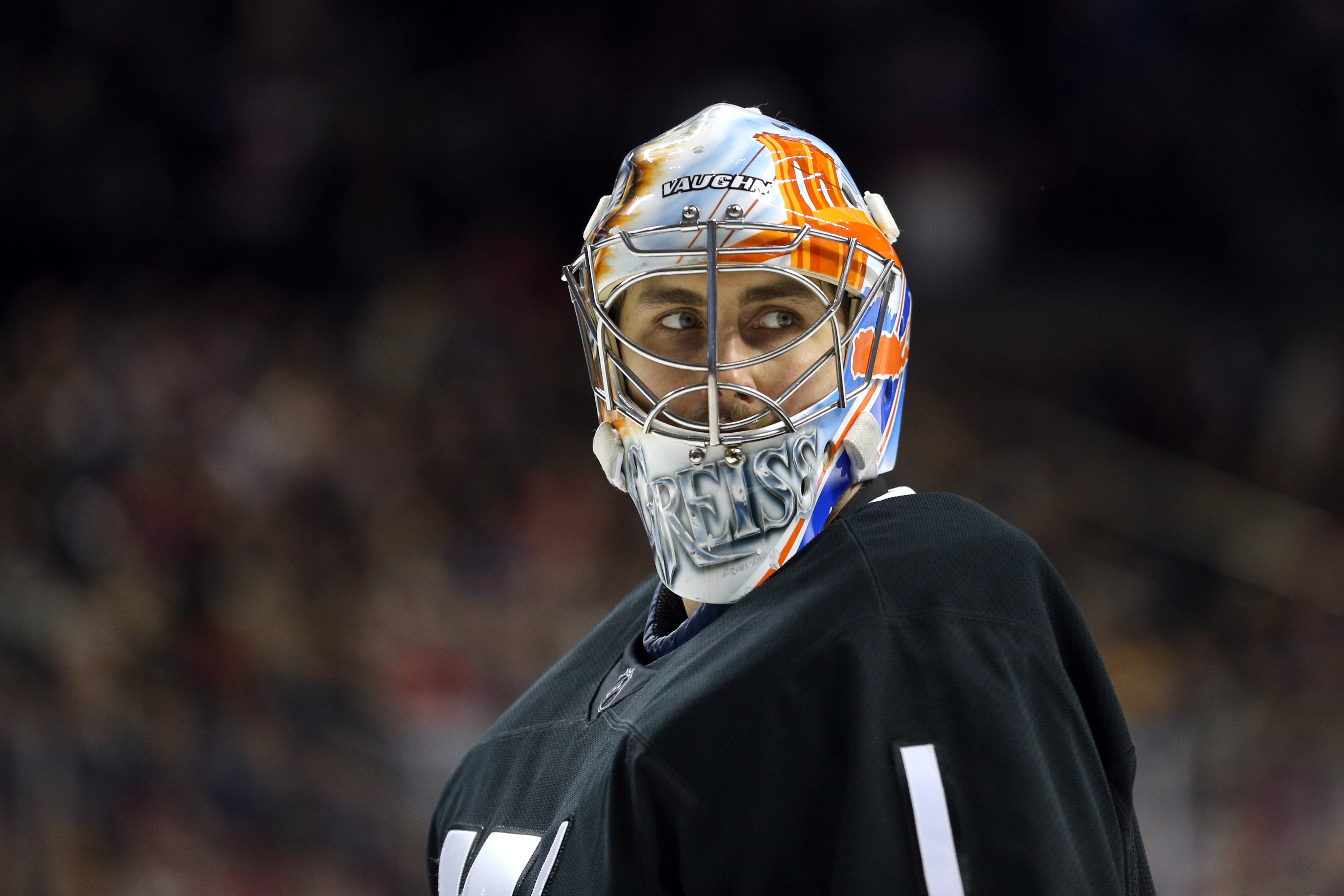 Jan 26, 2017; Brooklyn, NY, USA; New York Islanders goalie Thomas Greiss (1) looks into the stands during a stoppage in play against the Montreal Canadiens during the third period at Barclays Center. Mandatory Credit: Brad Penner-USA TODAY Sports
Pro: Solid Goaltending
Just like Sergei Bobrovsky before him, Jake Allen needs to take some responsibility for Ken Hitchcock's dismissal. Coaching changes are often facilitated thanks to underperforming goaltenders.
In Bobrovsky's case, it was a terrible start to the 2015-16 season that got then Columbus Blue Jackets head coach Todd Richards fired. In his first five starts that season the former Vezina Trophy winner put up a .830 SV% and a 4.6 GAA.
The same goes for Ken Hitchcock and Jake Allen. Allen was given the reigns of the St Louis crease when Bryan Elliot was traded to the Calgary Flames during the draft last season.
Allen responded with a .895 SV% and a 2.86 GAA. Even worse for Allen is his -15.18 goals saved above average and his 10 RBS (real bad starts).
Coming to the New York Islanders, any new coach would have Thomas Greiss at their disposal. The recent recipient of a three-year $10 million contract extension has a fantastic .928 SV% and 2.24 GAA. He's also a +12.89 in goals saved above average and has but three "really bad starts".
Knowing there's a solid presence between the pipes is appealing to any coach looking at a new gig. Because for every coach fired for poor goaltending is another coach loaded when getting outstanding goaltending.
Con: Where Will They Call Home?
Who knows where the Islanders are going to call home in a few years time. The Barclays Center is seemingly adamant that the Islanders won't be profitable after the 2018-19 season. While the Islanders have themselves been poking around for a new arena.
Whether that be next to the Mets at Willets Point, or at Belmont Park, or even going back home to the Nassau Veterans Memorial Coliseum Presented by New York Community Bank (that's a mouthful).
At this point, it's a big he-said-she-said drama with both sides sparring for who knows what. It could just be to increase their leverage when both can reopen that 25-year deal that's paying the Islanders $53.5 million a year.
This whole arena drama would have an impact on any incoming coach, or player, or president. The lack of stability is a big issue.
A coach, just like everyone else wants stability when considering their next employer. Not knowing where this team is going to be in a few years time is going to factor into any decision that any potential coach is going to make.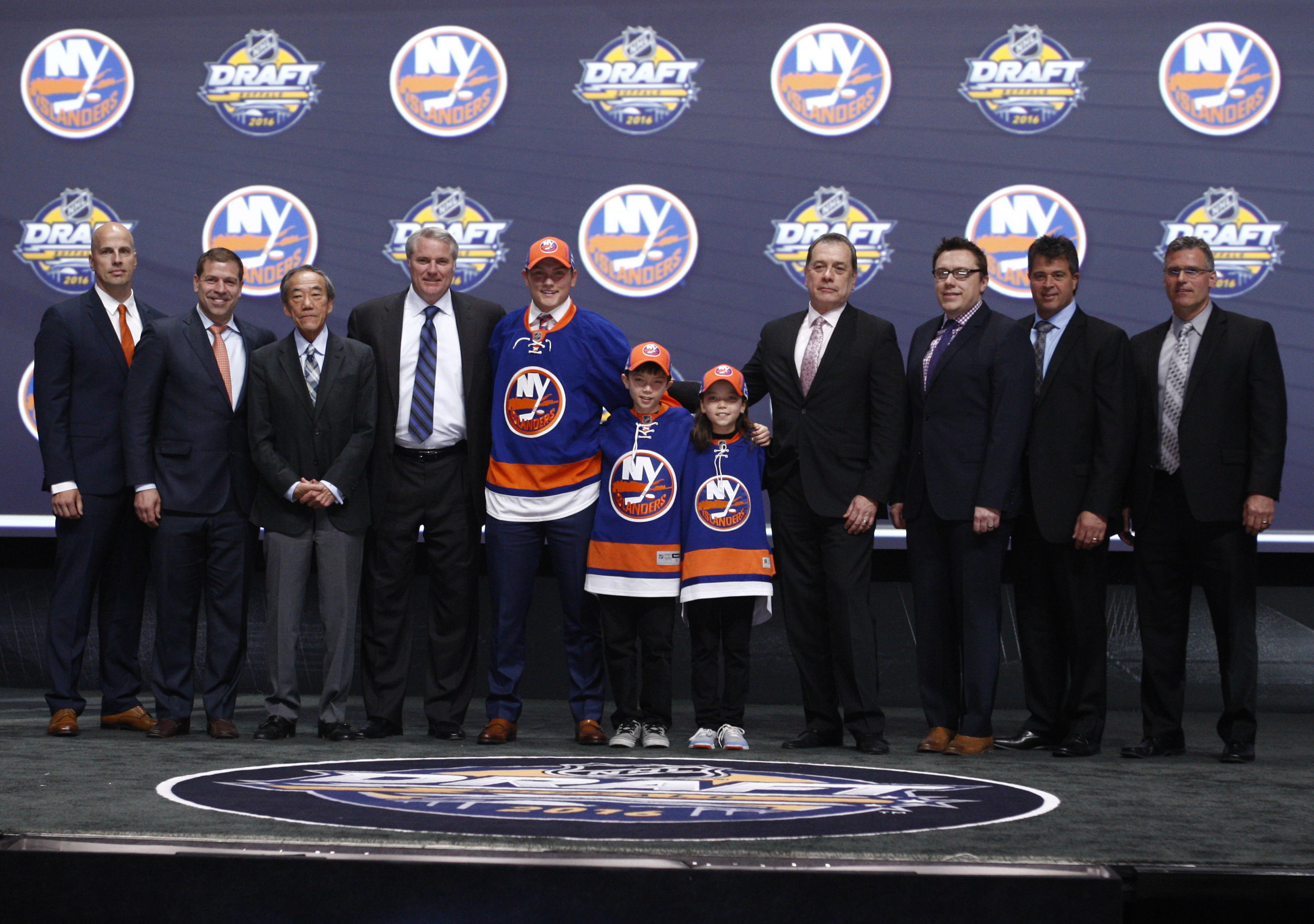 Pro: Depth in the Organization
Coaches like flexibility. They like to know that if something isn't working they can try a different approach with different elements. They also like to know they have the next wave of talent coming up the pipeline
The Islanders have depth at every position coming through the system. They can call on Mathew Barzal, Josh Ho-Sang, Michael Dal Colle, and last year's first-round draft Kieffer Bellows as talent forwards. I didn't count Anthony Beauvillier because he's already with the team, but an argument can be made to include him too.
On the defensive side, the likes of Ryan Pulock and the emergence of Devon Toews seem to be ready for NHL duties. Adam Pelech is already playing with the Isles on their top pairing alongside Nick Leddy as Travis Hamonic recovers from injury, and is looking like a gem.
Pelech looks so comfortable on that top pairing that we have to ask the question: should Garth Snow trade Hamonic now?
How about coach killing goaltending? The Isles drafted Linus Soderstrom in the 4th round of the 2014 NHL draft. The 20-year-old is playing for HV71 in the Swedish Hockey League putting up an impressive .932 SV% and 1.61 GAA.
The Isles also drafted last season's KHL goalie of the year winner Ilya Sorokin who's once again putting in a solid season in the KHL with CSKA Moscow with a .928 SV% and 1.61 GAA.
Any incoming coach should have nothing to fear with what's coming up through the system.
Con: Squad Full of Middle Six Forwards
Outside of John Tavares, the Islanders don't have top level talent. Just look at that top line right now. Tavares is flanked by Josh Bailey and Anders Lee. Fine players but top line players they aren't.
Go further down the lineup and it doesn't get any better. The likes of Brock Nelson, Ryan Strome, Nikolai Kulemin, Cal Clutterbuck and so on aren't top line players.
Which is why the Islanders have been linked with just about any top level forward rumored to be available via trade this season including Matt Duchene, Jordan Eberle, and James van Reimsdyk.
Sure there's something to be said about having scoring depth in the organization. Most of those players named can contribute somewhere between 40-50 points on an average season.
But there's also something to be said about having more than a single player that can hit or come close to a point-per-game pace.
A coach looking at the Islanders has to see that as a weakness.
Pro: The Isles Have A Superstar Center
Every team wants one, but only a few have one. And the Islanders are one. John Tavares is superstar talent that every championship caliber team needs.
Tavares ranks eighth amongst all players in points (with 310) over the last five years and seventh in terms of points per game (with .98 P/GP) in the same period.
He's the type of player that anyone in the league wants to work with. Simply because what he does makes everyone around him better.
Sure he's on the last year of his current contract, but anyone outside of Toronto knows that Tavares is going to stay with the Islanders. The only reason he hasn't signed is because he can't. The CBA only allows the Islanders to open negotiations with Tavares this summer.
Tavares is a team-first player. A trait that any coach would love to have in their captain and superstar talent.
Any coach that the Islanders interview for their coaching vacancy whether it be during the season or in the off-season, they'll have to consider all of these points before they decide to sign or not.
More from Eyes On Isles
This article originally appeared on