New York Islanders must fire head coach Jack Capuano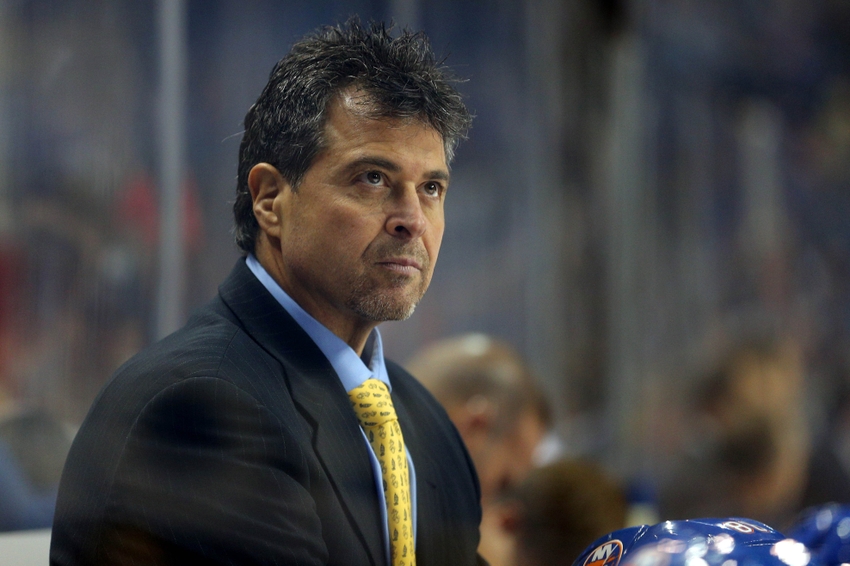 The New York Islanders don't have a choice. They must fire head coach Jack Capuano. 
Coming off their first second round appearance in over 20 years, the New York Islanders were forced into an offseason of change. Not only did longtime players Kyle Okposo and Frans Nielsen depart, the Isles signed Andrew Ladd and Jason Chimera to replace them. They also switched ownership groups, suggesting perhaps some changes were going to happen with their coaching staff and front office. The new group rightfully gave head coach Jack Capuano a vote of confidence. However, after a 5-8-3 start, it's time for the Islanders to move on.
Capuano is far from the only person to blame for a slow start. General manager Garth Snow replaced two very good players with lesser players. In hindsight, they should have tried harder to re-sign Okposo, who has excellent chemistry with captain John Tavares. Despite having an impressive prospect system, no trades were made to address their concerns. Snow deserves to be held accountable for this, but luckily for him, Capuano's going to be the scapegoat.
He'll be a deserving one as well. Capuano is at least partially to blame for the Islanders failures so far in the 2016-17 NHL season. While Snow hasn't given him optimal players to work with, even the head coach realizes the onus falls on him.
"It's on me," Capuano said, via NHL.com. "I have to find the right combinations for us to find some offense. We've been able to do it in the past. I have faith in myself and my coaching staff. But we have to find a way to get some offense."
This makes Jack Capuano's constant line shifting questionable. Tavares needs to get some chemistry with players. He's not being put in a position to succeed when he has to play with guys like Chris Clutterbuck. Clutterbuck is a fine third or fourth line forward, but why not give skilled young forward Anthony Beauvillier more chances? Why isn't top prospect Josh Ho Sang on their roster?
Maybe the "right combinations" aren't on the team. But Capuano isn't even giving the combinations the proper time to work. To be fair, Josh Bailey is a net positive when he's with Tavares. The Islanders captain scores more and allows fewer goals against when he's with Bailey. Give credit to Capuano for realizing this. However, the bad he has done far outweighs the good. Rushing back Travis Hamonic with a broken thumb? That's nothing short of reckless and asinine.
Firing Capuano is also a must for their long-term success. He clearly isn't helping the Islanders at this point. It's worth noting that Tavares will be a free agent following the 2017-18 season. While he hasn't given any indication that he wants to leave, it's not hard to see why he might be embracing a change. Look how promising the Toronto Maple Leafs have been doing. Mike Babcock might have lost out on Steven Stamkos, but perhaps Tavares, who has ties to the Toronto area, would love to play for him.
If he wants to stay even closer to New York than Toronto? Fine. There's the Buffalo Sabres, who have his buddy Okposo and could have over $30 million of cap space after next season. And of course, someone like the Arizona Coyotes or San Jose Sharks could emerge as contenders to sign Tavares. He has stated he wants to stay, but does he really want to stick around for a rebuilding? Tavares isn't getting any younger. No matter what he says, the thought of leaving the Islanders is in the back of his head.
Now's the perfect time to fire Capuano. The Islanders have three days off before their next game on Friday against the Pittsburgh Penguins. After that, they have three more off days before beginning a west coast road trip. That gives a new head coach several days to work with the team before a three game road trip.
More changes need to occur. Garth Snow should probably be let go as well. He's guilty of not giving Jack Capuano the pieces necessary to succeed. But the Islanders can't afford to wait for change. They have until the end of next season to persuade Tavares to stay. Embracing mediocrity isn't the way to do it.
This article originally appeared on