New York Islanders Mid-Season Player Grades
Half the season has now passed for the New York Islanders, and they're still at the bottom of the league. It's the perfect time to review and assess. How do the players grade with another 40 games to go?
The half-way mark is the perfect marker to go over how the New York Islanders players have performed so far. We know that they haven't performed well, just look at the standings. 28th place in the league answers that.
But in terms fo league wide. How have they performed? How have individual Isles players performed when reviewed against their peers at this halfway mark of the season?
Here's how I broke down individual player grades. I rated each player's performance in terms of their production and possession impact against that of the rest of the league
I chose 5-on-5 production stats like goals, assist, and points simply because that's what wins games; points. And 5-on-5 possession impact – measured as Corsi Differential (Corsi-For minus Corsi-Against).
And against the rest of the league because, well that's the only way we're going to know how good each player is. And that's to be assessed against his positional peers. This is displayed as a percentile. So if Tavares is in the 82% percentile for goals, only 18% of the league's forwards are better.
I split defenceman and forwards. There's no need to compare Andrew Ladd to Erik Karlsson, or Nick Leddy to Steven Stamkos. They all perform different tasks and thus contribute in different ways.
Here's an example of what you'll see. Each player is then ranked amongst the team based on a weighted average where goals and assists are more important than points and Corsi Differential, but only slightly. You'll see that weighted average at the top right.
John Tavares
New York Islanders
70
G/60 |
| A/60 |
| PTS/60 |
| C.DIF/60 |
<–That's the stat being measured
0.92
0.92
1.83
-.55
<–Here's how the player rated over 60
82%
61%
79%
51%
<–Here's his percentile
Last thing, I've grouped players together into lines based on their rankings for ease of reading and to see how the Islanders talents ranks. Enjoy.
PS: I didn't do the goalies, because let's be honest Greiss has been fantastic. The other guy is gone. And Berube's hardly played.

The First Line
Right away you'll see where the talent lies in this Islanders team. It won't come as much of a surprise to those watching every game but Anders Lee has been top-notch for the Isles.
It's amazing what that goal-scoring run has done for him and the team. We all knew it couldn't be sustained for the remainder of the year. But the threat is there and very real.
Anders Lee
New York Islanders
72
G/60 |
| A/60 |
| PTS/60 |
| C.DIF/60 |
1.38
0.69
2.07
-0.81
97%
43%
88%
48%
Only 3% of the league is scoring at a higher per-60 rate 5-on-5 than Anders Lee. That's players like Sidney Crosby, Auston Matthews, and Michael Grabner (ugh). His assists are way low, but with scoring like that who needs assists?
John Tavares
New York Islanders
70
G/60 |
| A/60 |
| PTS/60 |
| C.DIF/60 |
0.92
0.92
1.83
-0.55
82%
61%
79%
51%
Tavares should be higher on this listing because of everything he does for this team. If it wasn't for Tavares who knows where this team would be? But that Corsi-differential drags his numbers down. In fact, they drag the numbers down for each and every Isles player. Except for Adam Pelech who's the only Isles player to not have a negative rating at 0.
Casey Cizikas
New York Islanders
64
G/60 |
| A/60 |
| PTS/60 |
| C.DIF/60 |
0.60
1.51
2.11
-6.04
50%
94%
89%
26%
When Casey Cizikas received that mighty upgrade on his contract this summer it was hard to justify why. A fourth liner getting $3.35 million per year wasn't a typical NHL deal. His 17 points in 36 games played, look pretty good. But he'll have to keep that pace up for the rest of the season if his price tag is to look at all justifiable.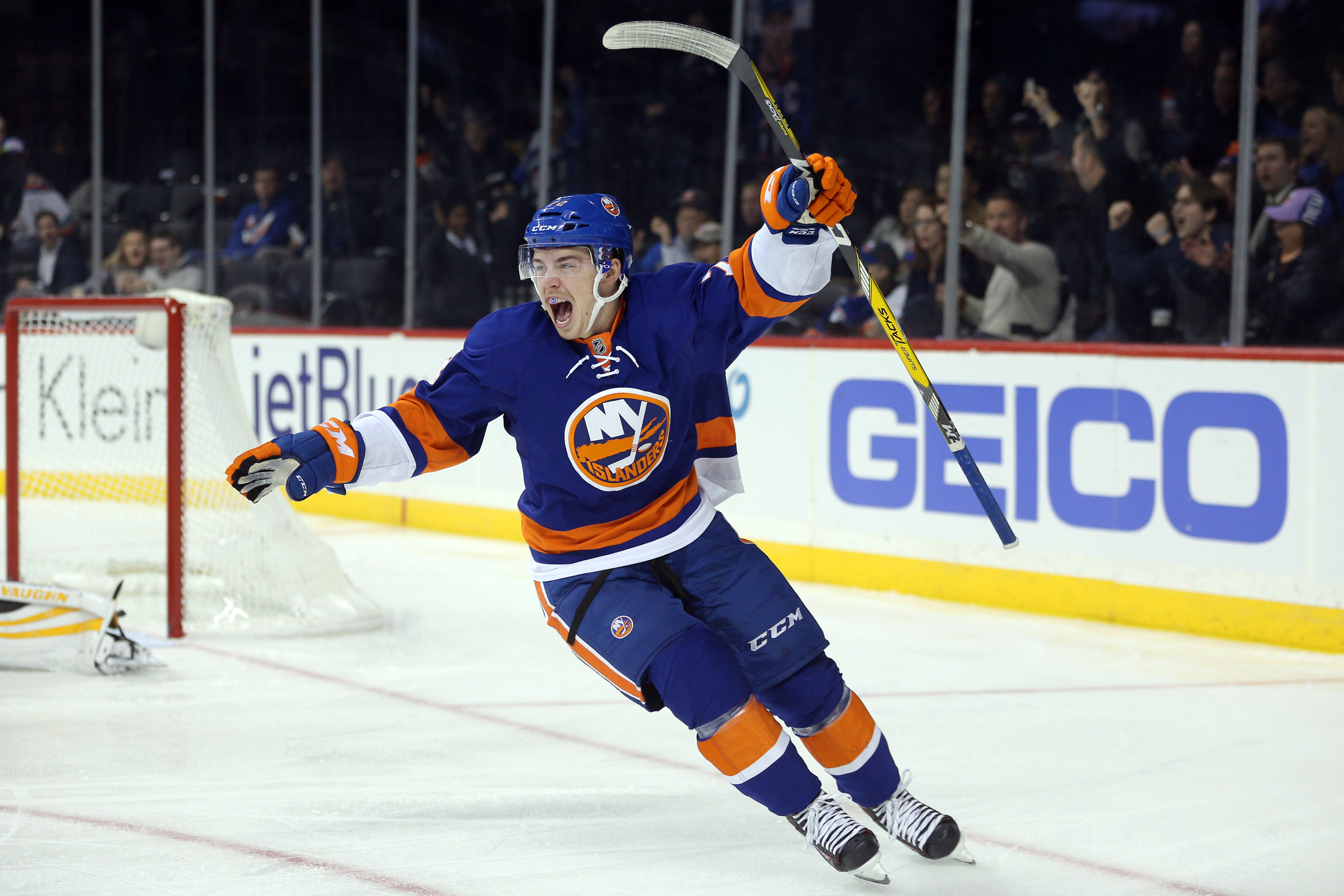 The Second Line
The production seen in the top line players start to tail off significantly from here on in. Point production goes down and Corsi-differential starts to have a larger effect. Even though it has a lower pull on the weighted average.
This line would look different if it weren't for Jason Chimera waking up. In his last three games, the second ageless wonder has three goals. Bumping him up to eight on the season.
Anthony Beauvillier
New York Islanders
62
G/60 |
| A/60 |
| PTS/60 |
| C.DIF/60 |
0.71
1.24
1.95
-10.82
64%
84%
83%
13%
Why this kid was getting scratched so frequently will remain the largest mystery this season. Every time he's out there he does something remarkable. Maybe under Doug Weight we'll see more of Beauvillier. Or maybe it'll be more of the same. Regardless, 5-on-5 this kid has been everything Isles fans expected.
Jason Chimera
New York Islanders
63
G/60 |
| A/60 |
| PTS/60 |
| C.DIF/60 |
0.88
1.01
1.89
-13.07
79%
69%
80%
09%
If it wasn't for that Corsi-differential Chimera would be flying high on this ranking. That's what scoring three in your last three'll do to a player. He's on pace for ~32 points on the season. But his impact on the ice, in terms of driving possession for his team can't be ignored. He's a downright liability out there. When he's not scoring goals that is.
Nikolai Kulemin
New York Islanders
57
G/60 |
| A/60 |
| PTS/60 |
| C.DIF/60 |
0.80
0.80
1.59
-2.66
72%
49%
61%
39%
Kulemin has filled his role very well on the Isles roster. It's just too bad that he has a $4.187 million cap hit. Because his role doesn't suit that pay scale. With those two goals against Boston Kulemin is on pace for 26 points. Still way too little for what he's paid, but it's an improvement from last year. If it holds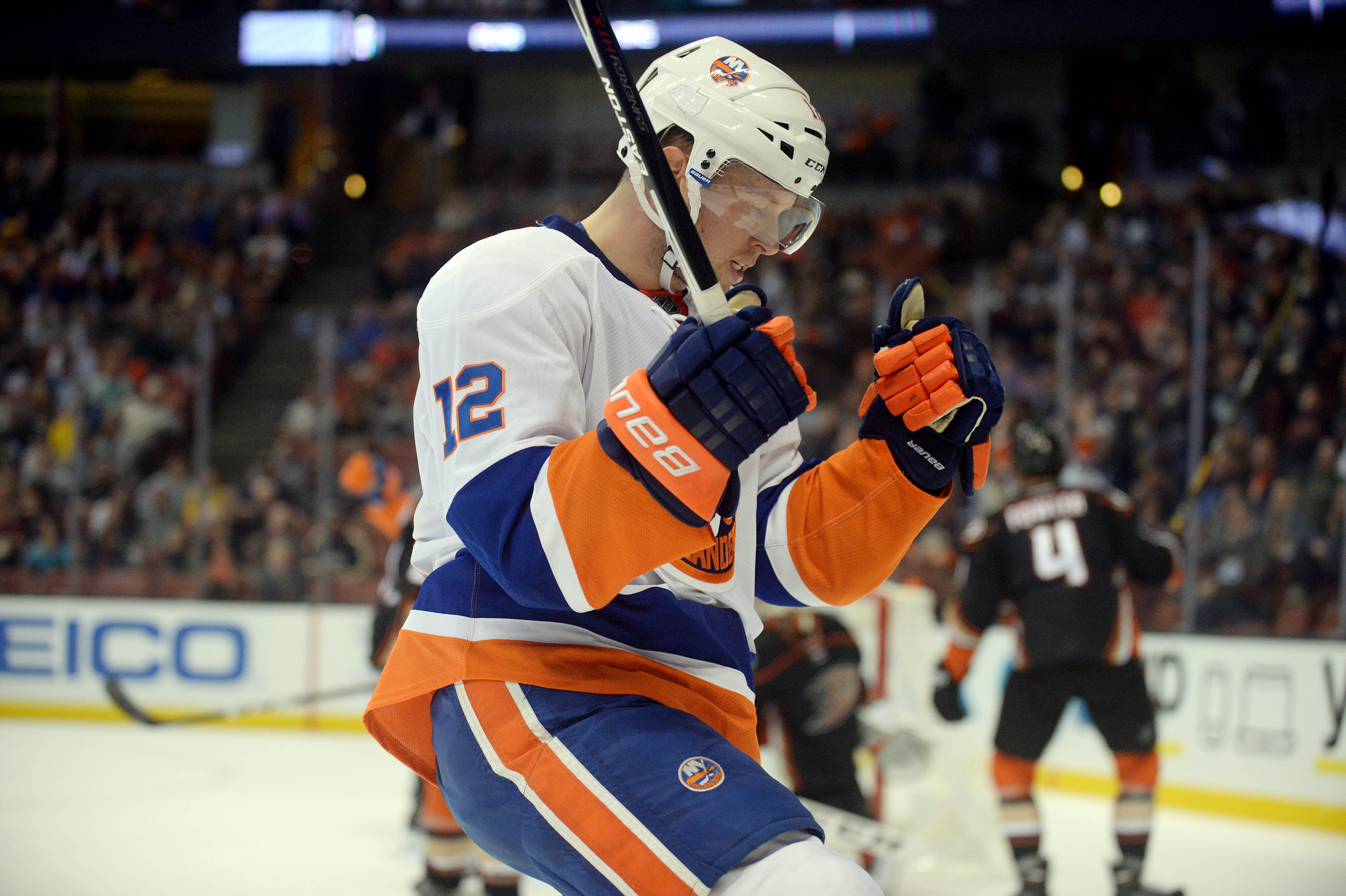 The Third Line
The third line is the no man's land of depth on a team. They clearly aren't the cream of the crop on the team's roster, but they also aren't that checking line used sparingly during the course of a night's events.
This is fairly true for the Islanders except for perhaps Josh Bailey who slots in at the third line based on these rankings. Even though Bailey's been a standout for the Islanders this season.
Josh Bailey
New York Islanders
54
G/60 |
| A/60 |
| PTS/60 |
| C.DIF/60 |
0.39
1.54
1.93
-7.15
27%
96%
82%
21%
The way this grading was setup is, unfortunately, unfair to Bailey because it places a premium on goals, and Bailey just isn't a goal scorer. He's a pass first guy. And his 1.58 assists/60 reflect that. Only 4% of the league do a better job than Bailey.
Cal Clutterbuck
New York Islanders
54
G/60 |
| A/60 |
| PTS/60 |
| C.DIF/60 |
0.39
1.30
1.70
-1.43
26%
87%
66%
49%
Cal Clutterbuck is a fourth line player. That's not a slight on his abilities. But he's the type of player who can grind it out for a team. He'll do just about everything well. So honestly, I was surprised to see him this high. If not for that terrible team-wide Corsi-differential he might have pushed higher up this ranking.
Brock Nelson
New York Islanders
52
G/60 |
| A/60 |
| PTS/60 |
| C.DIF/60 |
0.70
0.94
1.64
-13.39
63%
63%
64%
08%
Brock Nelson has been Brock Nelson. Putting in a few goals here and there. He'll hit his 20-25 goals and 40-50 points on the season. But his once impact in terms of driving possession for his team are absolutely dreadful. But that's what Isle sfan expect to see from Brock Nelson. He's a great depth player.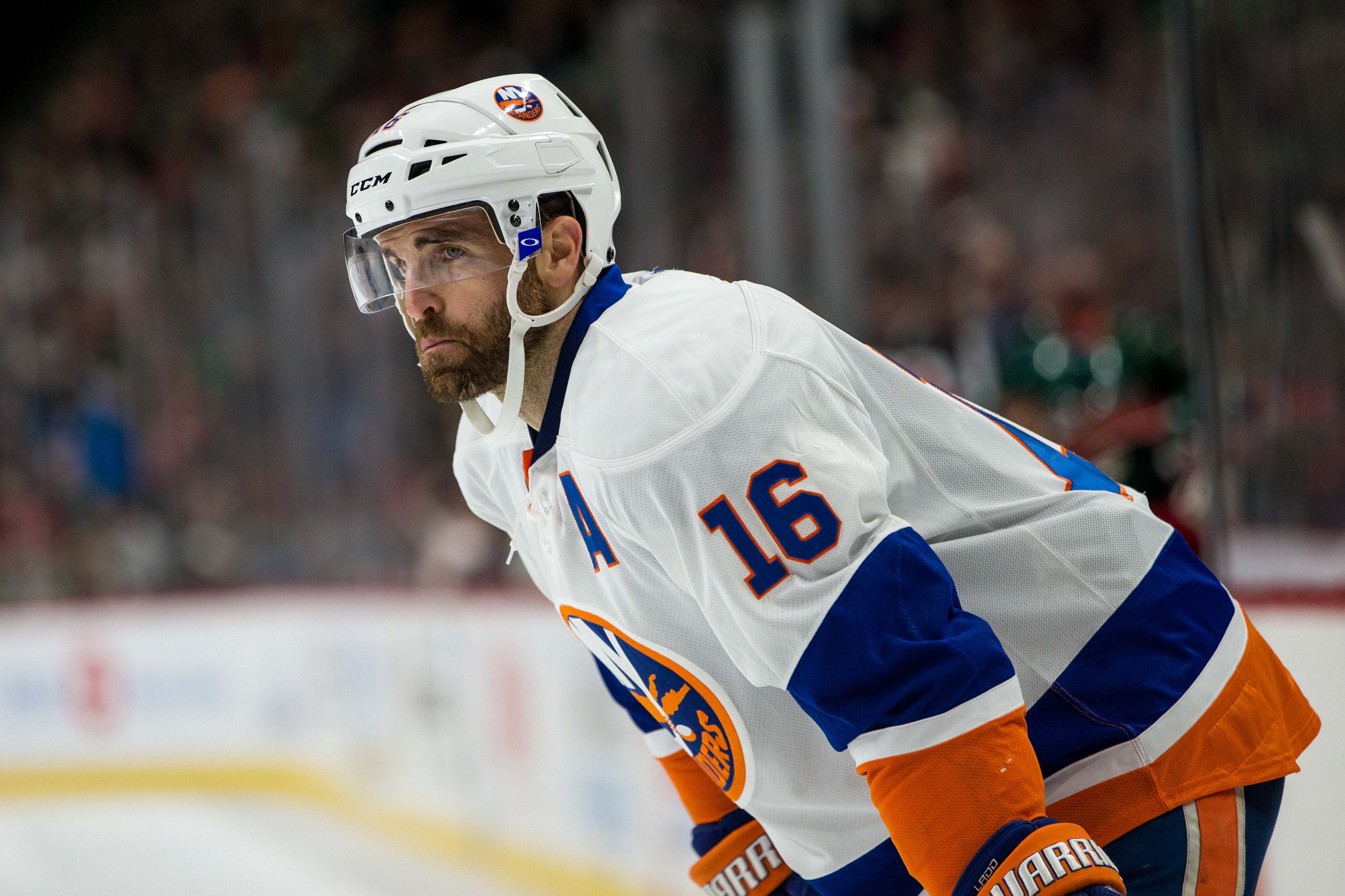 The Fourth Line & One More
There was an extra skater for the Islanders that played over my 100 minutes of ice-time cut off. So there are four players on this fourth line.
Andrew Ladd obviously makes this line, but he actually comes out at the absolute worst. Remember, this was based on production and not simply my opinion. I hope the next half of the season is better for him. Becuase for the contract the Isles gave Ladd, they desperately need him to produce.
Ryan Strome
New York Islanders
43
G/60 |
| A/60 |
| PTS/60 |
| C.DIF/60 |
0.69
0.69
1.37
-14.26
62%
44%
46%
07%
Ryan Strome might be a little relieved to see Capuano go. These numbers aren't what was expected of his. Nor what we even saw from Strome in his first year. Maybe Weight tweeks what Strome will be asked to do on the ice. Maybe this is what Strome needed to get to where he was just two years ago.
Shane Prince
New York Islanders
43
G/60 |
| A/60 |
| PTS/60 |
| C.DIF/60 |
0.64
0.80
1.43
-15.79
56%
49%
51%
05%
Shane Prince has the lowest Corsi-differential on the team. Being in the fifth percentile, 95% of the league has a better Corsi-differential. Combine that with average production and Prince lands in the bottom tier of this ranking. Which is about right. Prince is a fine player, but let's not make illusions that Prince is very much a role player.
Alan Quine
New York Islanders
42
G/60 |
| A/60 |
| PTS/60 |
| C.DIF/60 |
0.35
1.22
1.57
-15.18
23%
84%
60%
06%
Alan Quine is a good penalty killer, a great "I'll-do-anything-for-you" player. But he's not exactly adept at putting the puck in the net. He's come up big for the Islanders in the past. Scoring timely goals in clutch situations. Over the course of a season Quine will give the team everything he has, it just won't push the needle in the production department.
Andrew Ladd
New York Islanders
35
G/60 |
| A/60 |
| PTS/60 |
| C.DIF/60 |
0.79
0.34
1.13
-14.72
71%
14%
30%
06%
Was there any doubt that Andrew Ladd would rank at the bottom of this ranking? The bust of the 2016 free agent class has been lights out terrible for the Islanders. He has no production to speak off. He takes undisciplined penalties. And is a net-negative in terms of possession for the Islanders. With the contract the Islanders gave him with seven years at $5.5 million per year and with a straight no-move clause, the Isles need him to right the ship.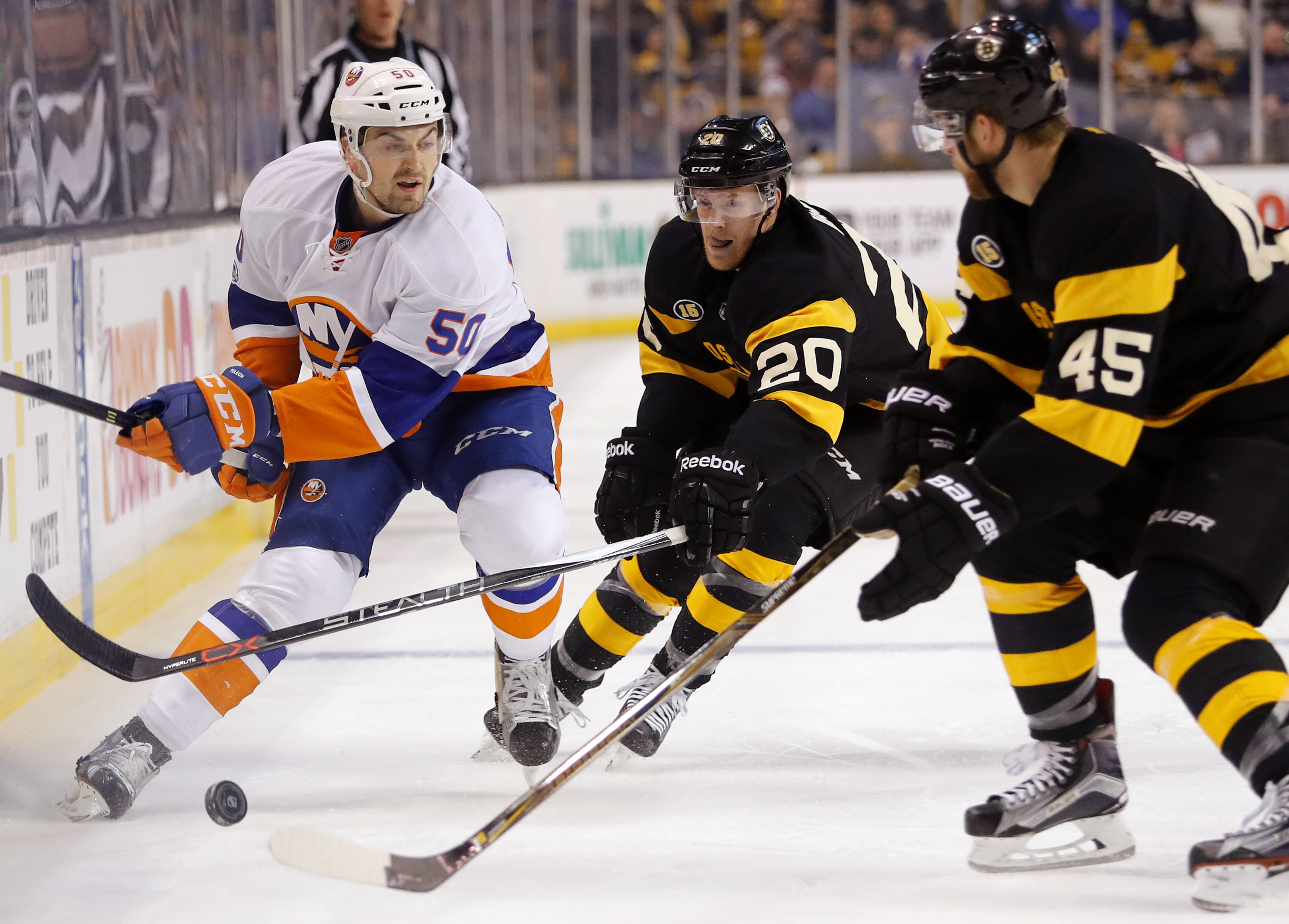 First Defensive Pair
Only one of the Isles current top pairing of Nick Leddy and Adam Pelech (in for Travis Hamonic) made the top defensive pair based on my rankings. And he's the rookie. Based on 5-on-5 production and Corsi-differential compared to the rest of the league Adam Pelech ranks number one for Isles defensemen.
Remember that defencemen were ranked against other defencemen. So when I talk about the league I'm talking about all other defencemen in the NHL.
Adam Pelech
New York Islanders
79
G/60 |
| A/60 |
| PTS/60 |
| C.DIF/60 |
0.31
0.92
1.22
0.00
84%
84%
91%
52%
Adam Pelech has been a revelation this season. He's only played in 13 games for the Isles this season, but he's slotted in perfectly next to Nick Leddy on the Isles actual top pairing. Only 9% of the league's defensemen have produced more points-per-60 than Pelech. He's also the only Isles player to record an even Corsi-differential at zero. I can't wait to see more of Pelech this season.
Dennis Seidenberg
New York Islanders
72
G/60 |
| A/60 |
| PTS/60 |
| C.DIF/60 |
0.40
0.81
1.21
-8.46
91%
78%
90%
11%
Dennis Seidenberg has been fantastic for the Islanders. It's hard to believe that the same GM signed him is the same one that signed Andrew Ladd. After being bought out by Boston it seemed to be all over for Seidenberg at the NHL level. Until he showed well at the World Cup of Hockey. And his form has thankfully carried over. To be fair, he's a little insulated on that third defensive pairing. But his numbers don't lie.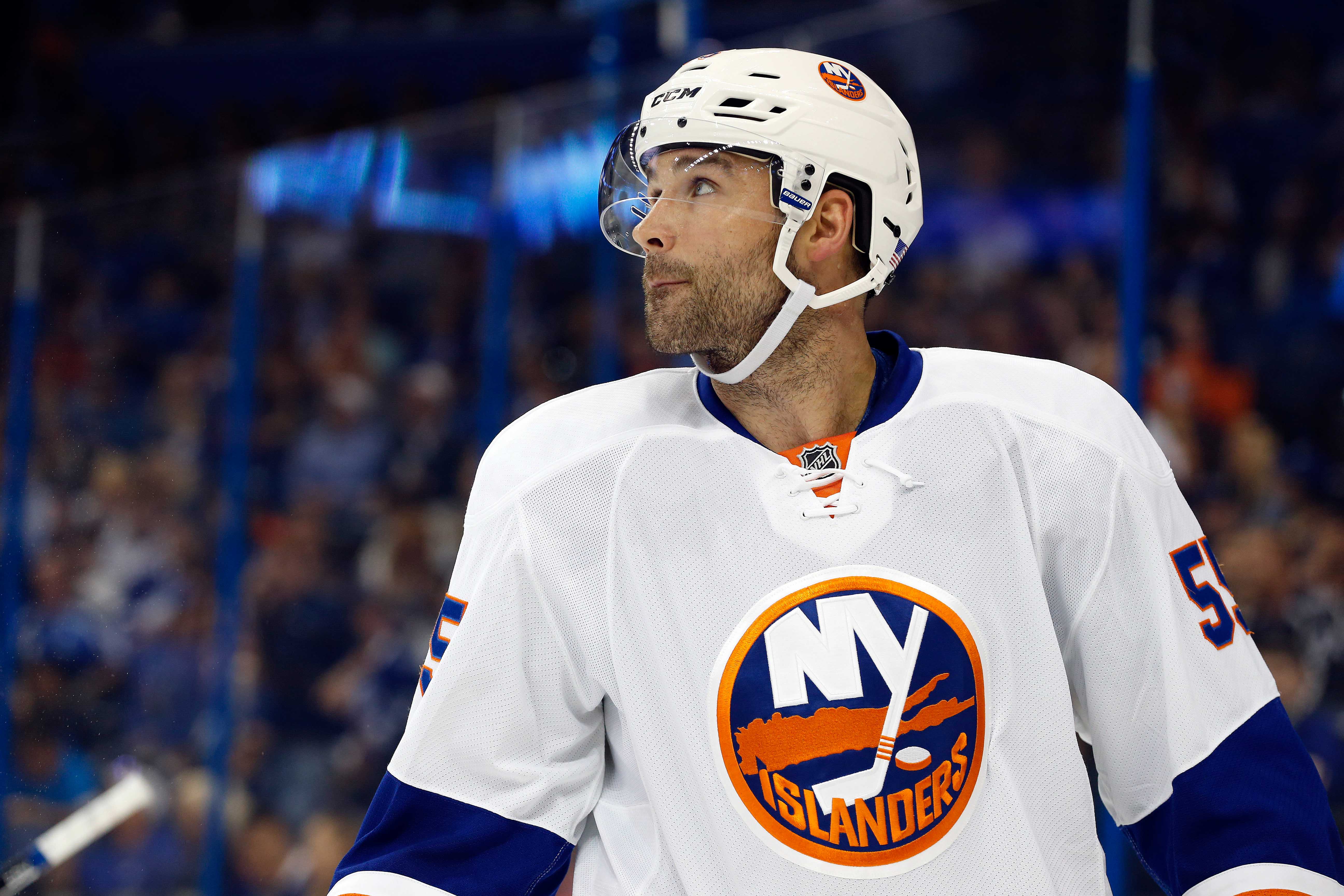 Second Defensive Pair
They might not have the same production level that the first two have, but Johnny Boychuk and Travis Hamonic are excellent defenders.
But with low production compared to the rest of the rest of the league's defensemen and with low Corsi-differential numbers these two can't crack the top two.
Johnny Boychuk
New York Islanders
69
G/60 |
| A/60 |
| PTS/60 |
| C.DIF/60 |
0.29
0.77
1.06
-5.59
83%
74%
82%
26%
Remember that these numbers are all 5-on-5, so no power play points here for Johnny Boychuk. His powerful shot from the point has long been, and continues to be an asset for the Isles. But Boychuk has found a way to put pucks in the net at full strength. If he continues, he'll get close to that first year with the Islanders where he hit a career-high 35 points.
Travis Hamonic
New York Islanders
61
G/60 |
| A/60 |
| PTS/60 |
| C.DIF/60 |
0.20
0.90
1.10
-14.11
67%
83%
83%
03%
Those Corsi-DIfferential numbers are just awful. A full 97% of the league's defensive players, who have played at least 100 minutes are better possession wise than Travis this season. We know he's been battling injuries this year, so maybe once fully fit that changes. I hope.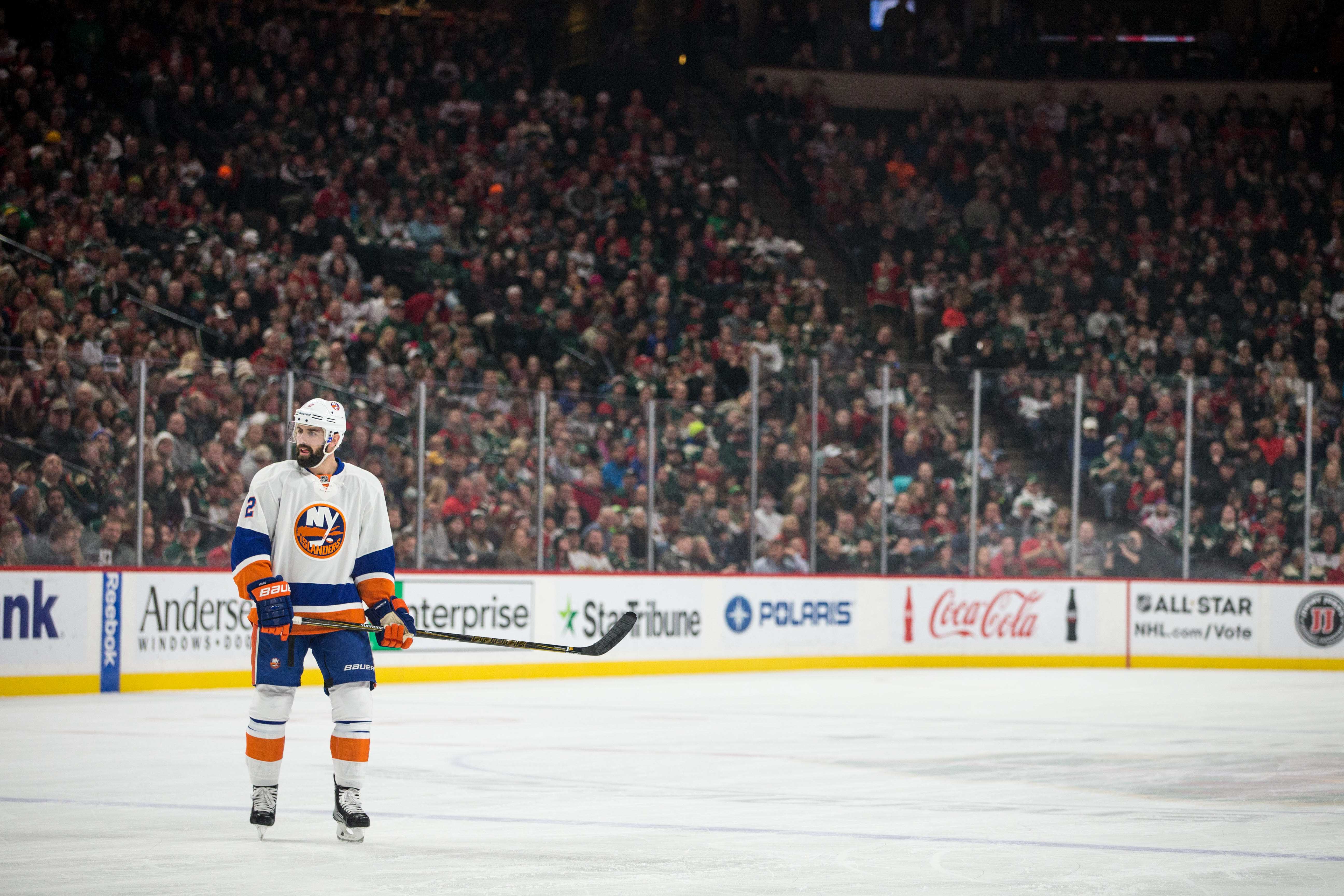 Third Defensive Pair And One More
Everyone is waiting for the real Nick Leddy to show up. Leddy just doesn't seem the same this season. With five points in his last four games maybe that Nick Leddy is starting to emerge? Every Isles fan certainly hopes that's the case.
Nick Leddy
New York Islanders
55
G/60 |
| A/60 |
| PTS/60 |
| C.DIF/60 |
0.33
0.50
0.83
-13.98
88%
42%
64%
03%
Leddy's goal scoring is good compared to his peer, sitting in the 88th percentile. But his assists and general points per 60 are lacking. And his Corsi-Differential is abysmal. To be fair, quality of competition would tell you that Leddy see's some of the opposition's best players during the majority of his average 18:30 even-strength minutes. But in terms of production and diving possession, there's much to be desired.
Thomas Hickey
New York Islanders
53
G/60 |
| A/60 |
| PTS/60 |
| C.DIF/60 |
0.19
0.57
0.76
-5.62
66%
52%
58%
26%
Mediocre. That's what describes Thomas Hickey at the halfway point of the season. He's right there in the middle with a weighted average score of 53. The Isles are getting exactly what they're paying for from Hickey. I don't expect this to change as the season goes. Just more from the same steady mediocre Thomas Hickey. And that's alright.
Calvin de Haan
New York Islanders
48
G/60 |
| A/60 |
| PTS/60 |
| C.DIF/60 |
0.18
0.53
0.71
-6.35
65%
44%
52%
21%
Calvin de Haan has been invisible for most of the season. He's there we know it. But hasn't done much. Just like Hickey before him, I don't expect that will change this season. He's perfectly suited for the deployment he's been given as a bottom 5/6 defenceman. Any more and the cracks in the armor turn to fissures.
How these players rank come season end and now that Capuano is gone will be an interesting exercise. My hope is that Andrew Ladd finds what he's been missing. Whatever it was. Confidence, top line minutes, his lucky rabbit's foot. Whatever. Beacause that contract looms incredibly large on this organization this year and for the following six after that.
This article originally appeared on