New York Islanders Lose To Sharks On A Late Goal (Highlights)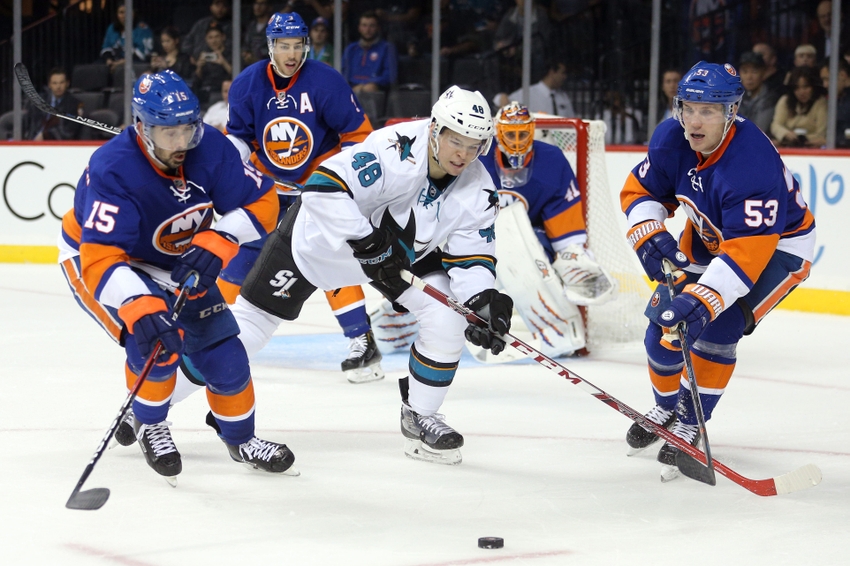 The New York Islanders lost to the San Jose Sharks by a score of 3-2 on a late goal from Joe Pavelski. The Islanders were unable to play a full 60 minutes.
The New York Islanders got out to a slow start. They struggled to get anything going offensively allowing Aaron Dell to get settled in pretty easily in his NHL debut.
The Sharks got off to a good start due to a Melker Karlsson goal. They took a one goal lead into the first intermission. By this point the game was a complete snooze fest. The Isles didn't look good offensively or defensively.
Things began to change in the second period. Almost halfway into the period Anthony Beauvillier scored his first career NHL goal.
Two efforts, one career NHL goal. Congrats @titobeauvi21! #NHLFirsts pic.twitter.com/E9MNpRFqZt

— NHL (@NHL) October 19, 2016
It was a nice play as he stuck with it and was able to get the puck in the net. He was in the lineup back to back nights and he will continue to find himself in the lineup if he produces.
Just two minutes later Anders Lee scored his first of the season on a sweet pass from Jason Chimera. The Islanders seemed to have found their stride and kept the momentum until late in the period when Tomas Hertl tied the game at two.
The third period looked more evenly matched. The Islanders outplayed the Sharks in the second period, while the Sharks were the better team in the first period. As time dwindled down the game looked destined for overtime.
That is until Joe Pavelski tipped one over the shoulder of Jaroslav Halak 17:49 into the period. Another late goal killed the Islanders. They would shortly pull Halak and then even get a power play due to Pavelski sending a puck into the stands.
The Islanders, up two skaters, were still unable to get anything going. It's been pretty scary how poorly the power play has been.
It hasn't been an ideal start for these New York Islanders dropping three of their first four. They need to learn how to play a complete sixty minutes.
This article originally appeared on