New York Islanders Defense is on Fire (Winners & Losers)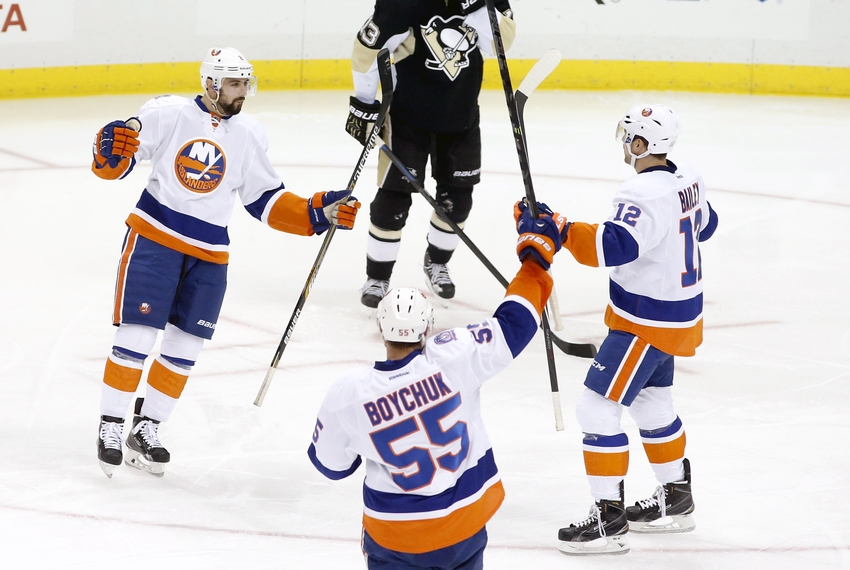 After last night's embarrassing 6-1 loss to the Tampa bay Lightning, we also feel like lumping the entire New York Islanders team into the loser camp. But don't despair Isles fans, it's not all bad!
That loss to the Lightning was a bad one. For some New York Islanders fans, this is the straw that broke the camels back in terms of support for the old guard.
That means GM Garth Snow, out. Coach Jack Capuano, out. Heck, even assistant GM and assistant coach Doug Weight, out. I can't say that I entirely blame them. The start to the season has been full of negatives rather than positives.
Sooner or later fans were going to manifest this contempt for their team in some fashion. Negative headlines lead to negativity.
There's only so long fans could keep hope when the team is below .500, their top free agent signing hasn't scored a goal or recorded more than a point, and their new arena is making headlines for having below standard ice.
Losing a game in this fashion will do nothing, and clearly did nothing to exercise those negative headlines. Winning wouldn't have solved this problem out right, maybe just delayed it another day. but losing, in this fashion made things so much worse.
With that in mind, we present our not only negative winners and losers for the week.
Winner: Islanders Defenseman
This one's a bit broad but when you are continuously getting production from one group it's hard not to recognize it. It's no secret that the Islanders struggle offensively, they desperately need scoring anyway they can get it and so far it's come from the defenseman.
The newly acquired Dennis Seidenberg has been a surprisingly good signing. Initially, this was looked at as a depth move, but Seidenberg has held his own every night and is even producing offensively as well as he has four points, which includes a couple of goals, already this year.
Johnny Boychuk, who found himself on the winners list, last week, has been revitalized in this early season. He looks much more like the Boychuk of old than last year's struggling Johnny Rocket. He's another with a couple of goals and four points already.
The Islanders defense group has accounted for 9 out of the Islanders 27 goals on the season. That's 1/3 goals coming from a defenseman. I'm not sure if that's a compliment to the Islanders defensemen or a knock on their forwards.
Regardless, you have to be happy with what they've given you offensively. Hopefully, the forwards begin to figure this thing out and the Isles could have something cooking here.
Loser: Andrew Ladd
I don't want to sound like I'm beating a dead horse, but we are through week 3 now without a goal. Through 9 games Ladd has one measly point to hang his hat on.
To be fair, he has shown signs of breaking out of this thing. He's doing everything he's supposed to do in a slump. Just keep firing shots on net and one is bound to go in eventually. It hasn't happened yet but it will, and once he gets one the flood gates should open.
When it's all said and done Ladd should finish the season upwards of 40 points, it's just a matter of when. The Islanders have shown impatience as Anthony Beauvillier has seen time on the top line with John Tavares and Josh Bailey.
This isn't a knock on Beauvillier who has played well, but he shouldn't be on the top line. Before the season started everyone was predicting a top line of Ladd-Tavares-Parenteau. They waived PA, and now Ladd at times has played himself off the top line.
Ultimately you think that he eventually figures this thing out. So far through three weeks he hasn't shown it, yet, though. Until he starts scoring he will continue to be on this list for losers of the week.
Winner: Shane Prince
Since coming off injured reserve the former Ottawa Senator has been on fire. In his last three games, he has two goals and four points. Getting on the score sheet against both Toronto and Pittsburgh. Almost immediately cementing himself as a fan favorite.
Have a night @ShanePrince18!
Yes! Yes! YeSUV! #isles pic.twitter.com/zFXGylcC39

— YeSUV (@IslesWhiteSUV) October 28, 2016
He didn't manage to get on the box score against the Lightning, but let's not use that tire fire as any sort of barometer for failure or success. It was a bad game, like really bad. For the sake of this winner and loser piece, I suggest we just move on from the entire debacle.
Although, he was a nice even 0 in plus/minus on the night against Tampa. Which in-and-of-itself seems like an achievement when absolutely everything went wrong. It was the Murphy's Law of hockey games.
Sorry! I said I wouldn't use the Tampa to prove anything, either positive or negative.
Traded for a 3rd rounder in 2016 at the trade deadline last season, Prince is making that move last February to be a savvy one on Garth Snow's part. If that is at all entertainable by isles fans at the moment.
Prince isn't making a claim for upper echelon duties, but rather he's proving that he's a perfect fit in terms of depth scoring. His third line status is a perfect fit.
On a week that is short on success stories Prince's is one of the brightest.
Loser: Jaroslav Halak
Jaroslav Halak is once again bemoaning the Islanders decision to keep three goaltenders on the active roster. But this time rather than go out to the media directly himself he let his agent Alan Walsh to the talking. Halak hasn't been happy with three goalie situation in Brooklyn dating back to last season.
His issue seems to focus on the practice time. With three goalies Halak just can't get the practice time he needs in order to stay match sharp. That's understandable until you consider that Thomas Griess has the same practice time, yet he doesn't seem to mind. Or at least his agent is taking to twitter to tell us all so.
And ok let's face it, Halak hasn't seemed like the goalie that backstopped Team Europe to the World Cup Finals just a few months ago. He hasn't been bad, but he hasn't stolen any games for the Isles yet. In fact, Greiss has looked like the better of the two.
All this serves to further is goalie drama on the team. The only winner in this is Thomas Griess, who is now the defacto number one after Walsh's comments. Halak will get all the practice time he wants now that he's been made available for trade.
Halak gets a loser vote this week for those reasons, he hasn't played that well and he's made his situation worse.
This article originally appeared on