New York Islanders Cal The Top Liner (Winners & Losers)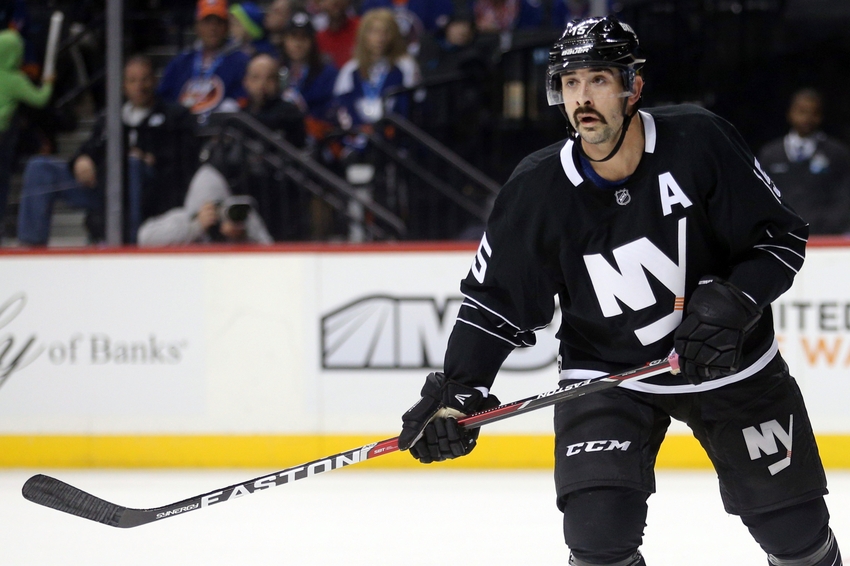 In a week in which the New York Islanders lost 2 of 3 games it feels like everyone is coming off the rails but there are some bright spots with this team.
The New York Islanders are coming off a much needed win. The only issue was it was against the Vancouver Canucks, who are a dumpster fire.
So this loss does very little in keeping you off the ledge. Certainly the Isles will take two points anyway they can but can we really celebrate after a win over the worst team in the league?
The positives form this game were Andrew Ladd and Jason Chimera finally breaking through. The two free agent acquisitions from this offseason got the monkey off their back and found the back of the net.
Now that they were able to break through does that mean the scoring will finally begin to flow? Possibly, but there is still too much of an unknown.
Where is the secondary scoring going to come from? Guys like Ryan Strome, Anders Lee and Brock Nelson leave you wanting more.
Maybe Cal Clutterbuck on the top line can finally be the top line winger that fits for John Tavares?
The issues still seem to be there, but it isn't all doom and gloom as we can take some positives from the Islanders last week.
Winner: Cal Clutterbuck
I feel like anyone who gets to play with John Tavares is an immediate winner. But put a fourth liner on that line and it's like he won the lottery. So long as he can play that is. Just because you put John Scott next to Patrick Kane doesn't mean he's going to score…outside of the All-Star game that is.
Clutterbuck, unlike Scott, can play. Last season he put up 23 points on a line featuring Matt Martin and Casey Cizikas. Over his nine year NHL career the former third-round selection from the 2006 draft has accumulated 175 points. Averaging 20 points a season.
He hits just about anything on skates. Ranking fourth last year with 288 hits. It's not to say that Clutterbuck is some sort of battering ram that has no regard for player safety. (Looking' at you Radko).
Want your voice heard? Join the Eyes On Isles team!
With his 288 hits Clutterbuck accumulated but 11 minor penalties (ranked tied-201st in the league) and no major penalties. Clutterbuck doesn't play on the edge, he's just a physical player. A "Good Canadian Boy" as Don Cherry would say.
Now put him on with Tavares and watch his production increase. He's already got two points in the two games since he's paired with Tavares.
Maybe now that Andrew Ladd has found a way to score Capuano will promote him back to the top line as a banner reading: "Mission Accomplished" is dropped across the Islanders plane to Florida. And sending Cal back to the fourth.
Loser: Jack Capuano
Jack Capuano has been in the loser column for New York Islanders fans for quite some time now. His line combinations are constantly criticized. His team selections are routinely confusing. And his ice-time allocations are sometimes just unapologetic.
But his inclusion as a loser this week has to do with comments he made after the 6-1 loss to the Tampa Bay Lightning. The comments I'm referring to are:
Cappy speaking with emotion. Hope he wakes this team up. Also takes a low key shot at Garth Snow pic.twitter.com/yWSyJsIMuj

— gods (@HUTGods) November 4, 2016
Jack doesn't have the same production he had last year to get the job done. That's what I'm hearing with those comments. I wan't to put the "throwing Snow under the bus" narrative aside for a second. Not that I don't think it doesn't have merit, but because I want to focus on Capuano and his task as a coach.
Capuano's job is to get the best out of the players at his disposal. No matter who the players are. With the comments he made, that he lost 134 points in production, he's saying he doesn't have the tools to win.
Lets just pause on that. Ladd, Chimera, and to an extent Beauvilier are the faces replacing the loss of Okposo, Nielsen, and Martin. If we assume what each player produced last season is the production they'll create this season (as Capuano did) then the Isles have an eight point deficit. And that's giving Beauvillier a 0.50 points per game pace. Like he's currently on.
If Capuano can't make this team, not a contender, but at least .500 with a -8 point differential from this years lineup compared to last year's, he's got only himself to blame. That differential isn't substantial enough for him to bemoan the roster that was given to him.
Winner: Dennis Seidenberg
If you asked a casual Islanders fan who they thought the Islanders top 3 scorers were there's no way they could come up with all 3. John Tavares is an obvious answer and I'll give them the benefit of the doubt and say they throw Brock Nelson in there as well, but who would be third?
It's Dennis Seidenberg. Yep, Dennis Seidenberg the defenseman they signed right after the World Cup of hockey. That guy is third for the Islanders in points. He's got 4 goals and 4 assists (8 points).
In just 13 games he's tied his goal total from the last two years combined. Sometimes the puck just bounces your way and that's the case for Seidenberg so far this season.
He scored the lone goal in the Islanders blowout loss to the Tampa Bay Lightning He followed that up with a goal against the Edmonton Oilers, then in the Philadelphia Flyers shootout loss he notched two assists.
We thought Seidenberg would just be a depth signing. But, he's been the best offseason signing by far this year and with the injuries to Ryan Pulock and Travis Hamonic he will continue to get more action.
Loser: Penalty Kill
Ever since the game against Pittsburgh the Penalty Kill seemed to go down the tubes. This past week it reached its breaking point.
In the last four games alone the Islanders have given up 7 power play goals. One against Vancouver, two against Edmonton, one against the Flyers and two against the Lightning.
It's tough to win games when you're penalty kill is struggling. The Islanders have gotten good goalie play out of Jaroslav Halak but it's tough for him to bail out his team when they're always killing penalties.
Part of the issue is staying out of the box which seems to be something the Islanders just can't seem to do. They have leads in most of these games but at the end it's usually blown by a late goal.
The Isles used to struggle on just the power play and not the penalty kill. But, that all seemed to change a couple of weeks ago and it hasn't been right ever sense then. There special teams has been a key reason for their struggles.
When a team is struggling for offense it's imperative for their other strengths to continue to be strengths. The Penalty Kill has moved from a positive to a negative, which is an issue.
This article originally appeared on