New Jersey Devils Have Plenty To Be Thankful For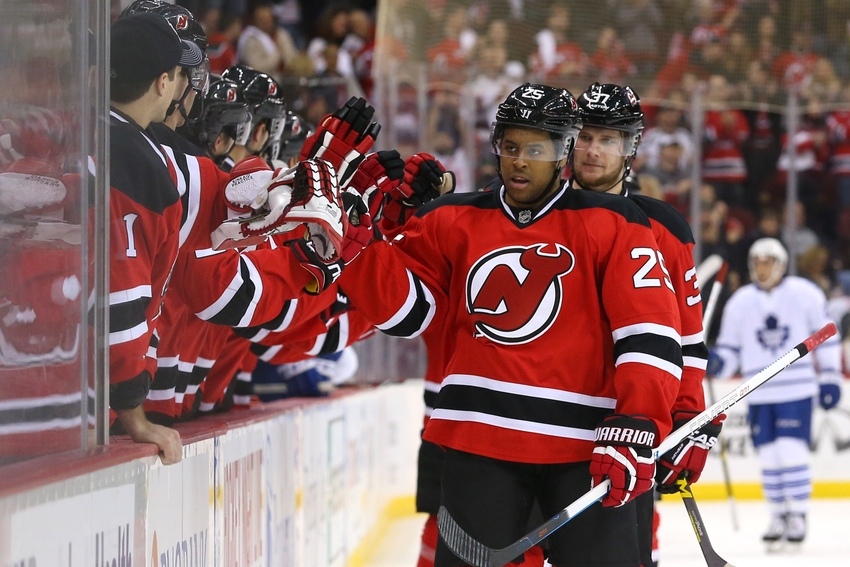 Turkey Day is here, and if the season ended today, the New Jersey Devils would be in the NHL Playoffs.  While the season has had its' ups and downs, all in all, on Thanksgiving Day there is a lot to be grateful about!
Thanksgiving Day 2016, and the New Jersey Devils are positioned in the second wild card spot. Who would have thunk it!   What's made it possible?  What should we be most appreciative for? Here's a list of some of the obvious, and not so obvious, factors which have propelled the Devils upward in the standings.
Defending Our Turf
New Jersey is 7-0-1 at home. They are the only team in the league without a regulation loss as of Thanksgiving Day  Are you kidding me, that is tremendous!  And they are doing this despite the presence of perhaps the most annoying in-game host in the history of sports, Brendon. (Sorry Devils management, someone has to say it.  I understand Men's Health is a great cause and I fully support that, but Mustache Appreciation Night was not good. Not good at all).
Martin Jones Shutout Lifts San Jose Sharks Over New Jersey Devils
Shot Differential
The Devils have significantly improved this aspect of their game year over year. The 2015-16 edition of the New Jersey Devils was a sluggish minus 4.4.  This year, there is a nice improvement to plus 0.1.  And, this number was a lot better than that prior to Taylor Hall's injury, he is a shot machine. Shots matter, any of them can go in off a deflective, generate a rebound, etc.  It's a positive trend.
Faceoffs
Another good year-to-year trend here.  Last year, a win percentage of 46%.  This year, it is 50%. Possession matters too. John Hynes talks about winning those one-on-one battles all the time, faceoffs are one of the battles and this is a prime example of improvement in this area.
Diamonds in the Rough
We all understand how important it is to make trades and sign stars. But it can be argued that the real value a General Manager can deliver is in finding those unattached, unwanted players and getting them into key roles.  Yohann Auvitu and Nick Lappin fit that description to a T.   Great job by Ray Shero with these two.
You Gotta' Have Heart
I'll be the first to admit, I was freaking out during the first period Wednesday night against the Leafs. I literally left my seat and went up the concourse I was so disappointed. But, you have to give credit where credit is due. The Devils showed incredible fortitude and dug deep to come back in the match. A tremendous response. Lots of teams would have packed it in. They didn't. That speaks volumes for the character in the room.
Jumping Into The Play
For years, the phrase "scoring from defensemen" has evoked uncontrollable, instantaneous fits of laughter amongst all Devils supporters. Not anymore. Literally, all six of the guys have shown the willingness and ability to provide secondary support and fill backside lanes in timely spots. Good judgment and solid execution in that area, for sure.  And they are doing a better job getting shots through to goal, avoiding blocks and hitting the target. The group has already amassed twelve goals this season, and that's a huge help for New Jersey.
Scheduling
The Devils have thrived despite a difficult schedule. They have played eight home matches, eleven away. These eleven included two trips to Florida against the very formidable pair of Tampa Bay and Florida and the West Coast California swing.  Many of their most difficult road trips are already in the rear view mirror. That bodes well for the future.
Wrap Up
As Thanksgiving Day arrives, it's been a great ride thus far. And, don't forget, in a few weeks we're getting our superstar back. Let's hope December is as great as the ride thus far and come Christmas-time the Red and Black will still be occupying a spot in the top eight of the Eastern Conference. Happy Thanksgiving!
More from Pucks and Pitchforks
This article originally appeared on