New Jersey Devils: Goal Difference Can Make All The Difference In The World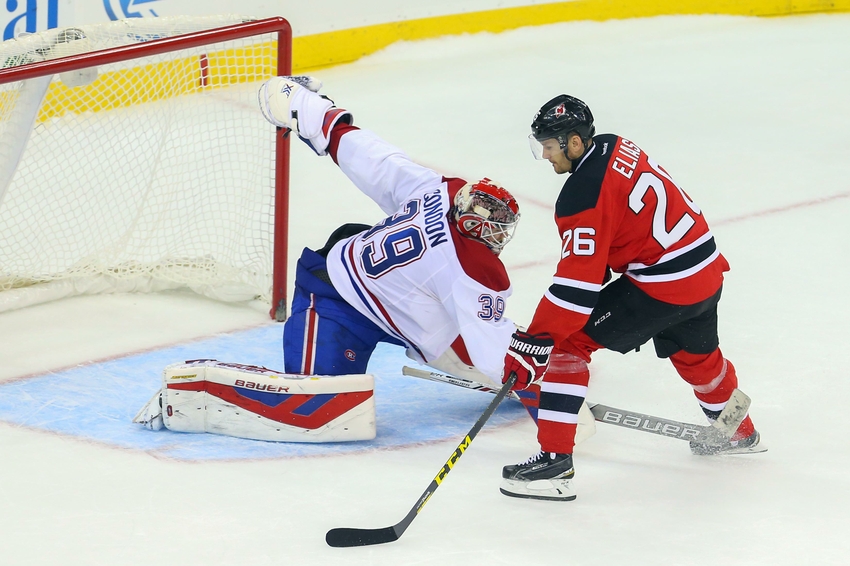 Some things in life aren't that complex. Like scoring more goals than your opposition. Do that and you win. The New Jersey Devils were -24 in goal difference in 2015-16. To make the playoffs, that needs to dramatically improve.
As we all know, sixteen teams make the NHL Playoffs each year. In 2015-16, fifteen NHL clubs outscored their competition. Of those, fourteen made the playoffs, Boston being the loan exception. Only two clubs who were outscored throughout the course of the full 2015-16 season made the playoffs (the Flyers and Red Wings, if you care).
New Jersey Devils Season Preview: Keys to Playoff Contention
That, my friends, is some empirical data statistical types might label a "strong correlation".
The 2015-16 edition of the New Jersey Devils was a stingy defensive bunch indeed, conceding a mere 208 goals, good for an impressive ninth best in the league. But their 184 goals scored was anemic, rock bottom in the NHL. That tied them for 21st in the league in goal difference at minus 24. That's nothing to write home about.
To make the playoffs, one might reasonably contend the Devils need to tilt the scales towards the positive side of a most basic measurement – scoring more than your opposition.  The question is, what do they need to do to get there? Here's one person's thoughts.
Defense
Well, I hate to be the bearer of bad news, but I don't see contraction in the 208 goals allowed figure. While the trade for Taylor Hall was tremendous, the loss of former number one pairing rearguard Adam Larsson has considerable impact. David Schlemko was also an underrated player last campaign.
The Devils have some open questions to answer on defense.
While Ben Lovejoy is a nice pickup, overall, most observers tend to be of the opinion that the Devils defense has taken a step back this off-season. Damon Severson may or may not be a first pairing guy, the jury is definitely still out on Jon Merrill and there are a myriad of unanswered questions circling around most of the recent signings and organization-drafted prospects.
Sure, some of the question marks may turn into answers, I hope I'm wrong about this. But, at this point. I'm going to hypothesize the Devils give up 10-15 more goals this year than in 2015-16.
Offense  
Here's another dose of less-than-ideal news for Devils fans. I don't expect Adam Henrique to deliver 30 goals again this year. That's not to say #14 won't play well, I think he will. But Henrique's 20.1% shooting percentage, a figure which is pretty much hockey's equivalent to the uncanny accuracy of the South Korean Olympic Archery Team at the Rio Games, will be close to impossible to replicate in 2016-17. I think 20-25 goals is far more realistic for a player with his passing ability and mindset.
You must be thinking, what a sad sack this guy is. He already has the Devils with a negative goal difference of minus 40 or so for the season. Be assured however, that's the last of the sour apples and grapes to be served at this meal. Let's move on to some positives.
Taylor Hall. He's a huge upgrade. Let's be ultra conservative and give him a mere 25 goals. Whichever 2015- 16 Devils player one believes in their mind Hall is "replacing" probably scored something like 5 goals, to be kind. That's 20 goals to the good right there.
This might be going out on a limb, but I see Kyle Palmieri bumping up his total a few goals too. Is that too much to ask? Perhaps so. But, for fun, let's assume 35 for him. Net gain of 5.
Now, exhibiting a huge dose of optimism, let's assume Mike Cammalleri plays 70+ games this year, close to a full season. Should that circumstance magically occur, I think 25 goals is well within his capability, 10 more than he tallied last season. 
The Devils have the personnel in place to greatly improve their offense in 2016-17
Finally, I believe there is another 30 to 40 goals to the good to be offered by the Gang Of Five consisting of Devente Smith-Pelly, Reid Boucher, Beau Bennett, Vern Fiddler  and Sergey Kalinin, when juxtaposed against the far less potent quintet of  Messrs. Ruutu, Gionta, Farham, Tootoo, Kennedy, et al. And who knows if Pavel Zacha or even Patrik Eliáš bring anything to the table. It's certainly possible.
Alas, there are only so many trips to The Land Of Milk And Honey a writer can make in one article. Accordingly, I must, with deep regret, refrain from passing along any "The Sky's The Limit" type projections pertaining to Mr. Zajac, Mr. Josefson or anyone in our defensive corps to provide anything of additional offensive significance in the 2016-17 season. And, it also must be noted that Lee Stempniak's much appreciated sixteen goals in red, white and black last season while a member of our top unit also need to be factored into the equation.
Do The Math
If we, as Aaron's Rent-A-Center once suggested, "Do The Math" on this analysis, I humbly suggest to all of you out there in Devils Land there is indeed hope for the future. I, for one, can envision an additional 50 or so goals from this group. A season where the Devils light the lamp 230 times or so while conceding something in the area of 220 goals does not seem inconceivable to me.
Optimistic. Perhaps. But certainly not inconceivable.
Remember, life is simple. All you need to do is score more than your opponent.
One can only hope that happens. If it does, Devils fans may once again be gazing down upon the "Stanley Cup Playoffs" logo painted on the ice surface of the Rock this April.
Wouldn't that be grand!
More from Pucks and Pitchforks
This article originally appeared on