New Jersey Devils: 2016-17 Season Expectations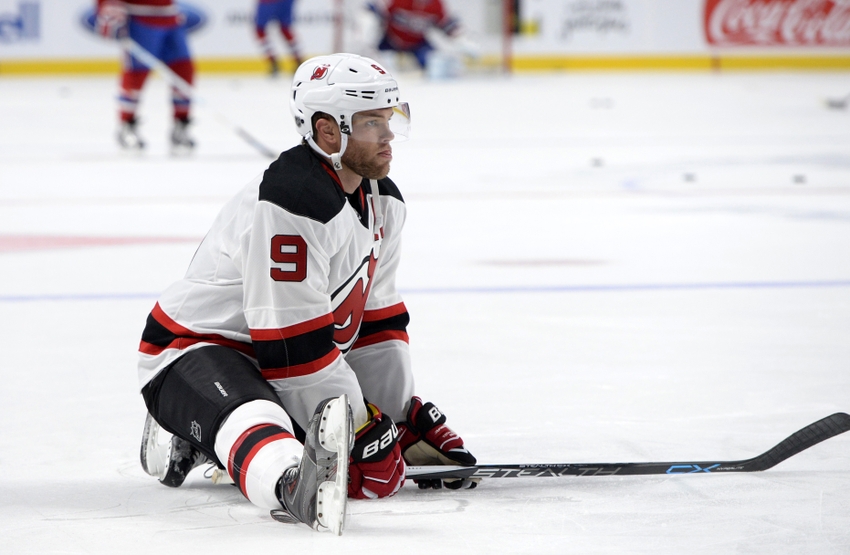 The New Jersey Devils 2016-17 season begins tonight and fans have plenty of reasons to be excited about a new year and a new chapter for the franchise.
Are you ready for some New Jersey Devils hockey?! It's a new year, with new expectations for the team.  Anyone else feel like Puddy from Seinfeld right now? Let's go!
More from Pucks and Pitchforks
As a Devils fan, I'm more excited about this year than I have been in a long time.  For the first time since going to the Stanley Cup four years ago, this team has a counter-punch and a legitimate chance to make the playoffs if enough players stay healthy and the young guys are able step up.  It's a big "if", yet certainly realistic. They aren't going to contend for the Stanley Cup, but I think the Devils can really surprise the rest of the league.  This is the beginning of restoring glory days in New Jersey.  Here's what to expect this season…
Hall Aboard!
Expect Taylor Hall to live up to the hype.  He's looking for a fresh start and playing with a big chip on his shoulder after feeling slighted by Edmonton this summer.  He led the Oilers in scoring three out of the past four seasons, and I think he can have a career year in New Jersey.  Hall is the first real goal scorer for the Devils since Zach Parise and Ilya Kovalchuk left. While he has the potential to put up a 40 goal season, I think he'll definitely score at least 30 and get close to his career high of 80 points in a season.  The offense will not only run through him on the first line, but he'll also make other players better, especially his buddy Adam Henrique.  Get ready for some highlight reel goals.
Shots! Shots! Shots! Shots! Shots!
Expect the Devils to take more shots, and hopefully score more goals.  Last season, they finished dead last in the league in both shots per game and goals per game.  The Devils were the worst offensive team in the NHL, plain and simple.  You can't score if you don't shoot the puck, which was a huge issue last year.  Kyle Palmieri led the team and was 38th in the league with 222 shots.  Adam Henrique was 2nd on the team with 149, which ranked him at 176th in the league.  That's a huge drop-off.
They can only go up, right?  The Devils should have much better puck possession, which was also a major issue in generating shots. With Taylor Hall on the team and Mike Cammalleri healthy this season, it should improve.  Not to mention, this will be the fastest team New Jersey has seen in awhile, with more skilled forwards. It will be imperative for the Devils to shoot more to generate scoring opportunities.  Simple as that.
With a Little Help From My Friends
Expect the Devils to have more depth scoring, meaning production from the bottom 6 forwards.  Hall, Cammalleri, Palmieri and Henrique will score goals, that shouldn't be an problem.  It's all the other forwards who will need to chip in this year if the Devils have any chance of making the playoffs.  After Cammy, Palmieri, Henrique and the departed Lee Stempniak, the Devils got absolutely zero offensive output from their depth players.  Their names might as well have been left off of the scoresheet.  That's what happens when your 3rd and 4th line are borderline NHL players.
With a new influx of talent on offense, that should change this upcoming season.  Ray Shero has added a handful of new faces and the forward depth is the best it's been in years.  Devante Smith-Pelly is back and will be the "garbage man" in front of the net. Reid Boucher now has a year of NHL experience under his belt and is a natural goal scorer.  Pavel Zacha is coming in with a ton of potential and an NHL-ready body and skill set.  Former first round pick Beau Bennett is in a career make-or-break year, and so is Jacob Josefson, also a former 1st-rounder.
You hope that adding a player like Taylor Hall and having Cammalleri healthy again will take some of the pressure off of guys like Josefson, who was probably playing in a role that he didn't fit or deserve due to injuries and a real lack of talent on the roster.  It's the same deal for Sergey Kalinin, who is still trying to carve out a role on the team after only one season in the NHL.  The veteran presence of another newcomer, Vern Fiddler, will help take pressure off these young guys as well. Not to mention, the Devils just picked up P.A. Parenteau off waivers for nothing, and he put up 20 goals last year. Hey, maybe Travis Zajac will actually earn his money this year!
A Star is Born
Expect at least one player to have a breakout season.  It may not be the type of year that Kyle Palmieri put up last season, but there are a few candidates who have the potential to open eyes.  My money is on 2015 first round pick Pavel Zacha, who at just 19 years old looks like he'll be playing top-6 minutes right away.  Also, keep your eye on Reid Boucher.  As mentioned above, there will be less pressure on him with better talent around him.  Both of these players can score 20 goals this season, and I expect at least one of them to do just that.
On defense, pay attention to Damon Severson.  He took a step back last season in his sophomore year, but will have every opportunity to fill the void left by Adam Larsson leaving.  Besides him, I expect Steve Santini and Yohann Auvitu to surprise some people. Although both are rookies with just 1 game of NHL experience combined, each has shown that they have what it takes to play in the NHL and impressed this preseason.
Cory! *clap clap* Cory! *clap clap*
Expect Cory Schneider to play at an All-star level again this year.  Expect him to steal a few games again for the Devils, and he'll have to with a young, unproven defense if the Devils want to be a playoff team.  I see him being a finalist for the Vezina trophy this year, which he would have been last year if he hadn't gotten hurt. He was on pace last season to crack 30 wins on a BAD team for the first time in his career until he got injured.  He was 4th in the NHL in both goals against average (2.15) and save percentage (.924). If Schneider can stay healthy, he can be a top 3 goalie in the NHL.  He is the anchor of this team, and the Devils won't win without him.
Injuries and Growing Pains
Expect there to be injuries.  This is hockey, and it's a long season.  Along with Schneider, look at Cammy and Patrik Elias from last season.  Taylor Hall missed time last year with the Oilers, so did Beau Bennett with the Penguins.  Every team experiences the injury bug, but it's the teams that battle through those times and gut out wins that are successful.
Expect there to be growing pains as well.  Just because Hall has arrived and everyone is healthy at the moment doesn't mean that the offense will suddenly become unstoppable. Not to mention, there are still question marks about the young defense.  So, still expect there to be bumps in the road.  Get excited about the youth and be optimistic, but tame your expectations.
Patrik Elias
Expect Patrik Elias to be with the team in some capacity, but not necessarily as a player. As reported back in June, Elias "desperately wants to play one more year".  He has made it clear that he has no interest in playing for another team either.  While his heart is telling him (and us fans) to come back, his age and durability are concerns.  The Devils are rebuilding, which means they want to get younger rather than older.   Right now, he is still skating on his own and rehabbing his surgically repaired knee.  Unfortunately, as much as we all want to see the Devils all-time leading scorer play one more year, I don't know if there is room for him on this team.
"When he does [push it harder], how is it going to react?" Shero said. "And we'll see exactly where we are as a team at that point, anyway. So we're going to keep an open mind both ways, but it's great having Patrik around."
At this point, I'd rather see one of the young guys get a chance to get NHL experience.  Because the Devils are rebuilding, it may be time to turn the page.  For that reason, I don't see Ray Shero offering Patty a contract, but I still see him being around the team one way or another.  Shero has said how beneficial it is to have him around as a mentor.  You know the young players respect him, so it's a role I think he could thrive in.  Nothing has been decided yet, but don't be surprised if you've seen the last of Elias's playing days.
Playoffs?
The goal for the Devils should be to make the playoffs.  Period.  Not win the division.  Not win the conference.  Not even win the Stanley Cup.  Just make the playoffs for the first time in 4 years.  I think that's a very attainable goal too.  Expect them to be in the playoff hunt and hopefully crack 90 points this season. Unfortunately, the Devils play in a tough division, and I don't see them finishing in front of the Capitals or Penguins.  That leaves the Rangers, Islanders and Flyers as challengers, but I'm not sure the Devils are there yet.  For that reason, I would only expect them to compete for a wildcard spot at best.
My prediction:  Devils surprise people and grab one of the wildcard spots and make the playoffs for the first time since 2012.  Please.  It's been a long four years.
Conclusion 
In conclusion, expect the Devils to be better. Expect them to score more. Expect this to be a much more fun team to watch. Expect them to be in the playoff hunt. But, don't expect a Stanley Cup anytime soon. Remember, Shero has built a Cup-winning team before in Pittsburgh, and it doesn't happen overnight. He knows what he's doing, and the process takes years. Shero inherited a bad Devils team, and he's already righted the ship and has it headed in the right direction again.
This team is MUCH better on paper than last season.  Let's see if the team can stay healthy and if it translate to wins on the ice.
Are you ready for some Devils hockey?!  Puck drops tonight at 7:30 PM in Florida.  Time to restore glory days in New Jersey.
This article originally appeared on