Nashville Predators: Viktor Arvidsson Must Be Protected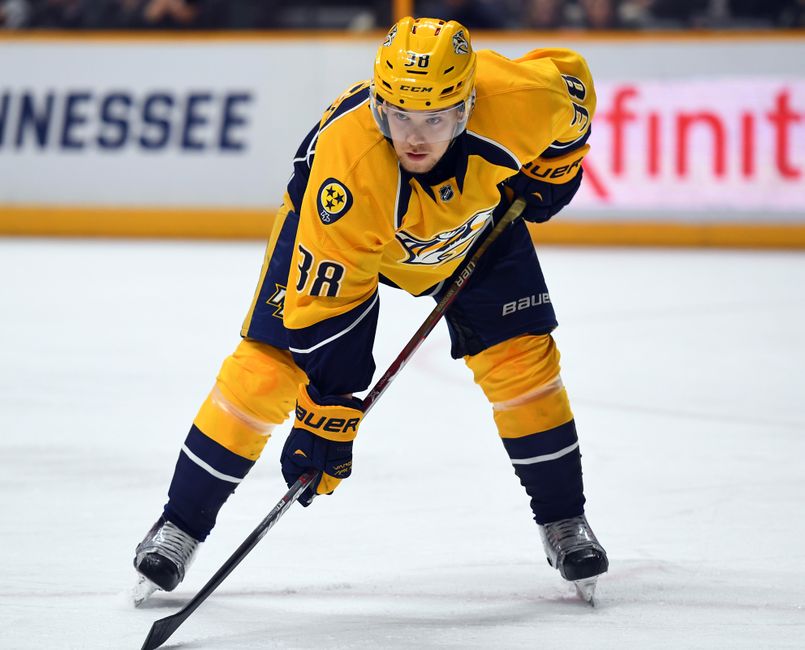 The Nashville Predators forward has become an integral part of success for the team.
The Nashville Predators have a huge decision in front of them. The Vegas Golden Knights will be drafting one of their core players from Smashville's ranks in the upcoming offseason, and there are only so many players that can be protected.
The options are becoming well repeated: each NHL team may protect either 7 forwards, 3 defensemen and a goalie, or 4 forwards, 4 defensemen and a goalie (players not having two years of pro experience under their belt are exempt). This means young, rising players like forward Kevin Fiala and goaltender Juuse Saros will not need to be protected.
General perception as well as GM David Poile's comments have leaned strongly towards the belief that the Nashville Predators will be opting to protect 4 defensemen. Popular commentary also dictates that 3 of the 4 forwards protected will be stars Ryan Johansen, James Neal, and Filip Forsberg– certainly all sensible selections.
The protection debate truly begins with the 4th and final forward slot- with the nominees for the position bouncing almost exclusively between Colin Wilson, Craig Smith, and Viktor Arvidsson. All of whom are cogs in the Smashville machine, and all of whom would be missed- but as the title suggests, this article is here to lobby for the protection of the player this author feels the team would miss the most.
That distinction would fall to winger Viktor Arvidsson, the 5'9, 165 lb. speedster whose popularity has skyrocketed this season. But make no mistake, the decision to protect him is not based upon popularity alone.
I'm guessing at least half of Preds fans would now name Viktor Arvidsson as their favorite player. And it's much deserved. Kid is 🔥

— Justin Bradford (@justinbbradford) December 9, 2016
Arvidsson has very simply been the most consistent, and arguably the most explosive player on the team since the kick-off of the season. Through the Nashville Predators early struggles the Swede stood out as the only skater continually making positive impact plays, and the 'undersized' player makes a habit out of being noticeable every single night.
Even as recent as last night, when the Preds took a 5-2 thumping from the Dallas Stars, it was Arvi who broke through the stagnant play with an early shorthanded goal to make the match competitive. As a testament to his efforts, Arvidsson has become the first Nashville player to mark multiple shorthanded goals in a season since former Captain Shea Weber did it in 2011-12.
Statistically, Arvi is crushing expectations. Apart from demanding the respect of teammates and opponents alike, the second-year pro has notched 9 goals, 16 points, already topping his career-high in goals and tying his career-high point total in only 26 games.
Arvidsson leads the team in shots, and is tied for 4th on the team in scoring. The point production notably knots him with James Neal, Filip Forsberg, and Roman Josi– all players who will unquestionably be receiving protection from the expansion draft.
His 9 goals on the year has him sitting second on the team in goal scoring, behind only James Neal's 11 markers. For reference across the league, his net-finding ability has him currently sitting above the goal-scoring production of superstars Patrick Kane and Jamie Benn, while having played two games less than both of them.
Comparatively, Colin Wilson's 12 points (5 goals, 7 assists) and Craig Smith's 10 points (6 goals, 4 assists) have both been both respectable contributions- but very simply not as good as Arvidsson's. And while it's certainly too early to make final judgements, preseason expansion assessments nearly all left Arvi exposed (including my own), and he has demanded reconsideration in that regard.
Only 23-years-old, it's of worthy note that 'The Great Thirty-Eight' is also only beginning to tap into his potential at the NHL level, whereas Wilson and Smith (both 27-years-old) are established veterans at this point. We are far more in tune with the upside of their abilities and what can be expected season-in and season-out.
As important as the two Smashville-lifers have been to the franchise, it's my opinion that Arvidsson has displayed every indication of having the highest ceiling, not to mention that keeping him on board means keeping the team younger, while his skill-set is adjusted to play the way the NHL continues to trend (ala speed and skill over everything else).
The knock on Viktor Arvidsson has been and always will be his size. This concern should only apply to worrying about injury and career longevity, as Arvi's size has not prohibited him from outscoring nearly everybody else on his team. The Nashville Predators should protect their most talented players, period, and Arvidsson falls into that category.
This article originally appeared on