Nashville Predators: Two Sides to the Defensive Coin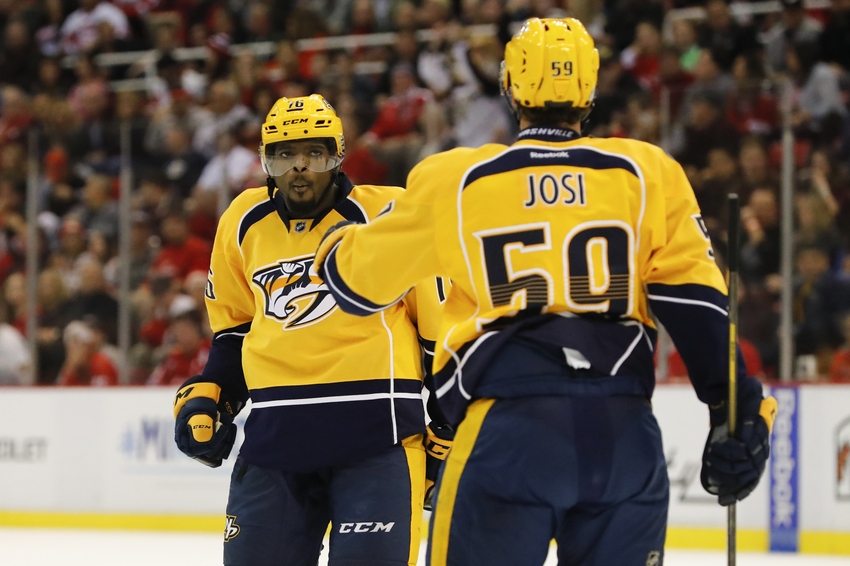 The Nashville Predators defense was expected to be a well-oiled machine this season, but it has been anything but a smooth ride so far.
The Nashville Predators made a blockbuster move in the offseason. The flashy character from up north made his way down south to 501 Broadway where he big expectations awaited. With over 100 points combined last year, the idea of having P.K. Subban and Roman Josi together would make other teams cringe.
When the Preds former captain was on the team, the defense had a mix of speed and thundering power. Now, with Subban, the defense is extremely mobile and speedy. Gone are the days of passes from behind the net to forwards up the ice, and the arrival of D-men taking the puck a full 200 feet.
So far, there have been some surprises when considering the performance of the Predators defense. Superstar players like Josi and Subban are top 10 on the team in total points, however, they have the second and third lowest +/- on the team (-5 and -4). You expect points from these guys but you also expect them to prevent points.
Possibly one of the most surprising things on defense so far has been the solid play of recently acquired Yannick Weber and Matt Irwin. Of the two, Irwin has shown more offensive capability, on pace to pass his career high of 19 points if he keeps the pace up, but both players lead the defense (and team!) with a +7 and +6.
The Preds have been on fire as of late, winning the last 4 of 5 contests. In the lone loss blowout loss to Toronto, Subban and Josi were in the negatives. I know, the top Dmen play against the top lines of the opponent, but you get labeled as a top defensive player by shutting down those top offensive players.
Weber and Irwin are making the best of their limited time on the ice. Subban and Josi will get back to elite form eventually, but it needs to happen sooner rather than later to allow the Preds to crawl out from the bottom of the Central division.
This article originally appeared on