Nashville Predators: Time to Choose Your Perspective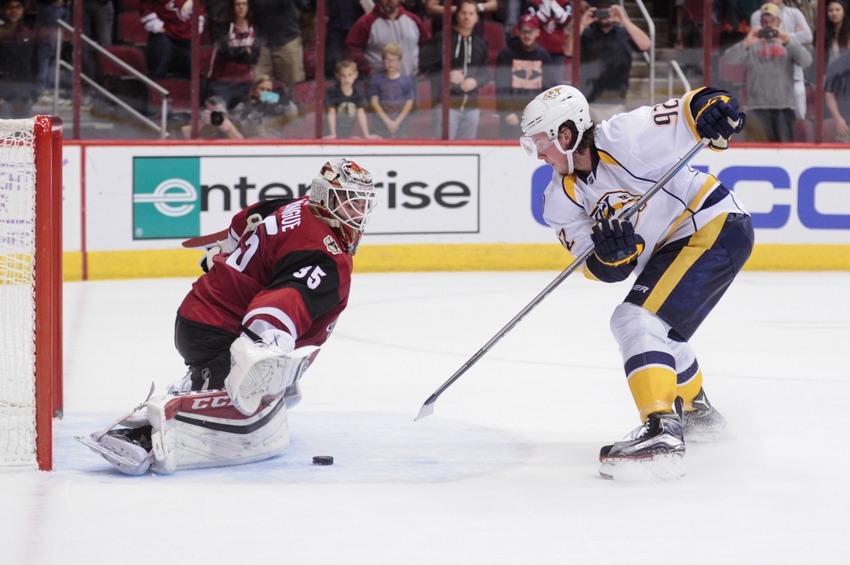 The Nashville Predators season hasn't gone the way anyone expected, leaving fans torn between sounding the alarm and vocalizing reminders that it's still early.
The Nashville Predators were widely considered a Stanley Cup contender moving into this season. We all remember the hype, because it was exciting that legitimate news sources were finally recognizing the hockey being played in Smashville.
We're talking hockey that came one game away from a Western Conference Finals appearance and managed to onboard one of the league's most exciting names in the offseason. Nashville was finally entering a season facing high expectations.
Fast forward to 11 games into the campaign, and the Nashville Predators sit 3-5-3. The record falls into a very interesting category- it means the team has earned at least a point in the majority of contests thus far, while simultaneously indicating that the Preds have lost almost three times as many games as they have won.
And thus a question is begged- are you a half-cup-full kind of fan, or a half-cup-empty kind of fan? Because regardless of how you see things, the Nashville Predators have left at least a half-cup worth of points out on the ice, leaving fans feeling all sorts of different ways about the 2016-17 season so far.
So here are a few different ways to help sort out (or further conflict) your feelings about the Pred's play through eleven games:
The "Not a Cup Contender After All" Approach
The season has been a letdown so far, no matter how you feel about it. This sentiment involves smothering that sliver of light that means the Nashville Predators could finally wind their way into the Stanley Cup Finals, if they even manage to make the Playoffs.
Over an eighth of the way into the season and the Predators have only gathered 9 points. That's good for fitting into a three-way tie for second-to-last place, joining the Vancouver Canucks and Carolina Hurricanes at only a point above the last place Arizona Coyotes. Not enviable company for a Cup contender.
But as always, there are others ways to look at the standings:
"It's Still Early. A Lot of Hockey Left to Play."
The Nashville Predators stand only the equivalent of two NFL games into their season- not nearly enough to start determining how things will end. Even though the team has only scraped together 9 points, they're still only 2 points away from occupying the last Wild Card position in the Conference.
One game away from a playoff position, the Predators are far from being out of the mix. Hockey is a game of momentum, and if what we're seeing is a streak of poor play from Nashville, the team has plenty of time to find momentum and piece together some positive streaks as well.
But is this a team with the roster and chemistry that can turn it all around?
"Three Wins. Eight Losses. That's bad."
Probably the worst thing about Nashville's season thus far has been the pair of deflating overtime losses in their past two games. Sure they got a pair of points, but the losses came in devastating fashion in 'should-have-won' contests- a prime opportunity to gain momentum and secure ground in the standings.
Cutting to the bottom of things, the Predators lost to the Carolina Hurricanes and Arizona Coyotes in back-to-back contests. Those were the two lowest teams in the standings, other than Nashville, when the games were played. What does that say about the level of hockey being played?
But realistically, all of the above are true:
"Points are Points."
Lost in all of this is that the Nashville Predators are very, very, very quietly on a three-game point streak. Points are what keep you alive, and getting them is never easy. While you don't want to make a living losing in extra time, earning points in the majority of their contests have kept the Preds within striking distance.
Our perspective? The Nashville Predators have been making strides, but they're simply not piecing it together to play winning hockey. Yet. Nobody on the team not named Matt Irwin has had an iota of puck luck all season, and that's bound to change at some point.
They won't be elite because of spotty goaltending, but Filip Forsberg isn't going to go all season without a goal. P.K. Subban hasn't clicked into the system immediately, but give it some time, he's an elite guy with a Norris Trophy on his shelf. Expect some pucks to start going their way and the Nashville Predators to stay in the fray for the duration of the season.
The Predators will be tested thoroughly when they square off against Erik Karlsson and the 7-4 Ottawa Senators Tuesday night. All eyes will be focused on how the Preds deal with returning to tough competition after dropping two games to perennial cellar dwellers.
More from Predlines
This article originally appeared on